Questions: Primary Diffuse Large B-Cell Lymphoma of the Central Nervous System
Part 2: Assessment of Disease Burden and Prognosis in the Immunocompetent Host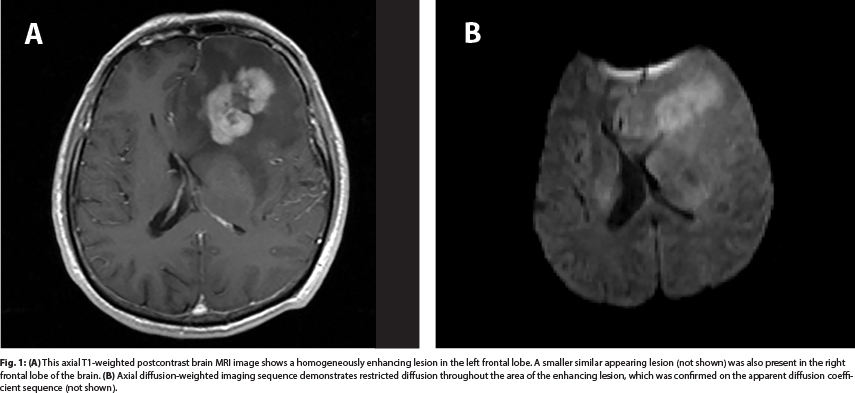 Fig. 1: (A) This axial T1-weighted postcontrast brain MRI image shows a homogeneously enhancing lesion in the left frontal lobe. A smaller similar appearing lesion (not shown) was also present in the right frontal lobe of the brain. (B) Axial diffusion-weighted imaging sequence demonstrates restricted diffusion throughout the area of the enhancing lesion, which was confirmed on the apparent diffusion coefficient sequence (not shown).

Syed A. Abutalib, MD

Rimas V. Lukas, MD
The ASCO Post is pleased to present Hematology Expert Review, an occasional feature that includes a case report detailing a particular hematologic condition followed by questions. Answers to each question appear here with expert ­commentary.
In the October 25 issue of The ASCO Post, part 1 of a case report was published and focused on the approach to diagnosis of diffuse large B-cell lymphoma of the central nervous system in the immunocompetent host. Here, in part 2, the disease burden for this patient is assessed and the prognosis discussed. Part 3 of this case study, which will focus on therapeutic considerations and response assessment, will appear in an upcoming issue of The ASCO Post.
Summary of Case Study: A 70-year-old man presented with complaints of newly developed neurologic symptoms and atypical behaviors over the course of 2 weeks. He reported no headaches or visual symptoms and is otherwise healthy, with no medical or surgical history.
The neurologic exam was normal. The complete blood cell count and complete metabolic profile were also normal. The hepatitis panel and human immunodeficiency virus (HIV) test were negative.
These constellations of new symptoms led to brain imaging. Magnetic resonance imaging (MRI) with contrast demonstrated a homogeneously enhancing lesion in the left frontal lobe. A similar, smaller, noncontiguous lesion was also noted in the right frontal lobe (Fig. 1).
A diagnosis of primary central nervous system (CNS) lymphoma was made and confirmed by immediate stereotactic biopsy. Following successful biopsy and staging, steroids were started to ameliorate the current symptomatology.
Question 1
What is next best step in the management of this patient?
A. Testicular ultrasound
B. Lumbar puncture
C. Ophthalmoscopy/slit lamp ­examination
Question 2
Which statement is true about the ocular manifestation of primary CNS ­lymphoma?
A. Vitrectomy specimens are highly sensitive for diagnosis.
B. Ocular lymphoma can appear as widening of the optic nerve.
C. Visual symptoms are always present in patients with ocular ­involvement.
Continued Case Study: The patient underwent staging with an ophthalmologic slit lamp examination, PET-CT scan of the body, and cerebrospinal fluid studies. All of these tests were unremarkable. Serum LDH was elevated at 340 U/L (normal range, 116–245 U/L).
Following stereotactic brain biopsy and staging, the patient was started on steroids. He quickly returned to his premorbid baseline, with a Karnofsky performance status of 100%.
Question 3
Which prognostic variables are common to both the International Extranodal Lymphoma Study Group and Memorial Sloan-Kettering Cancer Center prognostic models?
A. Age and involvement of deep brain structures
B. Age and performance status
C. Serum LDH and cerebrospinal fluid protein levels
GUEST EDITORS
Syed A. Abutalib, MD, Assistant Director, Hematology & Bone Marrow Transplantation Service, Cancer Treatment Centers of America, Zion, Illinois
Rimas V. Lukas, MD, Director of Medical Neuro-Oncology, Associate Professor, Department of Neurology, University of Chicago
---
Related Articles
Question 1: What is next best step in the management of this patient?
Correct Answer: C. Ophthalmoscopy/slit lamp examination.
Expert Perspective
Ophthalmic involvement should be sought by noninvasive procedures such as slit lamp examination and ophthalmoscopy and abnormal findings must be...