Cleveland Clinic Announces Oncology Staff Appointments

Cleveland Clinic recently announced the following additions to its oncology staff:
Ruth Keri, PhD, has joined Cleveland Clinic Lerner Research Institute Department of Cancer Biology. She will study breast cancer, focusing on identifying the molecular processes that control the formation of breast cancers and their metastasis. Previously, Dr. Keri was Associate Director for Basic Research in the Case Comprehensive Cancer Center and Professor in the Department of Genetics and Genome Sciences and the Division of General Medical Sciences-Oncology at Case Western Reserve University School of Medicine.
Bahar Laderian, MD, has joined the Cleveland Clinic gastrointestinal cancer program. She has a degree in engineering and attended medical school at the University of Pittsburgh.
Pradnya Patil, MD, is the newest member of the Cleveland Clinic lung cancer program. She began her training at the Albert Einstein Medical Center and worked as a hospitalist at the Cleveland Clinic for several years. Dr. Patil completed her fellowship in hematology/oncology at the Cleveland Clinic before joining as faculty. She will be seeing patients with thoracic malignancies and leading a clinical research program in immunotherapy in lung cancer.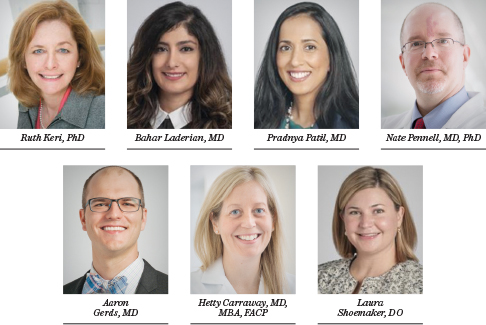 New Roles for Oncology Staff Members
The following Cleveland Clinic oncology staff members have been appointed to new roles in the Taussig Cancer Institute:
Nate Pennell, MD, PhD, will assume the role of Taussig Cancer Institute Vice Chair of Clinical Research. He joined the staff of the Taussig Cancer Institute in 2008 and specializes in the treatment of thoracic malignancies, with a focus on lung cancer.
Aaron Gerds, MD, will succeed Dr. Pennell as Deputy Director for Clinical Research. At Cleveland Clinic, Dr. Gerds is the principal investigator for a number of clinical trials in the treatment of myeloproliferative neoplasms.
Hetty Carraway, MD, MBA, FACP, will become Director of the Taussig Cancer Institute's Leukemia and Myeloid Disorders Program. She is also Vice Chair of Strategy and Enterprise Development for the institute as well as staff physician.
Laura Shoemaker, DO, has been appointed the first Chair of the inaugural Palliative Medicine Department at Cleveland Clinic. Dr. Shoemaker was previously interim Department Chair after the department was formed earlier in 2020 by the Cleveland Clinic Board of Governors.
---