Expert Point of View: No Value for Axillary Dissection in Patients with Breast Cancer and Occult Nodal Metastases

Two breast cancer studies presented at the 2011 Breast Cancer Symposium—NSABP B‑32 and ACOSOG Z11—suggest that aggressive approaches to surgically remove occult metastases are not necessary.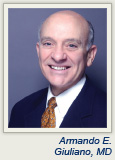 Armando E. Giuliano, MD, of Cedars-Sinai Medical Center, Los Angeles, and principal investigator of ACOSOG Z11, said that based on the latest data, complete axillary lymph node dissection does not improve outcomes for most women with sentinel node metastases. As a surgeon, he commented, "Most of us believe removing tumors is always a good thing." But, he added, "We cannot ignore biology and results of prospective randomized studies. It seems that lymph node metastases often lack the ability to metastasize to other sites. Metastatic sites might be tumor-specific, and removal of axillary lymph nodes in patients with limited metastases is not beneficial."
He added that contemporary trials show that axillary recurrences are extremely rare. In ACOSOG Z11, the difference in regional recurrence between axillary dissections and sentinel node biopsy alone was only 0.4%. At worst, this could predict for just a 0.1% survival advantage at 15 years. Based on these data, he reserves axillary lymph node dissection for patients with clinically palpable nodes only.

Donald L. Weaver, MD, of the University of Vermont College of Medicine, Burlington, who served as the B-32 protocol pathologist, agreed the two studies have important implications—namely, they argue against intensively looking for small metastases that will not make a difference in outcome.
"The more you look, the more you find," Dr. Weaver acknowledged, but this results in diminishing returns and additional work, and is of questionable value to the patient, he suggested.
"Occult metastases are not discriminatory predictors of outcome!" he emphasized. Regional and distant recurrences in B-32 occurred in 3.6% of the sentinel node–negative population, including 21.7% of patients in this subgroup with occult metastases and 78.3% without, he pointed out.
"If additional treatment was given based exclusively on the presence of occult metastases, 90% of these patients would be overtreated," he said. He calculated that this amounts to $44.8 million in health-care dollars spent per year to account for a 1.2% difference in outcome.
Dr. Weaver's recommendation is that pathologists should continue to section sentinel lymph nodes no thicker than 2 mm and examine one microscopic section from each block, without requiring additional levels or immunohistochemistry. ■
Disclosure: Drs. Giuliano and Weaver reported no potential conflicts of interest.
---
Related Articles
In a subanalysis of the National Surgical Adjuvant Breast and Bowel Project (NSABP) B-32 study, nearly 16% of clinically node-negative patients were found to have occult metastases upon more detailed assessment of the sentinel lymph nodes. While a slight difference in outcomes was found among this...