SIDEBAR: Expert Q and A

D. Neil Hayes, MD, MPH, of the University of North Carolina, Chapel Hill, discusses the role of HPV status in head and neck cancer.
Are you convinced human papillomavirus (HPV) positivity is associated with better prognosis?
Dr. D. Neil Hayes: The HPV story influences almost everything we do in head and neck cancer, though we don't know quite what to do with it. Five-year survival approaches 80% in HPV-positive patients vs 50% in HPV-negative patients. All our data on outcomes, however, are in association with treatment, so it is hard to be certain about the natural history. I can expect to cure a 50-year-old nonsmoking patient with T2N2b HPV-positive cancer. But I am also wondering whether I might be overtreating him.
How do you use HPV status to guide treatment decisions?
Dr. Hayes: HPV status can be helpful in individual patients, especially those with poor performance status, for whom we have little data upon which to base treatment decisions. If I am worried about radiation side effects, for example, HPV positivity helps me feel better about choosing less aggressive treatment. I tailor therapy along these lines.
However, unlike many physicians, I do not routinely reduce therapy based on HPV positivity. Studies that have attempted to tease out the outcomes by HPV-positive vs -negative status have not provided clear guidance. In RTOG 0129, patients receiving radiation and cisplatin had better outcomes if they were HPV-positive.1 These data influenced much of our current thinking. And in 2006, Bonner et al showed that cetuximab plus radiotherapy was superior to radiotherapy alone, with most benefit assumed to be in the oropharyngeal and therefore HPV-positive patients.2 But then in 2008, the Vermorken/Hitt study of cetuximab plus chemotherapy had us scratching our heads, because most benefit was seen in the oral cavity, which is the least likely area to be HPV-positive.3
Now RTOG 0522 has shown no significant differential benefit for cetuximab by HPV status.4 There was also a retrospective study from Memorial Sloan-Kettering in which patients treated with cetuximab did worse than those on cisplatin, even after controlling for HPV status.5 Therefore, HPV positivity, and its importance in therapy, may depend on the tumor site and situation. We should be careful about using HPV to make treatment determinations at this point, and not alter treatment outside of a clinical trial. ■
References
1. Gillison JL, Harris J, Westra W, et al: Survival outcomes by tumor human papillomavirus status in stage III-IV oropharyngeal cancer in RTOG 0129. J Clin Oncol 27(15S):Abstract 6003, 2009.
2. Bonner JA, Harari PM, Giralt J, et al: Radiotherapy plus cetuximab for squamous-cell carcinoma of the head and neck. N Engl J Med 354:567-578, 2006.
3. Vermorken JB, Mesia R, Rivera F, et al: Platinum-based chemotherapy plus cetuximab in head and neck cancer. N Engl J Med 359:1116-1127, 2008.
4. Ang KK, Zhang QE, Rosenthal DI, et al: A randomized phase III trial (RTOG 0522) of concurrent accelerated radiation plus cisplatin with or without cetuximab for stage III-IV head and neck squamous cell carcinomas. 2011 ASCO Annual Meeting. Abstract 5500. Presented June 6, 2011.
5. Koutcher L, Sherman E, Fury M, et al: Concurrent cisplatin and radiation versus cetuximab and radiation for locally advanced head-and-neck cancer. Int J Radiat Oncol Biol Phys October 12, 2010 (early release online).
---
Related Articles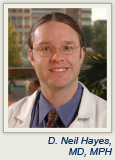 D. Neil Hayes, MD, MPH, of the University of North Carolina at Chapel Hill, described efforts to position the epidermal growth factor receptor (EGFR) inhibitor cetuximab (Erbitux) in head and neck cancer treatment.
Surprisingly negative results came from the phase III Radiation Therapy Oncology...