Other Breast Cancer Studies of Note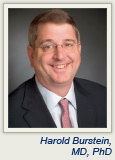 At this year's Best of ASCO® Miami meeting, Harold Burstein, MD, PhD, discussed several studies he found interesting and relevant to clinical practice.
Genomic Assays
One study examined two genomic assays for ER-positive breast cancer, Oncotype DX and PAM50, and found considerable overlap among the genes considered relevant to the tumor.1 Gene profiles in essentially all the available assays have about a 50% overlap, "so the concordance among the assays is not surprising," he said. "We are converging on a fairly similar set of messages in distinguishing favorable from less favorable prognoses."
Role of Treatment Costs
Other investigators examined the Surveillance, Epidemiology, and End Results (SEER)-Medicare database and found little relationship between cost of care, outcomes, and quality.2 They identified 27 quality measures and determined the cost of treatment within 1 year of a breast cancer diagnosis. Costs varied from approximately $17,000 to nearly $27,000, and these expenditures were not related to survival; across five expenditure quintiles, 86% to 89% of patients were alive at 5 years, indicating quality of care was good, "regardless of the cost," he noted. "Whether this was a perfect use of health-care resources, or whether you could accomplish the same with less is unknown, but the provocative data suggest there is marked variation."
Lifestyle Intervention
Addressing the issue of treatment-associated weight gain among patients with breast cancer, Canadian investigators showed that "vigorous intervention works."3 Over a 12-month period, patients receiving only educational information by mail lost no weight but women who participated in a telephone-based intervention (19 calls, mailings, and a participant manual) significantly increased their physical activity, reduced caloric intake, and lost an average of 10% of their weight. "These are compelling data showing we can invest resources and help patients lose weight, though whether this translates to an impact on cancer recurrence is an important question yet unanswered," he commented.
Treatment-related Weight Gain and Survival
In fact, another study validated that body mass index significantly increased in premenopausal patients during endocrine therapy (ovarian suppression), especially in those treated with tamoxifen in the ABCSG-12 trial.4 However, no differences in disease-free survival were observed between patients who gained > 0.5 kg after 1 year vs those with no weight gain. "Weight gain did not impact the natural history of the disease," he noted. "Together with the previous study, we can say that lifestyle intervention programs can improve dietary habits and weight. However, weight gain in the adjuvant setting may be of minimal prognostic significance anyway."
Switching Endocrine Therapies and Bone Loss
Finally, discouraging findings came from a subanalysis of the Breast International Group (BIG) 1-98 trial, which examined tamoxifen, letrozole, and a "switch" strategy of endocrine therapy.5 The question was whether a patient can "bank bone" by initiating treatment with tamoxifen, before "spending bone" by switching to an aromatase inhibitor. "It doesn't look as if this is very protective," he said. "Switching to the aromatase inhibitor, you see bone loss. Aromatase inhibitor–induced osteoporosis is still an issue." ■
References
1. Bastien RR, Ebbert MT, Boucher KM, et al: Using the PAM50 breast cancer intrinsic classifier to assess risk in ER+ breast cancers: A direct comparison to Oncotype DX. 2011 ASCO Annual Meeting. Abstract 503. Presented June 5, 2011.
2. Hassett MJ, Neville BA, Weeks JC: The relationship between cost, quality, and outcomes among women with breast cancer in SEER-Medicare. 2011 ASCO Annual Meeting. Abstract 6001. Presented June 7, 2011.
3. Segal R, Pond GR, Vallis M, et al: Randomized trial of a lifestyle intervention for women with early-stage breast cancer receiving adjuvant hormone therapy: Initial results. 2011 ASCO Annual Meeting. Abstract 512. Presented June 7, 2011.
4. Pfeiler G, Königsberg R, Mlineritsch B, et al: Effect of change of body mass index during therapy on the efficacy of endocrine therapy in premenopausal patients with breast cancer: An analysis of the ABCSG-12 trial. 2011 ASCO Annual Meeting. Abstract 514. Presented June 7, 2011.
5. De Censi A, Sun Z, Thurlimann BJK, et al: Bone mineral density (BMD) in participants (pts) of trial BIG 1-98 comparing adjuvant letrozole (L) versus tamoxifen (T) or their sequence. Abstract 516. Presented June 7, 2011.
---
Related Articles