Novel HDAC Inhibitor May Restore Estrogen Sensitivity in Breast Cancer
Entinostat plus exemestane doubled progression-free survival, with substantial efficacy seen in one subgroup.

The addition of the investigational histone deacetylase (HDAC) inhibitor entinostat significantly delayed breast cancer progression and showed a trend for a survival benefit in the phase II ENCORE 301 study. The study was conducted in women with advanced estrogen receptor–positive breast cancer failing an aromatase inhibitor. It was reported at the 2011 Breast Cancer Symposium by Denise A. Yardley, MD, of Sarah Cannon Research Institute and Tennessee Oncology in Nashville, Tennessee.1
"This exciting combination may allow patients to remain on hormonal therapy longer, delaying the development of resistance and the subsequent need for chemotherapy," Dr. Yardley suggested.
The results were particularly striking among a subset of 49 patients participating in an evaluation of protein acetylation in peripheral blood mononuclear cells, revealing that in 13 of these patients (26.5%), HDAC-induced hyper-acetylation correlated with improved median progression-free survival that exceeded 8 months.
Entinostat is a novel oral HDAC inhibitor that has been shown in preclinical trials to inhibit growth factor signaling pathways that mediate aromatase inhibitor resistance. In in vivo studies, entinostat successfully restored estrogen receptor sensitivity after aromatase inhibitor treatment and produced impressive tumor regression. The drug also has demonstrated an excellent safety profile in the treatment of more than 650 patients with breast, lung, colon, and hematologic malignancies.
Phase II Trial
ENCORE 301 (ENtinostat Combinations Overcoming Resistance) was a phase II, randomized, placebo-controlled trial of exemestane with and without entinostat in 130 postmenopausal patients with estrogen receptor–positive advanced breast cancer that had progressed on therapy with a nonsteroidal aromatase inhibitor. ENCORE 301 was designed to test whether the addition of entinostat to exemestane could improve the progression-free survival. After experiencing disease progression on a nonsteroidal aromatase inhibitor, patients were randomized to exemestane daily plus weekly entinostat or placebo.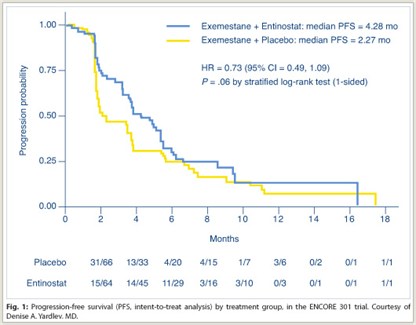 As shown in Fig. 1, median progression-free survival, the primary endpoint, was 4.28 months with entinostat/exemestane vs 2.27 months with exemestane alone, a 27% statistically significant reduction in risk (P = .06). Rates of overall response and clinical benefit (stable disease at 6 months)were similar between the two arms: approximately 5% and approximately 26%, respectively.
At a median follow-up of 18 months, median overall survival was 26.9 months with the combination vs 20.3 months with exemestane alone, a 54% reduction in mortality risk (P = .055 by 2-sided test), Dr. Yardley reported.
"We saw a trend for an overall survival benefit. This is an exploratory endpoint with data that are still maturing and a subsequent update to be presented at the upcoming CTRC-AACR San Antonio Breast Cancer Symposium," she said.
Pharmacodynamic Analysis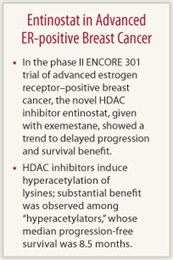 As their proposed mechanism of action, HDAC inhibitors induce hyperacetylation of lysines on histones and a number of other proteins. In a biomarker analysis of 49 patients, protein lysine acetylation measured in blood samples revealed a substantial impact of the combination in 13 of 49 subjects who hyperacetylated (based on a greater than median percent change in B-cell protein acetylation). Risk of disease progression was reduced by 77% in this group, who had a median progression-free survival of 8.54 months on the combination vs 1.92 months with exemestane plus placebo. 
"This suggests that entinostat-induced hyperacetylation tracked with improved outcomes and may be an exciting potential biomarker of benefit that merits further exploration," she said.
The regimen was well tolerated, and there were no new safety signals. The combination was associated with more grade 3/4 fatigue (13% vs 2%), gastrointestinal toxicity (10% vs 0%), and neutropenia (13% vs 2%), but these were "uncomplicated without evidence of fever or infections," she noted. Discontinuations due to adverse events were observed in 11% of the combination arm and 1% of the exemestane-only arm.
"These results support plans for the global, pivotal phase III study due to begin enrollment in early 2012," Dr. Yardley concluded. ■
Disclosure: Dr. Yardley reported no potential conflicts of interest.
SIDEBAR: Expert Point of View: Novel HDAC Inhibitor May Restore Estrogen Sensitivity in Breast Cancer
Reference
1. Yardley DAQ, Ismail-Khan R, Klein P. Results of ENCORE 301, a randomized, phase II, double-blind, placebo-controlled study of exemestane with or without entinostat in postmenopausal women with locally recurrent or metastatic estrogen receptor-positive breast cancer progressing on a nonsteroidal aromatase inhibitor. 2011 Breast Cancer Symposium. Abstract 268. Presented September 10, 2011.
---
Related Articles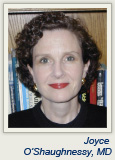 Joyce O'Shaughnessy, MD, of Baylor Sammons Cancer Center in Dallas, who moderated the symposium where the results were presented, called the use of entinostat in advanced estrogen receptor–positive breast cancer "very, very promising." She added, "I agree that it's time for a phase III trial of...