Expert Point of View: Novel HDAC Inhibitor May Restore Estrogen Sensitivity in Breast Cancer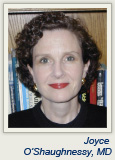 Joyce O'Shaughnessy, MD, of Baylor Sammons Cancer Center in Dallas, who moderated the symposium where the results were presented, called the use of entinostat in advanced estrogen receptor–positive breast cancer "very, very promising." She added, "I agree that it's time for a phase III trial of this agent."
The identification of an optimal treatment group is of key interest, Dr. O'Shaughnessy said. A subanalysis of ENCORE 301 will compare patients deemed resistant to endocrine therapy, vs those who are sensitive, to assess relative benefits.
Acetylation Status
The results according to acetylation status are intriguing, Dr. O'Shaughnessy observed.  "In the overall population, increasing progression-free survival from about 2 months to 4 months is pretty good, but I am even more impressed with the trend for an overall survival benefit. I'm also especially impressed with the pharmacodynamic marker the study may have identified, which was associated with more than an 8-month progression-free survival," she noted.
"This suggests we might try to increase the percentage of patients who develop acetylation of white blood cells," she explained. The half-life of the drug is long enough to allow for weekly dosing, and more frequent dosing would not be desirable, she said. "But if we don't see more toxicity, we may be able to give higher doses in some patients to achieve greater acetylation. We may also be able to use this finding to optimize patients in the phase III trial." ■
Disclosure: Dr. O'Shaughnessy reported no potential conflicts of interest.
---
Related Articles
The addition of the investigational histone deacetylase (HDAC) inhibitor entinostat significantly delayed breast cancer progression and showed a trend for a survival benefit in the phase II ENCORE 301 study. The study was conducted in women with advanced estrogen receptor–positive breast cancer...