How Cancer Affects Adolescents and Young Adults
A roundtable discussion with cancer survivors Lauren Ramer, Brian G. Smith, and Amanda Boser

The statistics are alarming: according to the National Cancer Institute (NCI), about 70,000 adolescents and young adults (AYAs) are diagnosed with cancer each year1—a recent report by the University of California put that figure at 87,000.2 Although overall cancer survival rates continue to improve among all age groups in the United States, survival rates for AYAs lag behind those for children and older adults with the disease. One study found that although the 5-year survival rate for all invasive cancers diagnosed in AYAs (defined by the NCI as those between the ages of 15 and 39) was 82.5%, survival was worse in specific cancers, including acute myeloid leukemia (AML) and medulloblastoma, compared with children with those cancers. Survival is also worse in AYAs than in older adults who have hepatic carcinoma, AML, high-grade astrocytoma, acute lymphoblastic leukemia, pancreatic carcinoma, low-grade astrocytoma, gastric carcinoma, renal carcinoma, cancer of the oral cavity and pharynx, Hodgkin lymphoma, ovarian cancer, fibromatous sarcoma, other soft-tissue sarcoma, and thyroid carcinoma.3 In addition, compared with older women, women younger than age 40 are generally diagnosed with more aggressive breast cancers, have worse survival rates, and are at higher risk of metastatic recurrence.4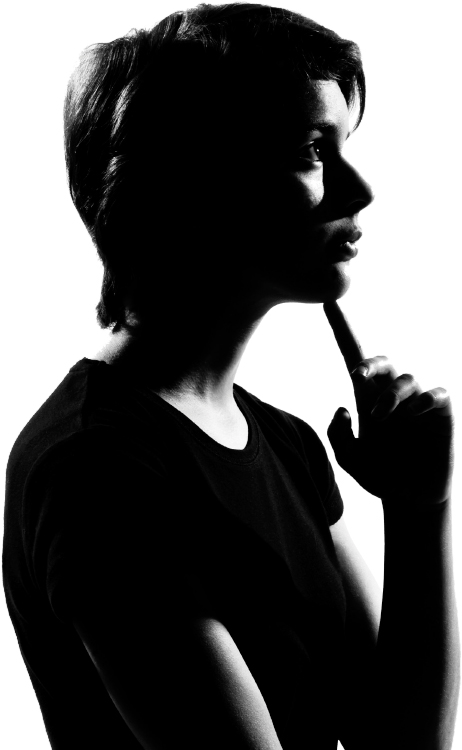 Another disturbing cancer trend among young adults is the rapid rise in colorectal cancer incidence. A spate of recent studies showed that although colorectal cancer rates in the United States are declining overall, they are increasing among people younger than age 50, causing the American Cancer Society to lower its recommended beginning screening age for people at average risk of colorectal cancer from 50 to 45.5 And, as with other cancer types diagnosed in AYAs, young-onset colorectal cancer has potentially different molecular characteristics than those of late-onset colorectal cancer—perhaps accounting for their more aggressive behavior—and is often misdiagnosed, resulting in delays in treatment.
Compounding the variations in survival outcome among the three age groups is a lack of treatment guidelines and clinical trials specifically designed for teenagers and young adults.
Recognizing the Unique Quality-of-Life Issues of AYAs
Outcome disparity is not the only challenge AYA cancer survivors face. AYA cancer survivors often experience quality-of-life issues that are distinct from those experienced by either younger or older cancer survivors, and these issues can persist long after the cancer diagnosis and the end of treatment. Interruptions in education or career trajectory can have profound long-term financial repercussions for young adults—one study found that the difference in the net worth of young adult cancer survivors can be as much as $100,000 compared with their healthy counterparts.6 Concerns about fertility, dissatisfaction with body image, and difficulty in establishing intimate relationships can all contribute to a poorer health-related quality of life than older cancer survivors experience. Younger survivors may also be more prone to feelings of depression and anxiety than their older counterparts. Conversely, AYAs are more likely to have improved relationships with family members and friends, greater focused attention on future goals and purpose, as well as confidence in their ability to take care of their long-term health.7
Putting a Face on the Statistics
To get a first-hand understanding of the physical, financial, and psychosocial impact a cancer diagnosis has on AYAs and how that impact changes over the span of survivorship, The ASCO Post held a roundtable discussion with three AYA cancer survivors: Lauren Ramer, 16, a high school student in Brecksville, Ohio; ­Brian G. Smith, 30, an administrative assistant for a substance use disorder rehabilitation facility in North Hollywood, California; and Amanda Boser, 37, an appeals specialist for an insurance company in Inver Grove Heights, Minnesota.
Here are brief descriptions of their cancer experience, followed by a discussion of how the disease is affecting their daily lives and the quality of their survivorship.
Lauren Ramer
Cancer has dogged Lauren Ramer since she was 17 months old and received her first cancer diagnosis and surgery for adrenocortical carcinoma. Because the cancer represents just 0.2% of all pediatric malignancies, Ms. Ramer underwent genetic testing for Li-Fraumeni syndrome. The test was negative for the genes associated with the condition.
Lauren Ramer, 16, was diagnosed with Li-Fraumeni syndrome when she was 9. She's had 3 cancers since she was 17 months old, including adrenocortical carcinoma, pleomorphic xanthoastrocytoma, and extraskeletal osteosarcoma. She is currently in remission. Photo Credit: SGMP-Scott Gloger.
However, in 2011, when Ms. Ramer was 9, her older brother, Brent, then 11, was diagnosed with high-grade pelvic osteosarcoma, which prompted additional genetic screening. The test confirmed a diagnosis in both children of Li-Fraumeni syndrome with mutations in the TP53 gene. Although Ms. Ramer was asymptomatic for new cancers, the diagnosis led to a series of imaging scans, which detected a sizable rare brain tumor, pleomorphic xanthoastrocytoma, and she underwent surgery to remove the mass.
"I've always been a very positive person, and on our way to the elevator after my brain tumor diagnosis, I turned to my mom and said, 'This is a miracle because they found the cancer.' Still, the diagnosis affected me a lot," said Ms. Ramer. "I had a little bit of trouble getting back into school after my brain surgery, and there were a lot of questions from my peers that made me uncomfortable."
In 2015, Ms. Ramer's brain tumor recurred, and she underwent additional surgery. Two years later, Ms. Ramer was diagnosed with extraskeletal osteosarcoma and treated with surgery and chemotherapy. The cancer recurred the following year, and she was treated with additional surgery. Since March 2018, she has been in remission.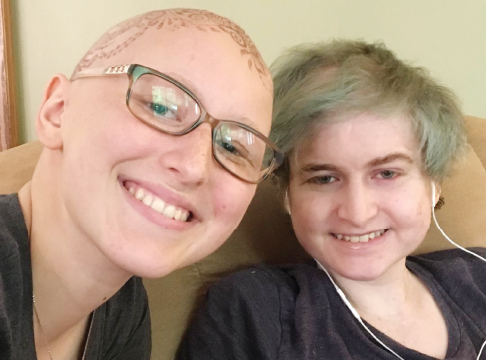 Lauren Ramer (right) with her older brother, Brent, undergoing chemotherapy for their cancers in the summer of 2017. Brent died on December 30, 2017, from complications of acute myeloid leukemia. Photo Credit: Courtesy of Ann Ramer.
Unfortunately, Brent Ramer developed several additional cancers, including metastatic melanoma and chemotherapy-related myelodysplasia and AML, and died on December 30, 2017, at the age of 18, from complications of his leukemia. He was waiting to become eligible for enrollment in an adult clinical trial investigating chimeric antigen receptor T-cell therapy. 
Brian G. Smith
Mr. Smith admits that for months after he first began experiencing symptoms of testicular cancer in 2010, he was in such denial about the potential seriousness of his condition, he did not seek medical attention. Just 22 years old when his symptoms first appeared, it wasn't until his left testicle became so enlarged and painful that he knew he couldn't ignore his symptoms any longer. Although an Internet search of his symptoms convinced Mr. Smith he was likely facing testicular cancer, when he finally received the diagnosis in February 2011, the news was devastating.
"Looking back on what was happening in my life, I don't know how to describe it. I was in my senior year at college and going to school was the most important thing in my life. I worried about how cancer was going to affect my education," explained Mr. Smith.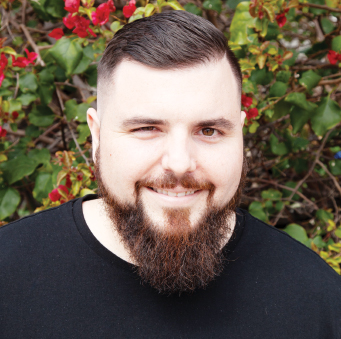 Brian G. Smith, 30, was diagnosed with late-state testicular cancer in 2011. He has been treated for metastases to his left lung and brain and remains in remission. Photo Credit: Prem Dhanjal.
Even more shocking, he said, was learning that the cancer had metastasized to his left lung and brain. Although chemotherapy eradicated the tumor in his lung and stereotactic radiosurgery successfully treated the brain tumor, 3 months after completing therapy, Mr. Smith had a grand mal seizure while in a movie theater. An imaging scan found a large tumor nestled in the right hemisphere of his brain. Despite warnings that surgery to remove the mass would likely cause paralysis on the left side of his body, he consented to the treatment. "It was either surgery or die," said Mr. Smith.
Although intensive physical therapy was successful in restoring much of Mr. Smith's mobility, high doses of dexamethasone caused steroid-induced avascular osteonecrosis in his knees, and he was once again unable to walk. Infusions of bevacizumab, a reduction in the dosage of dexamethasone, additional physical therapy, and a prescription of time-release morphine and oxycodone for pain management restored enough function in his left side so he can walk unaided.
"The hardest part of having cancer is not going through the experience itself but watching what it does to the people you love."

— Brian G. Smith




Tweet this quote



However, complicating Mr. Smith's recovery from both the physical and emotional toll cancer and its treatment were taking on his life, was his addiction to alcohol and drugs, which began in high school. "I was prescribed opiates to manage the pain from my surgeries and osteonecrosis, but I manipulated the situation and would take the medication to deal with all the emotional issues I was having. I had lived 22 years of my life as an able-bodied person and then my world fell apart. If I'm being completely honest, a lot of what I was doing was based on fear, and I developed a serious drug problem," admitted Mr. Smith.
A stint in a substance abuse rehabilitation facility in 2016 and ongoing support group therapy have helped Mr. Smith to live substance-free. His cancer remains in remission.
Amanda Boser
Three years ago, when Amanda Boser was nearly 8 months pregnant with her second child, a suspicious mass in her right breast sent her to her obstetrician-gynecologist for a checkup. A subsequent tissue biopsy of the tumor determined she had stage II estrogen receptor–positive, progesterone receptor–positive, and HER2-positive breast cancer, and she underwent a lumpectomy. Faced with an aggressive cancer and the urgency to undergo chemotherapy immediately, Ms. Boser made the decision to have her baby delivered early by cesarean section. Two weeks later, she began receiving a chemotherapy regimen that included doxorubicin, cyclophosphamide, and paclitaxel, followed by a dozen rounds of trastuzumab.
Despite the treatment and genetic testing that found she did not have BRCA1/2 gene mutations, feeling uneasy about her long-term prognosis, Ms. Boser made the decision to have a contralateral prophylactic mastectomy. "I understood that there are not statistical data to back up a survival advantage with the surgery, but I was picturing my children without their mother and my husband without his wife, and I just wanted to be rid of cancer and have peace of mind," she said.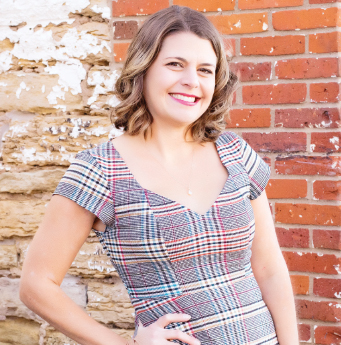 Amanda Boser, 37, was diagnosed with stage II estrogen receptor–positive, progesterone receptor–positive, and HER2-positive breast cancer in 2016, when she was pregnant with her second child. She underwent chemotherapy and a contralateral prophylactic mastectomy and is cancer-free. Photo credit: Colleen McKenzie.
Although a pathologic examination of the breast tissue found it was clear of cancer, the examination showed that the cancer had spread to distant lymph nodes. After consulting with two oncologists, Ms. Boser made the decision to undergo adjuvant radiation therapy. "I was devastated; in addition to the chemotherapy I had had, I now had to undergo radiation therapy. I was sick of having to make additional doctors' appointments and miss more time from work. There is so much disruption in your life when you have cancer," said Ms. Boser.
In 2018, Ms. Boser underwent breast reconstruction surgery and continues to receive exemestane and leuprorelin acetate hormonal therapy to help keep her cancer in remission. "I go to the clinic infusion room every month for my [leuprorelin acetate] injection, so even though I'm cancer-free, cancer is still in my face. I'm still dealing with the fear of recurrence and treatment side effects," she said.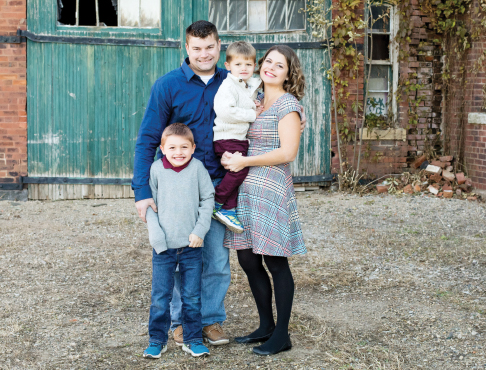 Amanda Boser with her husband, Joe, and sons, Braden, 6, and Connor, 2. Photo credit: Colleen McKenzie.
Living and Coping With Cancer
Please talk about how having cancer has affected your life.
Ms. Ramer: Cancer has affected me in very different ways. It has definitely changed my perspective on life. Having gone through this cancer journey, I've grown up quite fast and matured. I see the little blessings in life. I don't take spending a day with my family for granted. I truly cherish those moments. A normal day at school for a lot of people is just going through the motions, but I see it as a blessing to be there and to be healthy and happy.
Mr. Smith: When I was diagnosed with testicular cancer, I was in my senior year at college and despite my treatment and everything that was going on, I was able to graduate. I had dreamed about going to graduate school in England, but pursuing that possibility wasn't realistic after my cancer diagnosis.
It took me about 3 years to get my life back after my cancer treatment and time spent in a rehabilitation center for my drug and alcohol addiction. During that time, I worked several odd jobs and learned a lot about myself. Now, I'm an administrative assistant at the substance abuse rehabilitation facility that I had attended, helping other men live a sober life. I have finally been able to turn things around, stand on my own two feet, and face everything I've gone through.
Ms. Boser: This is a hard question for me to answer because cancer has affected so much of my life. With all the surgeries and treatment I have had, I'm physically different now and not so in love with what I see. I'm still getting used to my breast implants and my new body. The hormonal therapy has put me in induced menopause, and I get hot flashes and have issues with a low sex drive. Emotionally, I have bouts of anxiety, which is something I never experienced before my breast cancer diagnosis. I'm not sure if the anxiety is the manifestation of fear over a cancer recurrence or a side effect of my hormonal therapy, but it can be debilitating.
On the positive side, my relationships with my family and friends have gotten a lot closer. I'm grateful to the community I live in and the kindness I received from neighbors, which helped us get through many challenges over the past 3 years.
When you are diagnosed with cancer, you try to find a purpose, a reason, for the disease, but I haven't figured that out yet. I don't even know if there is a greater purpose to having cancer, especially when you are faced with death.
Hopes for the Future
Do you fear a cancer recurrence? What are your greatest hopes for the future?
Ms. Ramer: I have conversations with my mom about a cancer recurrence or the development of a new cancer, and she does worry about me getting cancer again. But I'm not worried, because I'm aware of all the promising new therapies in development and know it's just a matter of time before they find a cure for my cancer.
"I'm hoping I can use my experiences with cancer to become a pediatric oncology nurse, so I will be able to have direct contact with kids who are going through what I've gone through."

— Lauren Ramer




Tweet this quote



I want to live a normal life, but I'm hoping I can use my experiences with cancer to become a pediatric oncology nurse, so I will be able to have direct contact with kids who are going through what I've gone through.
Mr. Smith: I don't know if I'm afraid of a cancer recurrence. I'm more afraid of how a cancer recurrence would affect the people around me, including my parents and my brothers. The hardest part of having cancer is not going through the experience yourself but watching what it does to the people you love.
I'd love to have all the things other young people have, including a career and marriage, and I'm working toward achieving those things. I would just like to have a "normal" life.
Ms. Boser: My greatest fear is having a cancer recurrence. I also worry about the people around me and their illnesses. I worry about whether I'm being proactive enough when I get an ache or find a new skin lesion. I'm still working through all the feelings I have about my cancer. I don't have cancer anymore, so I should be able to move on. I have two young children to raise and a full-time job, and life keeps moving forward. But the feelings of what I went through linger. I was so busy and overwhelmed when I got the cancer diagnosis, I didn't have time to process all that was happening. When you asked how cancer has affected my life, in some ways, I'm still trying to figure it out.
"I was so busy and overwhelmed when I got the cancer diagnosis, I didn't have time to process all that was happening. In some ways, I'm still trying to figure it out.

— Amanda Boser




Tweet this quote



My hopes for the future are simple: I want to be alive and healthy for my children and my husband and hope I don't have additional cancer issues in the future. My doctors assure me that I'm doing everything I can do to prevent a recurrence, so I'm hoping for the best.
Financial Impact of Cancer
In addition to the physical and emotional issues you are confronting, what other long-lasting effects from your cancer diagnosis are you experiencing, such as financial and career concerns?
Mr. Smith: I'll be 31 soon, and the prospect of having money and a secure financial future is more real to me, but I just don't have the energy right now to worry about it. I rely on my faith in every aspect of my life, and I'm leaving my future to God.
Ms. Boser: When I was pregnant with my second child, I anticipated being on a 3-month unpaid maternity leave, and we had saved money in anticipation of that loss of income. When I was diagnosed with cancer, I was told by my company that my job couldn't be guaranteed and so felt pressure to get back to work right away. Although I received short-term disability benefits during my maternity leave, I cut the leave short and continued to work through my cancer treatment, but I wish I could have taken the time to recuperate. Having a new baby and coping with cancer were difficult, and I think taking more time off would have helped me recover quicker, both physically and emotionally.
Being a Teenager With Cancer
Cancer has been part of your life since you were a toddler, Ms. Ramer. How are you managing to cope with cancer while trying to have the normal experiences of being a teenager?
Ms. Ramer: When you've had as much cancer as I've had for as long as I have, the experience is not something I can push past, and I've learned to completely embrace my cancer journey, because it has shaped the person I've become. With that said, cancer hasn't stopped me from participating in school activities. I haven't experienced any emotional or physical limits. I'm still on the cross-country and track and field teams, and I play French horn in the marching band. There are days though when I feel completely exhausted and wonder how I'm going to manage in the future if my cancer comes back.
While going through treatment, I lost my hair and was so fatigued that I could only finish half-days at school. When I was in the hospital for treatment, I missed an entire year of school, and that was really, really hard. In addition to feeling isolated from my friends, I had to keep up with my lessons and grades while going through chemotherapy, which was no easy task.
Your brother Brent also had Li-Fraumeni syndrome. How has his death affected you?
Ms. Ramer: Not having Brent here makes cancer look like a piece of cake, and it is my biggest challenge. Brent was my complete support system. We had cancer treatment together, and he taught me how to manage being a teenager who has cancer with humor and optimism. When I had to have chemotherapy, I felt completely confident because I knew he was going to be by my side. It wasn't until he died and I had to have chemotherapy on my own that I realized how much I relied on him. It's been very difficult since his death.
Advocating for Change
What changes would you like to see in research for cancers that affect AYAs, such as greater access to clinical trials?
Ms. Ramer: My greatest wish is to make sure that AYAs have the access they need to adult clinical trials. We have extremely aggressive cancers and being shut out of clinical trials is detrimental to our population. One of the reasons my brother died is because he had to wait until he turned 18 to enroll in an adult clinical trial.
Mr. Smith: I don't have any one specific suggestion. I would leave this up to the people who are doing this research.
Ms. Boser: I don't have a family history of cancer and don't carry the BRCA gene mutation, so I would like to see more information on the causes of breast cancer and strategies on how to prevent the disease. I would have liked to avoid cancer altogether.
What changes would you like to see in the medical community and in public policy to improve your quality of life?
Ms. Ramer: There should be financial resources for AYA cancer survivors. I'm only 16, but I'm already worrying about what happens when I age out of my parents' health insurance when I turn 26. I need to figure out how to get health insurance, otherwise I'm going to be in a very bad place based on my medical history. I get routine scans every couple of months to make sure I don't have any developing cancers, and they are very expensive.
Mr. Smith: There should be dedicated treatment facilities specifically for AYA survivors. When I was undergoing treatment, I was the youngest person in the waiting room, and it was difficult to relate to the other patients. My parents were always with me, and having that support helped me. I worry about other AYAs who don't have family or peer support and are going through cancer alone.
Ms. Boser: There needs to be more support surrounding the fear of recurrence. When I speak with other AYAs, fear of recurrence is a common theme. One way to alleviate this fear is to have regular surveillance scans, but they are expensive and are not always covered by insurance. I would like to see cost exclusions for AYAs, so they can get imaging scans when they need them. Also, like Lauren, I worry about affording health care now that I have a preexisting condition. My medications are expensive, and I would like to see regulations regarding how much pharmaceutical companies can charge for cancer drugs. ■
REFERENCES
1. National Cancer Institute: Adolescents and young adults with cancer. Available at www.cancer.gov/types/aya. Accessed April 24, 2019.
2. USC/Norris Comprehensive Cancer Center: Cancer in Los Angeles County: Survival among adolescents and young adults 1988–2014. Available at http://keck.usc.edu/cancer-surveillance-program/wp-content/uploads/sites/166/2016/03/aya_survival_2017.pdf. Accessed April 24, 2019.
3. Keegan TH, Ries LA, Barr RD, et al: Comparison of cancer survival trends in the United States of adolescents and young adults with those in children and older adults. Cancer 122:1009-1016, 2016.
4. Young Survival Coalition: Breast cancer in young women: Statistics and disparities. Available from www.youngsurvival.org/learn/about-breast-cancer/statistics. Accessed April 24, 2019.
5. American Cancer Society (ACS): ACS Guideline for Colorectal Cancer Screening. Available at www.cancer.org/cancer/colon-rectal-cancer/detection-diagnosis-staging/acs-recommendations.html. Accessed April 24, 2019.
6. Landwehr MS, Watson SE, Macpherson CF, et al: The cost of cancer: A retrospective analysis of the financial impact of cancer on young adults. Cancer Med 5:863-870, 2016.
7. Bellizzi KM, Smith A, Schmidt S, et al: Positive and negative psychosocial impact of being diagnosed with cancer as an adolescent or young adult. Cancer 118:5155-5162, 2012.
---
Related Articles
When strangers ask me how many children I have, I'm not quite sure how to respond. Do I still have four children even though one has died? A year and a half after my son Brent's death, at the age of 18, from complications of acute myeloid leukemia (AML), I'm still struggling with knowing the...