COVID-19 and Patients With Cancer: A Call to Action for Trainees

As oncology trainees, we develop skills to synthesize complex data and communicate this information with empathy as we accompany our patients through the trenches of a cancer diagnosis. With the current COVID-19 pandemic, an unprecedented layer of challenges has surfaced, as our patients who are living with cancer now must navigate the frightening reality of living through a global pandemic to which they are uniquely vulnerable.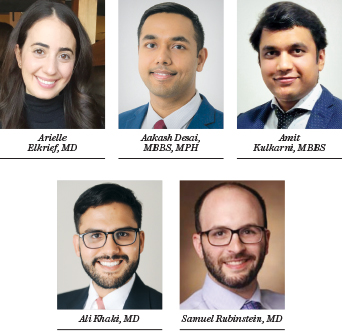 In our clinics, patients often ask questions to which we do not yet know the answers: "Does the treatment I am taking put me at risk for complications from COVID-19?" "Should I delay my surgery?" "How is the pandemic going to affect the quality of my care?" Due to the uncertainty associated with this pandemic, even the most seasoned hematologists and oncologists are learning in real time. In a sense, COVID-19 has turned everyone in our field into trainees. There is an urgent need to answer these questions.
Patients with cancer have been found to be at higher risk of COVID-19, which may be due to immunosuppression caused by both the malignancy and anticancer treatments. Early reports from China demonstrated that hospitalized patients with cancer were more likely to experience severe events (defined as admission to the intensive care unit requiring invasive ventilation or death) from COVID-19.1 This report represented an important first step in characterizing COVID-19 in the population of patients with cancer. However, the small sample size (just 18 patients) and the heterogeneity of this study were major limitations in drawing conclusions.
Data from Italy demonstrated that 20% of patients who died of COVID-19 had a cancer diagnosis.2 Recent evidence suggests that patients with cancer also have a higher rate of infection compared with the general population.3 Despite these findings, data are still insufficient on the precise risk factors for severe disease among patients with cancer, and an important gap remains, as we strive to protect and inform patients through this pandemic.
An International Collaboration
Enter the COVID-19 and Cancer Consortium (CCC19), an international collaboration of health-care professionals, now comprising 100 cancer centers. Its goal is to rapidly collect and disseminate data to improve our understanding of the short-term and long-term impact of COVID-19 on the care and outcomes of patients with cancer.4 This multinational, grassroots-level, collaborative effort began organically, primarily through social media channels on Twitter.5 (For more about CCC19, see "The Blind Leading the Blind: COVID-19, Cancer, and the Need for More Data).
The CCC19 is prioritizing trainee engagement in its efforts, with opportunities to contribute to research publications. Trainees often underestimate their ability to make a difference in biomedical research, but the current scenario presents a unique opportunity for residents and fellows to be united and to offer their skills and knowledge to help in the fight against COVID-19.6
How to Help
"As key members of the oncology treatment team, we [trainees] have a unique role to play in data generation, outreach, and education."

— Arielle Elkrief, MD, and colleagues




Tweet this quote



If you are a trainee and want to join this multinational effort against COVID-19 to help patients with cancer, here are three ways to contribute:
1. Reach out to the CCC19 team via Twitter or through its website: www.ccc19.org.
2. Identify a principal investigator at your institution and join the CCC19 as an institution. Enter data into the online survey after appropriate local institutional review board approvals. The survey tool is designed so health-care professionals can report on patients they are treating for cancer who also have, or are presumed to have, COVID-19. This study was determined to be exempt by the Vanderbilt institutional review board. The survey can be accessed at www.ccc19.org.
3. Spread the word and connect with us on social media at
@COVID19nCCC.
As the oncology community navigates this global pandemic, there is a pressing need for evidence-based recommendations driven by real-world evidence. As key members of the oncology team, we have a unique role to play in data generation, outreach, and education. Now more than ever, we must remember why we joined this noble profession and make every effort to help. Fellow trainees, the time to act is now—join CCC19 and help make a difference for patients with cancer and COVID-19. 
Dr. Elkrief is a research fellow in medical oncology (PGY-5) at McGill University, Montreal. Currently a resident in the Department of Medicine at the University of Connecticut Health Center, Farmington, Dr. Desai will pursue a fellowship in hematology/oncology at Mayo Clinic, Rochester, Minnesota, later this year.
Dr. Kulkarniis a clinical fellow in hematology and oncology (PGY-6) at the University of Minnesota (UMN), Minneapolis, and will transition to a faculty position at UMN later this year. Dr. Khaki is a senior hematology/oncology fellow (PGY-6) at the University of Washington and Fred Hutchinson Cancer Research Center, Seattle. Dr. Rubinstein is a clinical fellow in the Department of Medicine, Division of Hematology and Oncology, at Vanderbilt University Medical Center, Nashville.
DISCLOSURE: Drs. Desai, Kulkarni, and Rubinstein reported no conflicts of interest. Dr. Elkrief has received grant support from AstraZeneca. Dr. Khaki has held stock in Merck, Pfizer, Proctor & Gamble, and ­Walgreens Boots Alliance.
REFERENCES
1. Liang W, Guan W, Chen R, et al: Cancer patients in SARS-CoV-2 infection: A nationwide analysis in China. Lancet Oncol 21:335-337, 2020.
2. Onder G, Rezza G, Brusaferro S: Case-fatality rate and characteristics of patients dying in relation to COVID-19 in Italy. JAMA 323:1775-1776, 2020.
3. Yu J, Ouyang W, Chua MLK, et al: SARS-CoV-2 transmission in patients with cancer at a tertiary care hospital in Wuhan, China. JAMA Oncol. March 25, 2020 (early release online).
4. Thompson M, Fu Jr P, Gupta S, et al: COVID-19 and Cancer Consortium. Published March 20, 2020. Available at https://cancerletter.com/articles/20200320_3/. Accessed May 27, 2020.
5. Desai A, Warner J, Kuderer N, et al: Crowdsourcing a crisis response for COVID-19 in oncology. Nat Cancer 1:473-476, 2020.
6. Chan JY, Narasimhalu K, Goh O, et al: Resident research: Why some do and others don't. Singapore Med J 58:212-217, 2017.
---