The Blind Leading the Blind: COVID-19, Cancer, and the Need for More Data

In the novel Blindness, Portuguese author José Saramago describes an epidemic that quickly and inexorably causes nearly all inhabitants of an unnamed city to lose their sight. The Nobel Laureate writes in long uninterrupted sentences, making the reader experience the fears and anxieties of the characters, with food shortages and interruption of everyday life certainties leading to social disruption, panic, and despair.

Aakash Desai, MD, MPH
Today, with the severe acute respiratory syndrome coronavirus-2 (SARS-CoV- 2 [COVID-19]) global pandemic, we feel as if we are living within his novel. Health care workers are busy diagnosing and treating patients, while also trying to prepare for the inevitable wave that will engulf us all. As oncologists, we have the added responsibility to safeguard and continue treating patients with cancer to the best of our abilities. Herein, we call on every oncology caregiver and stakeholder to join us in the fight against our lack of information and help us gather the data that will be paramount to guide our practices in this new reality.
Patients With Cancer at an Increased Risk for COVID-19 Complications
Jeremy L. Warner, MD, MS, FAMIA, FASCO
In late 2019 and early 2020, the world witnessed the outbreak COVID-19 in Wuhan, China. On January 20, the first COVID-19 case in the United States was confirmed in Snohomish County, Washington.1 The Centers for Disease Control and Prevention2 report that most people in the United States will have little immediate risk if exposed to the virus. However, like with other infectious diseases, people with compromised immune systems and/or major medical problems, including patients with active cancer and cancer survivors, are at an increased risk for hospitalization and death. A meta-analysis of published studies that will soon be available in JCO Global Oncology found that 2.1% (1.2%–3.2%, I2 = 65%) of patients diagnosed with COVID-19 also currently have or had cancer.3

Nicole M. Kuderer, MD
A nationwide analysis in China4 demonstrated that patients with cancer have a higher risk of severe events (a composite endpoint defined as admission to the intensive care unit requiring invasive ventilation, or death) compared with patients without cancer: 7 (39%) of 18 patients vs 124 (8%) of 1,572 patients, respectively (Fisher's exact, P = .0003). Furthermore, patients who underwent chemotherapy or surgery in the month prior to admission had a numerically higher risk (3 [75%] of 4 patients) of clinically severe events than did those who had not (6 [43%] of 14 patients). Although this included a very small and heterogeneous sample of patients with cancer and has to be considered preliminary, early data from Italy5 corroborate the impact of COVID-19 in patients with cancer, suggesting that among the COVID-19 patients with comorbidities who died, 20% also had a concomitant diagnosis of cancer (personal communication from an initial Northern Italy COVID-19 report).

Brian I. Rini, MD, FACP, FASCO
Despite the presence of 1,518 publications on COVID-19 in a literature search at the time of this writing, no robust data on COVID-19 and the treatment of patients with cancer exist. Researchers from China have proposed three major strategies for patients with cancer in the COVID-19 crisis: postponing adjuvant chemotherapy or elective surgery for "stable patients"; providing personal protective equipment (PPE) for patients with cancer or cancer survivors; and more intensive surveillance or treatment for patients with cancer infected with COVID-19.
Protecting Patients and Health-Care Workers From COVID-19
As the United States grapples with a looming lack of PPE and less-than-ideal COVID-19 testing capabilities, cancer centers and organizations such as ASCO and the American Cancer Society (ACS) have suggested preliminary empiric measures to prevent spread in our patient population, protecting health-care workers, and increasing system capacity. These measures include, but are not limited to: screening all patients, caregivers, staff, and providers for COVID-19 symptoms; limiting exposure to sick contacts and documenting travel history; streamlining COVID-19 testing; minimizing nonessential follow-up visits; restricting visitors; increasing engagement in telehealth and phone visits; creating guidelines for blood transfusion and PPE usage; and setting up COVID-19 hotline and response teams. More details on such an early response by tertiary cancer centers are outlined in a recent publication.6

Gary H. Lyman, MD, MPH, FASCO, FRCP
At the same time, the oncology community is working hard to minimize interruptions in cancer-related care. Delays in elective surgery, neoadjuvant/adjuvant or palliative systemic and radiation therapies, preventive cancer care, or disruption of clinical trials might impact survival. Colleagues from Italy5 suggest that we should continue treatments in the neoadjuvant/adjuvant settings and first-line metastatic setting while possibly delaying other forms of cancer treatments. A tenuous and careful risk-benefit balance is currently required between undertreating patients with cancer (with resultant increase in cancer-related morbidity and mortality) and preventing the expected higher morbidity and mortality from COVID-19.

Petros Grivas, MD, PhD
As we navigate and search for answers to the many new urgent clinical questions posed in the COVID-19 era, it is imperative we make data-driven decisions when caring for patients. Professional societies, such as ASCO, ACS, the American Society of Hematology, the American Society for Transplantation and Cellular Therapy, the American Association for Cancer Research, and the European Society for Medical Oncology will continue to play a significant role in ensuring delivery of optimal, high-quality, and evidence-based care. As health-care workers and physicians on the front line, we can also play an instrumental role in informing future decisions from our experiences with COVID-19 in patients with cancer.
The COVID-19 and Cancer Consortium
A case study7 of the 2012–2013 Colorado wildfires and the 2010 Haitian earthquake revealed that social media and disaster managers in all countries can benefit from the use of crowdsourcing. We believe it can also help us gather data about COVID-19 in patients with cancer, and such an effort is currently underway under the auspices of the COVID-19 and Cancer Consortium (CCC19) and its survey tool, the CCC19 Registry.8 This consortium presently comprises more than 30 cancer centers and other organizations that have come together to rapidly collect and disseminate data so we can better understand the scope and severity of COVID-19 in patients with cancer (Table).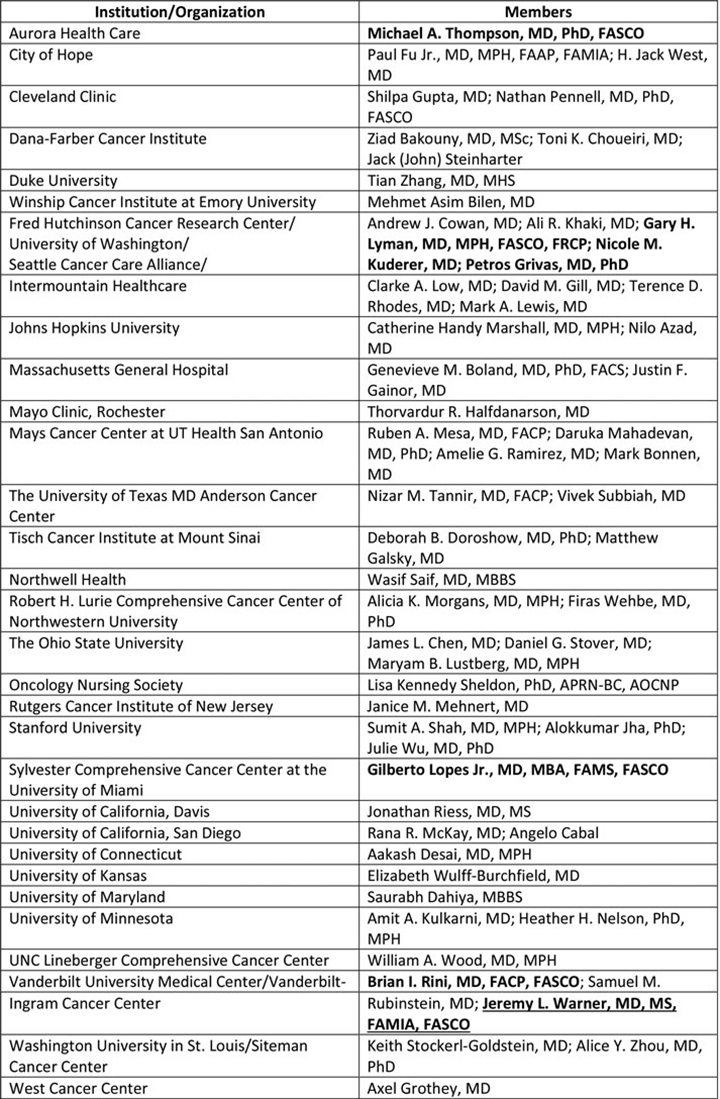 The survey tool is designed so health-care professionals can report patients whom they are treating for cancer and also have or are presumed to have COVID-19. We aim to collect data on patient demographics, clinicopathologic factors, COVID-19 diagnosis and treatment, course of illness and outcomes, cancer diagnosis and treatment details, and information about the health-care professional. This study was considered exempt by the Vanderbilt IRB (#200467) and can be accessed at ccc19us.org.
A Call to Action
We recall a passage from Blindness that rings especially true today: "If, before every action, we were to begin by weighing up the consequences, thinking about them in earnest, first the immediate consequences, then the probable, then the possible, then the imaginable ones, we should never move beyond the point where our first thought brought us to a halt."

Michael A. Thompson, MD, PhD, FASCO

Gilberto Lopes Jr, MD, MBA, FAMS, FASCO
The time to act is now. Join us to rapidly improve our understanding of COVID-19 and its impact on patients with cancer.
About the Authors
Dr. Aakash Desai is a resident in Internal Medicine at University of Connecticut.
Dr. Jeremy L. Warner is Associate Professor of Medicine and Biomedical Informatics at Vanderbilt University.
Dr. Nicole M. Kuderer is an oncologist with the Seattle Cancer Care Alliance.
Dr. Brian I. Rini is an oncologist and Chief of Clinical Trials at Vanderbilt-Ingram Cancer Center.
Dr. Gary H. Lyman is Co-Director of the Hutchinson Institute for Cancer Outcomes Research and Professor of Medicine and Medical Oncology at the University of Washington.
Dr. Petros Grivas is an oncologist with Seattle Cancer Care Alliance and Associate Professor and Clinical Director of the Genitourinary Cancers Program with the University of Washington School of Medicine.
Dr. Michael A. Thompson is Medical Director for the Early Phase Cancer Research Program and Co-Director of Oncology Precision Medicine Program at Advocate Aurora Health.
Dr. Gilberto Lopes Jr is Associate Director for Global Oncology at the Sylvester Comprehensive Cancer Center, Associate Professor of Clinical Medicine at the University of Miami Miller School of Medicine, and Editor-in-Chief of JCO Global Oncology.
DISCLOSURE: For full disclosures of the study authors, visit dailynews.ascopubs.org.
REFERENCES
1. Holshue ML, DeBolt C, Lindquist S, et al: First Case of 2019 Novel Coronavirus in the United States. N Engl J Med 382:929-936, 2020.
2. Coronavirus Disease 2019 (COVID-19): How to Prepare. Available at cdc.gov/coronavirus/2019-ncov/prepare/prevention.html. Accessed March 23, 2020
3. Desai, et al: COVID-19 and Cancer: Lessons from a Pooled Meta-Analysis. JCO Glob Oncol. [In Press]
4. Liang W, Guan W, Chen R, et al: Cancer patients in SARS-CoV-2 infection: a nationwide analysis in China. Lancet Oncol 21:335-337, 2020.
5. West, HJ. Italian Oncologist Offers Cautionary Advice on COVID-19 for US Centers. Available at https://www.medscape.com/viewarticle/927213#vp_1. Accessed March 23, 2020.
6. Ueda M, Martins R, Hendrie PC, et al. Managing Cancer Care During the COVID-19 Pandemic: Agility and Collaboration Toward a Common Goal. J Natl Compr Canc Netw Mar 20:1-4, 2020.
7. Riccardi MT. The power of crowdsourcing in disaster response operations. Int J Disast Risk Re 20:123-128, 2016.
8. The Cancer Letter. COVID-19 and Cancer Consortium. Available at https://cancerletter.com/articles/20200320_3/. Accessed March 23, 2020.
Originally published in ASCO Daily News. © American Society of Clinical Oncology. ASCO Daily News, March 25, 2020. All rights reserved.
---