Elective Neck Dissection Beats Watch and Wait Approach in Early Oral Cancer


Anil K. D'Cruz, MBBS, MS, FRCS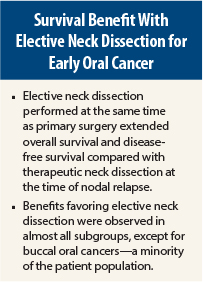 Survival Benefit With Elective Neck Dissection for Early Oral Cancer

Jyoti Patel, MD
Our conclusions are that elective neck dissection should be the standard of care for early node-negative squamous cell oral cancer.

—Anil K. D'Cruz, MBBS, MS, FRCS
We never want to do more surgery than we have to, but for patients with early oral cancer, we now know that more extensive surgery prolongs lives.

—Jyoti Patel, MD
Elective neck dissection of node-negative early-stage oral cancer at the time of primary surgery improves overall survival and disease-free survival compared with therapeutic neck dissection (ie, therapeutic neck dissection at the time of nodal relapse, or "watch and wait" approach), according to a major phase III randomized trial presented at the Plenary Session of the 2015 Annual Meeting of ASCO1 and published in The New England Journal of Medicine to coincide with this presentation.2
Elective neck dissection improved overall survival by 12.5%, reduced the risk of death by 36%, and reduced the risk of recurrence by 55% compared with therapeutic neck dissection (watch and wait approach) in the first 500 patients randomized to this trial.
"Our conclusions are that elective neck dissection should be the standard of care for early node-negative squamous cell oral cancer. For every eight patients treated with elective neck dissection, one death is prevented, and for every four patients treated with elective neck dissection, one recurrence is prevented," stated lead author Anil K. D'Cruz, MBBS, MS, FRCS, Director, Tata Memorial Center, Head and Neck Services, Mumbai, India.
'One and Done'
"This study will affect the lives of over 300,000 people globally. The study shows that the 'one and done' surgical approach definitely improves survival compared with 'watch and wait,'" stated Jyoti Patel, MD, ASCO expert, at an official press conference where these data were presented. "We never want to do more surgery than we have to, but for patients with early oral cancer, we now know that more extensive surgery saves lives." Dr. Patel is Associate Professor at Northwestern University Feinberg School of Medicine, Chicago.
Oral cancer is highly prevalent in both developed countries and developing countries, with a high incidence of tobacco and alcohol use. "Today [May 31] is World Tobacco Day, and what could be a better day to share these results," said Dr. D'Cruz.
Controversial Topic
The primary treatment of early node-negative oral cancer is a small excision, but controversy surrounds whether or not to do elective neck dissection at the time of primary surgery or to watch and wait until a node develops and then do a therapeutic node dissection, Dr. D'Cruz explained.
Therapeutic neck dissection does not improve survival and can have associated morbidities associated with a second surgery. Performing both the primary and the neck dissection surgeries at the same time spares patients those effects.
Study Details and Results
A large randomized controlled trial was mounted to address this issue. At the 2015 ASCO Annual Meeting, Dr. D'Cruz reported results in the first 500 patients enrolled in the trial between 2004 and 2014, with a median follow-up of 39 months. All patients had early stage I, node-negative, oral cancer and were randomized to undergo elective or therapeutic neck dissection. A second randomization was performed after surgery to ultrasound-guided surveillance vs clinical surveillance, but those data were not reported at the meeting.
In the elective surgery group, there were 81 recurrences and 50 deaths, compared with 146 recurrences and 79 deaths in the therapeutic neck dissection group. At 3 years, overall survival was 80% in the elective dissection group vs 67.5% in the therapeutic dissection group, reflecting a significant 26% improvement in survival for elective surgery (P = .01). At 3 years, the rate of disease-free survival was 69.5% for elective dissection vs 45.9% for therapeutic dissection, a highly statistically significant difference (P < .001).
The overall survival benefit of elective neck dissection was consistent across almost all prespecified subgroups, including stage, sex, grade, tumor depth, resected margin status, and use of radiotherapy. For the site of cancer, there was equipoise for both techniques for buccal mucosa oral cancers, but elective dissection was superior for cancers of the tongue or floor of the mouth.
The large majority of cancers in this trial were tongue cancers (85.3%), "so the results are most applicable to this primary site," Dr. D'Cruz noted. The majority of patients with buccal cancers available for recruitment in this trial were not amenable to oral excision, he added.
Study Limitation
A study limitation is that it did not address shoulder dysfunction, which afflicts a substantial proportion of patients subjected to neck dissection. Dr. D'Cruz suggested that future studies address procedures that might limit shoulder complications, such as sentinel lymph node biopsy and limited neck dissection.
He also noted that a larger percentage of patients in the elective dissection group received adjuvant radiotherapy based on nodal status, and the study did not address whether this contributed to improved overall survival. ■
Disclosure: This trial was funded by the Department of Atomic Energy Clinical Trial Centre, Membai, India. Dr. D'Cruz is on the speakers bureau of Merck Serono, and his institution has received research funding from GlaxoSmithKline.  Dr. Patel reported no potential conflicts of interest.
References
1. D'Cruz AK, Dandekar M, Vaish R, et al: Elective versus therapeutic neck dissection in the treatment of early node negative squamous cell carcinoma of the oral cavity. 2015 ASCO Annual Meeting. Abstract LBA3. Presented May 31, 2015.
2. D'Cruz AK, Vaish R, Kapre N, et al: Elective versus therapeutic neck dissection in node-negative oral cancer. N Engl J Med. May 31, 2015 (early release online).
---
Related Articles
Formal discussant Hisham Mehanna, PhD, Chief of Head and Neck Surgery and Director of Head and Neck Studies and Education at the University of Birmingham, United Kingdom, congratulated Dr. D'Cruz on conducting an ambitious and difficult trial. "Like all studies, it has flaws, but the study has...