Chemotherapy Plus Ramucirumab Provides Survival Advantage Over Chemotherapy Alone in Non–Small Cell Lung Cancer


Maurice Pérol, MD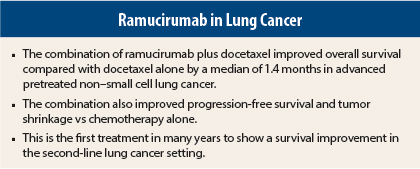 Ramucirumab in Lung Cancer
This is the first treatment to have shown a significant survival advantage over chemotherapy alone in second-line therapy of NSCLC, and the first treatment in approximately a decade to improve outcomes in the second-line setting.

—Maurice Pérol, MD
Ramucirumab (Cyramza) added to docetaxel improved overall survival compared to chemotherapy alone in patients with stage IV non–small cell lung cancer (NSCLC) that has progressed on one prior therapy, according to results of a phase III trial presented at the 50th ASCO Annual Meeting.1 The improvement in survival was consistent across multiple prognostic factors, including squamous cell and non–squamous cell histology, suggesting that the combination may turn out to be valuable in all subtypes of NSCLC. Overall survival was modestly improved by a median of 1.4 months in patients treated with the combination.
New Second-Line Option
"This is the first treatment to have shown a significant survival advantage over chemotherapy alone in second-line therapy of NSCLC, and the first treatment in approximately a decade to improve outcomes in the second-line setting," stated lead author Maurice Pérol, MD, Head of Thoracic Oncology at Cancer Research Centre of Lyon in France. "Ramucirumab represents a potential new option for treatment in the second-line setting."
"Despite advances in NSCLC and genomics, the majority of patients with NSCLC cannot benefit from targeted therapy, and chemotherapy is still the treatment of choice," Dr. Pérol said. Approved second-line chemotherapy includes docetaxel, pemetrexed (Alimta), and erlotinib ­(Tarceva), and median overall survival with these agents is 7 to 9 months.
Ramucirumab is a monoclonal antibody that targets the vascular endothelial growth factor (VEGF) receptor 2, blocking the formation of new blood vessels to feed the tumor. Currently ramucirumab is approved only for advanced gastric cancer treatment. No other antiangiogenic drugs are approved in the second-line setting for advanced NSCLC.
Study Details
The double-blind, placebo-controlled, phase III REVEL trial enrolled 1,253 patients with stage IV NSCLC (26% had squamous histology) that progressed on standard platinum-based therapy. Patients were randomly assigned to treatment with ramucirumab plus docetaxel or docetaxel plus placebo.
The combination significantly improved response rate, progression-free survival, and overall survival compared with docetaxel alone. Tumor shrinkage was observed in 22.9% of those who received ramucirumab/docetaxel vs 13.6% of those in the docetaxel-alone arm (P < .001). Median progression-free survival was 4.5 vs 3.0 months (P < .0001), respectively, and median overall survival was 10.5 vs 9.1 months (P = .0235).
"This study met the primary endpoint of overall survival, reducing the risk of death by 14% and prolonging median survival by 1.4 months," Dr. Pérol noted. The combination also reduced the risk of progression by 24%.
The safety profile was as expected for an antiangiogenic agent combined with docetaxel chemotherapy. The most common (≥ 5% incidence) of grade 3 or higher adverse events included neutropenia, febrile neutropenia, fatigue, leukopenia, hypertension, and pneumonia. No increase in pulmonary hemorrhage was observed with the combination. ■
Disclosure: Dr. Pérol is a Consultant or Advisor for Boehringer Ingelheim, Genentech, Lilly, Pfizer, and Roche, and has received honoraria or other remuneration from Genentech, Lilly, Pfizer, and Roche. For full disclosures of all study authors, visit abstracts.asco.org.
Reference
1. Pérol M, Ciuleanu T-E, Arrieta O, et al: REVEL: A randomized, double-blind, phase III study of docetaxel and ramucirumab versus docetaxel and placebo in the second-line treatment of stage IV non-small cell lung cancer following disease progression after one prior platinum-based therapy. ASCO Annual Meeting. Abstract LBA8006. Presented June 2, 2014.
---
Related Articles
This combination shows good activity in the difficult-to-treat second-line setting of NSCLC," said Gregory A. Masters, MD, FASCO, about the results of the REVEL study reported at the ASCO Annual Meeting. Dr. Masters, who is Attending Physician at the Helen F. Graham Cancer Center and Research...