Bevacizumab Breast Cancer Indication Rescinded: What Are the Downstream Implications?

Leading up to FDA's resolution to revoke the breast cancer indication for bevacizumab (Avastin), the debate over the drug's clinical value was imbued with contentious ideologic overtones, which culminated in a 2-day public hearing that exposed deep divisions not only in the scientific community, but also among breast cancer advocacy groups and individual patients and survivors. In the face of the recent FDA decision, the Centers for Medicare & Medicaid Services will continue coverage for bevacizumab in metastatic breast cancer, further complicating the issue for providers and payers. To clarify this ongoing debate, The ASCO Post spoke with nationally regarded health-care expert Lee N. Newcomer, MD, Senior Vice President of Oncology for UnitedHealthcare.
Coverage Decisions
FDA Commissioner Margaret A. Hamburg, MD, said she revoked bevacizumab's approval in breast cancer after concluding that the drug was not effective or safe. As an oncologist and payer, how do you determine whether a cancer therapy warrants coverage?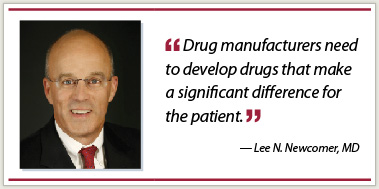 When our physicians read the literature and made subsequent clinical decisions, we were consistently accused of making those decisions based on cost-savings, no matter how carefully we were working to adhere to best practices. So about 4 years ago, UnitedHealthcare made a commitment to use the National Comprehensive Cancer Network (NCCN) compendium as our way of determining what we did and did not cover for cancer chemotherapy. We decided that using an authoritative instrument, respected by both the physician and patient communities, was the best way to have a transparent, easy-to-understand, process.
We know that the NCCN compendium is not perfect, but it is widely respected by oncologists as a reasonable standard. One always knows what our coverage policy is by simply going to the NCCN website. If that requested drug has a level 1, 2A, or 2B recommendation, we'll cover it.
But in some respects our coverage decisions are legal as well as medical. We say legally in our documents that the NCCN is the way we make coverage decisions—that is what I must do, no matter what the evidence shows or what my personal opinions might be.
However, now I'll change hats. As a medical oncologist, I do not see that bevacizumab offers a lot of value to a patient with breast cancer. I think the toxicity outweighs the gains, and if I were in the clinic, it would not be one of the drugs I would use to treat that disease. But as a payer I will cover bevacizumab because the NCCN recommends it.
What the Data Tell Us
Bevacizumab was granted accelerated approval in 2008. From the ensuing 3 years, are there "real-world" data to give us a read about bevacizumab's efficacy?
There really are not. At United, we've actually been looking at our data in the claims area, trying to understand whether patients who receive bevacizumab have better survival rates. Claims data alone are not good enough to reveal the answers. For instance, we have a number of patients who for a variety of reasons change carriers, so when we see an end to claims, we never know whether that particular patient has died or just changed insurance carriers. So for us to aggregate accurate outcomes information is very difficult.
Moreover, I don't know of any organized or systemic effort that does postmarketing analyses of these drugs. And that is a central point that the bevacizumab issue is raising. For drugs with marginal benefit to begin with—as illustrated by the Oncologic Drugs Advisory Committee's decision to revoke bevacizumab's indication in metastatic breast cancer—should there have been an organized, systematic review of whether these patients with breast cancer had good responses? I think there should have been, but there is no process in place that harvests these important data.
What do your internal data tell you about bevacizumab usage?
What information we do have shows that the drug is being delivered to patients in a very inconsistent manner. Thus, the data might not be analyzable in a meaningful way. We looked to see how often bevacizumab was used according to the very detailed NCCN recommendations. We probed three usage areas: what line of therapy bevacizumab was given for, whether the drug was given for more than one line, and whether it was given with the correct medications. We found that 55% of the bevacizumab that we covered for all cancers at UnitedHealthcare in 2009 failed those criteria. That indicates that even when you collect postmarketing data, there is so much variation in clinical application that it makes it difficult to analyze and come up with workable conclusions.
Drug Development
Has this ongoing turmoil with bevacizumab hurt our ability to move drugs through the pipeline and into the clinic?
I don't believe it's hurt the process. In fact, I think it has helped clarify the basic fact that we need drugs that have unquestionably good clinical responses. Those are the drugs we want coming out of the pipeline. No one in the cancer care community is questioning bevacizumab's usefulness in colon cancer. It is a terrific and very interesting agent. However, all this back and forth within the regulatory agencies sends a message to drug manufacturers: They need to develop drugs that make a significant difference for the patient. Bevacizumab never showed a survival benefit in breast cancer.
Closing Thoughts
Any last thoughts on this issue?

For UnitedHealthcare, having the NCCN approach to our coverage decisions has proved to be a good program. Again, our answers are consistent no matter what drug or what study we're dealing with. It also gives oncologists in the community a stable resource for accessing information about coverage.
The bevacizumab issue has benefited the cancer community because it gave more credence to the larger discussion of value. Moving forward, how are we going to reach consensus about the right methods to decide whether a cancer drug has value for patients? Bevacizumab did shrink tumors, but it did not prolong survival and it has some fairly toxic side effects, including cost. The question becomes, how are we going to balance these factors in a decision-making process? The FDA finally concluded that there just wasn't enough benefit to justify its indication in metastatic breast cancer. There are those who disagree, but it is this kind of review and action that helps create a needed dialogue about value. ■
Disclosure: Dr. Newcomer is Senior Vice President of Oncology for UnitedHealthcare.
SIDEBAR: Bevacizumab in Breast Cancer: Additional Perspective
---
Related Articles
A recent poll by MDoutlook1 concluded that payer coverage would have a significant role in bevacizumab's use in metastatic breast cancer. Usage of the drug could be cut by two-thirds in the United States and by one-third outside the United States. The NCCN has kept its recommendation of bevacizumab ...