Radiation Therapy Improves 10-Year Survival for Patients With Early Hodgkin Lymphoma, but Frequently Omitted in Treatment Plans
Study Reveals Gaps in Care of Early-Stage Disease


Rahul R. Parikh, MD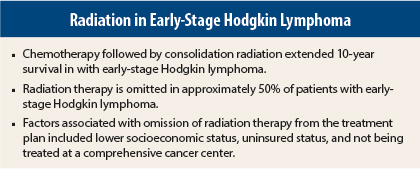 Radiation in Early-Stage Hodgkin Lymphoma
The study highlighted disparities in care and access to care. We need to believe in the potential use of radiation in this setting and work with our medical oncology colleagues of the benefit of consolidation radiation.

—Rahul R. Parikh, MD
Adding consolidation radiation therapy to chemotherapy significantly improves 10-year survival in patients with stage I and II Hodgkin lymphoma, according to a large observational study based on the National Cancer Database (NCDB). Yet over that same 10-year period, radiation therapy use declined by 15%, and oncologists are not including radiation therapy as part of the treatment plan. The findings were presented at the American Society for Radiation Oncology's 56th Annual Meeting in San Francisco.1
'Practice-Changing' Findings
The study shows that early-stage Hodgkin lymphoma patients with higher socioeconomic status, health insurance, and treatment at comprehensive cancer centers are more likely to get radiation therapy as part of management than their counterparts. The authors hope that the message from this study will affect clinical management of this potentially curable disease.
"The standard of care for treatment of early-stage Hodgkin lymphoma is combined modality chemotherapy followed by consolidation radiotherapy. Most randomized trials conducted to date have been underpowered to show a survival benefit. This large analysis based on the NCDB showed an overall survival benefit at 10 years for combined modality therapy. Yet radiotherapy has declined in use," stated lead author Rahul R. Parikh, MD, of Mount Sinai Beth Israel Medical Center and Mount Sinai St. Luke's–Roosevelt Hospital in New York City.
"We have identified specific factors associated with omission of radiation. This study should be practice-changing," Dr. Parikh stated.
Dr. Parikh noted that the study is the largest contemporary dataset of patients with early-stage Hodgkin lymphoma and reflects contemporary treatment programs with radiation-specific data.
The study prospectively collected outcomes data covering 41,420 patients with newly diagnosed Hodgkin lymphoma in more than 1,500 U.S. hospitals. Of these, 20,523 (49%) received radiation at a mean dose of 30.6 Gy, while 20,897 did not. Multiagent chemotherapy was given to 39,842 patients (96%).
Inclusion of radiation therapy in the treatment plan boosted 10-year overall survival from 76% in those who did not get radiation therapy to 84% in those who received radiation therapy. This difference was highly statistically significant (P < .00001). Also, patients who did not get radiation therapy had an increase in the rate of salvage transplant procedures.
Factors Associated With Omission of Radiotherapy
"Patients with B symptoms and higher comorbidity status were less likely to get radiation," Dr. Parikh told the audience.
Factors significantly associated with not receiving radiation therapy included uninsured status (P < .001), being treated at an academic/research facility rather than a comprehensive cancer center (P < .001), and having lower educational and income status (P < .001).
A multivariate analysis controlling for several factors showed that receiving radiation and chemotherapy remained significant predictors of overall survival.
"Despite this overall survival benefit, utilization of radiation therapy decreased from 1998 to 2011 by 15%. When we looked at reasons why radiation was not given, 86% of oncologists said it was not part of the treatment plan," said Dr. Parikh.
"We like to treat patients in a multidisciplinary setting where medical oncologists and radiation oncologists confer at time of diagnosis. The study highlighted disparities in care and access to care. We need to believe in the potential use of radiation in this setting and work with our medical oncology colleagues of the benefit of consolidation radiation," he continued.
"We recommend that radiation remain standard of care combined with chemotherapy for this curable disease," he concluded. ■
Disclosure: Dr. Parikh reported no potential conflicts of interest.
Reference
1. Parikh RR, Yahalom J, Talcott JA, et al: Early-stage Hodgkin's disease: The utilization of radiation therapy and its impact on overall survival. 56th Annual Meeting of ASTRO. Abstract CT-08. Presented September 14, 2014.
---
Related Articles
The goal of therapy is to maximize cure. Limiting radiation therapy and other types of cancer therapies is reasonable to minimize side effects, but at times this path might lead to increased risk of cancer recurrence," said Theodore DeWeese, MD, Chairman of the Department of Radiation Oncology and...