Monoclonal Antibody Promising in Multiple Myeloma


Elotuzumab, a humanized IgG1 monoclonal antibody targeting human CS1, a cell-surface glycoprotein expressed on 95% of myeloma cells, elicited responses in 82% of relapsed/refractory myeloma patients in a phase II study reported at the ASH Annual Meeting.1 Objective response rates exceeded 90% in patients who had received one prior therapy, and in those receiving the 10 mg/kg dose. The median progression-free survival rate was 65% to 75% with a median follow-up of 14 months.
"Overall, we see an 80% to 90% response rate, and at 14 months we have not yet hit median progression-free survival," said Sagar Lonial, MD, Professor, Hematology and Medical Oncology, at Emory University School of Medicine, ­Atlanta.
Durable Responses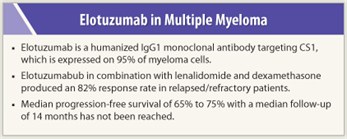 The study included 73 patients with relapsed/refractory disease, who were treated until progression with 10 or 20 mg/kg elotuzumab in combination with lenalidomide (Revlimid) and low-dose dexamethasone. The drug was well tolerated, and, with prophylaxis, only one grade 3 infusion reaction was documented.
Approximately 12% of patients had complete responses and 36% had very good partial responses—outcomes called "very encouraging" by Dr. Lonial. "And these are durable responses. Over half the patients are still on study," he added.
Phase III studies of 10 mg/kg elotuzumab are ongoing in previously untreated patients and in relapsed/refractory patients (the ELOQUENT1 and ELOQUENT2 trials). ■
Disclosure: Dr. Lonial reported no potential conflicts of interest.
Expert Point of View: Monoclonal Antibody Promising in Multiple Myeloma
Reference
1. Lonial S, Jakubowiak AJ, Jagannath S, et al: A phase 2 study of elotuzumab in combination with lenalidomide and low-dose dexamethasone in patients with relapsed/refractory multiple myeloma. 53rd American Society of Hematology Annual Meeting. Abstract 303. Presented December 12, 2011.
---
Related Articles
With a wealth of new agents of various classes in the pipeline, "myeloma is going to become a chronic illness, with sustained complete responses achieved in a significant fraction of patients," according to Kenneth C. Anderson, MD, of Dana-Farber Cancer Institute and Harvard Medical School, Boston.
...