Expert Point of View: Monoclonal Antibody Promising in Multiple Myeloma

With a wealth of new agents of various classes in the pipeline, "myeloma is going to become a chronic illness, with sustained complete responses achieved in a significant fraction of patients," according to Kenneth C. Anderson, MD, of Dana-Farber Cancer Institute and Harvard Medical School, Boston.
Antibody-based Treatments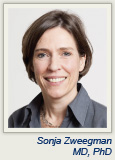 The ASCO Post asked several myeloma experts their views on the investigational agents that could make Dr. Anderson's prediction a reality. Their thoughts on antibody-based treatments follow. (See page 21 for their perspectives on the new proteasome inhibitors in multiple myeloma.)
 "We eagerly await monoclonal antibody–based therapy in myeloma, as we have had for years in lymphoma. These agents attack the plasma cell in a different way, and, encouragingly, what we heard at ASH is that they are not only tolerable but effective. They will certainly be additive to our arsenal," said Sonja Zweegman, MD, PhD, of VU University Medical Center in Amsterdam, The Netherlands, who moderated a session on new agents in myeloma.
Elotuzumab
Paul G. Richardson, MD, of Dana-Farber Cancer Institute, Boston, agreed. "As we all know, recognizing the complex biology of myeloma, we need more treatment options," he said.
Echoing Dr. Zweegman's excitement over monoclonal antibodies, he commented, "We saw great data showing enhancement of effect when elotuzumab was added to lenalidomide [Revlimid]/dexamethasone.1 This is probably the 'new rituximab [Rituxan]' for myeloma because it is showing such promise in combination."
Sundar Jagannath, MD, of Mount Sinai Medical Center, New York, explained why the elotuzu­mab/lenalidomide/dexamethasone combination is effective. While the killing mechanism of elotuzumab is antibody-dependent cell-mediated cytotoxicity, lenalidomide boosts the immune system and increases antigen expression. "With the combination, response rates are very robust," he observed. "With this proof of concept we hope to take the antibody into an earlier phase of disease—'smoldering myeloma.'"
Daratumumab and BT062
Dr. Richardson also singled out the novel CD38 antibody, daratumumab, which showed single-agent activity in a small study.2 "This is unique and very interesting, since no other monoclonal antibodies to date have shown this," he noted.
Dr. Jagannath said he is also excited about BT062, an antibody conjugated to the cytotoxic agent DM4, a tubulin toxin. At ASH, Dr. Jagannath presented the results of the first-in-human study of BT062 in 32 patients with relapsed/refractory multiple myeloma.3
"Even in this phase I population, evidence of clinical activity was observed, with a favorable toxicity profile," he said. "This conjugate eliminates myeloma cells but also overcomes drug resistance in the bone marrow milieu. To our amazement, toxicity is minimal." ■
Disclosure: Drs. Zweegman and Jagannath reported no potential conflicts of interest. Dr. Richardson has served on advisory boards for Celgene, Millennium, Novartis, and Bristol-Myers Squibb.
References
1. Lonial S, Jakubowiak AJ, Jagannath S, et al: A phase 2 study of elotuzumab in combination with lenalidomide and low-dose dexamethasone in patients with relapsed/refractory multiple myeloma. 53rd American Society of Hematology Annual Meeting. Abstract 303. Presented December 12, 2011.
2. Gimsin P, Plesner T, Nahi H, et al: A phase I/II dose-escalation study of daratumumab, a CD38 Mab in patients with multiple myeloma—preliminary safety data. 53rd American Society of Hematology Annual Meeting. Abstract 1873. Presented December 12, 2011.
3. Jagannath S, Chanan-Khan, Heffner LT, et al: BT062, an antibody-drug conjugate directed against CD138, shows clinical activity in patients with relapsed or relapsed/refractory multiple myeloma. 53rd American Society of Hematology Annual Meeting. Abstract 305. Presented December 12, 2011.
---
Related Articles

Elotuzumab, a humanized IgG1 monoclonal antibody targeting human CS1, a cell-surface glycoprotein expressed on 95% of myeloma cells, elicited responses in 82% of relapsed/refractory myeloma patients in a phase II study reported at the ASH Annual Meeting.1 Objective response rates exceeded 90% in...