Expert Point of View: Bevacizumab Progression-free Survival Benefit Upheld in AVEREL Trial

Modest benefit reported from AVEREL1 triggered comments among trialists about the future of bevacizumab (Avastin) in breast cancer.

"Although there's controversy about the recent revoking of FDA approval of bevacizumab for metastatic breast cancer, I think there is a consensus in our disappointment about the inability to show a more profound impact of bevacizumab on the outcome of women with late-stage disease," commented Hope S. Rugo, MD, of the UCSF Helen Diller Family Comprehensive Cancer Center, San Fransicsco.
Looking specifically at the HER2-positive subset, the AVEREL trial found a "quite modest" gain in progression-free survival with bevacizumab, although it is noteworthy that the control arm fared better than would be expected from previous studies, for reasons unknown, she said.
Meanwhile, the CLEOPATRA trial2 of pertuzumab showed the longest progression-free survival of any trial previously reported for HER2-positive, treatment-naive metastatic breast cancer, she noted. "So I don't think that there is a road forward for bevacizumab in the treatment—at least in the early setting—of metastatic HER2-positive disease. Many competitors are efficacious and less toxic," Dr. Rugo asserted.
However, "I don't think this is dead yet," she added, pointing to AVEREL's suggestion that high plasma VEGF-A levels may be a predictive biomarker for benefit—a finding that has recently been documented in other metastatic cancers as well.3
"So can bevacizumab, like the phoenix, rise from the ashes and make a miraculous comeback? Maybe," Dr. Rugo predicted.
'Biggest Mystery'

David Miles, MD, of Mount Vernon Cancer Center in London, and principal investigator of the AVADO trial (bevacizumab/docetaxel), took the opportunity to express his dismay at the FDA's withdrawal of the drug. "The biggest mystery is how two licensing authorities—the FDA and the European Medicines Agency—can look at the same data and reach completely different conclusions. I'm puzzled," he commented. "I am a practicing clinician 99% of the time. I use this drug and I don't really recognize the FDA's perception of the toxicity."
He firmly believes that bevacizumab has a place in breast cancer management, but "we need to pin down the marker that will tell us which patients benefit more," he said. "We have a targeted therapy, but we don't really understand the target."
He viewed the AVEREL data "somewhat positively," as it produced another separate dataset that points to a marker (VEGF-A) that may be worth pursuing. "You cannot look at bevacizumab and say there is nothing happening there, but do we need to understand more? Absolutely. We need to do a proper validation study of potential biomarkers, and this is what we have planned," he told The ASCO Post.
Call for Biomarkers

Gabriel Hortobagyi, MD, of The University of Texas MD Anderson Cancer Center, Houston, echoed the call for biomarker studies, not just for bevacizumab, but for all targeted agents in development. "We need to know which group will derive the lion's share of the benefit of adding drug X. We really need to invest in this," he said.
Meanwhile, he said, "bevacizumab, in my book, is alive and well. I continue to treat with bevacizumab in my clinic and we continue to run trials that include it." ■
Disclosure: Dr. Miles has received honoraria from Roche, GlaxoSmithKline, Genomic Health, and Eisai. Dr. Hortobagyi has served as a consultant to Genentech with compensation. Dr. Rugo has received research funding from Genentech, Novartis, Merck, and Pfizer.
References
1. Gianni L, Romieu G, Lichinitser M, et al: First results of AVEREL, a randomized phase III trial to evaluate bevacizumab in combination with trastuzumab + docetaxel as first-line therapy for HER2-positive locally recurrent/metastatic breast cancer. 2011 San Antonio Breast Cancer Symposium. Abstract S4-8. Presented December 8, 2011.
2. Baselga J, Kim-SB, Im S-A, et al: A phase III, randomized, double-blind, placebo-controlled registration trial to evaluate the efficacy and safety of pertuzumab + trastuzumab + docetaxel vs. placebo + trastuzumab + docetaxel in patients with previously untreated HER2-positive metastatic breast cancer (CLEOPATRA). 2011 San Antonio Breast Cancer Symposium. Abstract S5-5. Presented December 9, 2011.
3. Jayson GC, de Haas S, Delmar P, et al: Evaluation of plasma VEGFA as a potential predictive pan-tumour biomarker for bevacizumab. 2011 European Multidisciplinary Cancer Congress. Abstract 804. Presented September 24, 2011.
---
Related Articles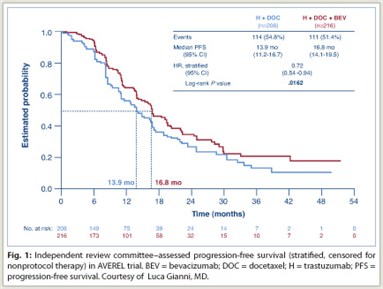 Bevacizumamb (Avastin) added to trastuzumab (Herceptin) and docetaxel as first-line therapy for HER2-positive advanced breast cancer moderately improved progression-free survival in the phase III ­AVEREL trial, presented at the 2011 San Antonio Breast Cancer Symposium by Luca Gianni, MD, of the San ...