Bevacizumab Progression-free Survival Benefit Upheld in AVEREL Trial
Especially in patients with high VEGF-A expression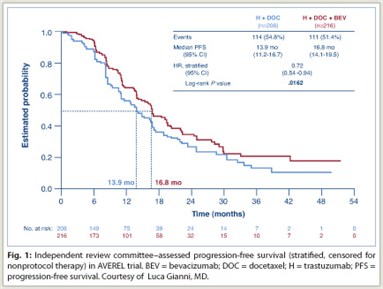 Bevacizumamb (Avastin) added to trastuzumab (Herceptin) and docetaxel as first-line therapy for HER2-positive advanced breast cancer moderately improved progression-free survival in the phase III ­AVEREL trial, presented at the 2011 San Antonio Breast Cancer Symposium by Luca Gianni, MD, of the San Raffaele Cancer Center in Milan.1
In the study of 424 patients followed a median of 26 months, bevacizumab was associated with an 18% reduction in progression or death by investigator assessment (P = .0775) and a 28% reduction by independent review (P = .0162; see Fig. 1 on page 9). Median progression-free survival increased by approximately 3 months by each analysis. Response rates were significantly higher—by 10.6% (P = .0265)—only by independent review assessment. Overall survival data are not yet mature, Dr. Gianni reported.
Dr. Gianni said AVEREL shows further proof of concept for antiangiogenic therapy, and that the challenge moving forward is to discover biomarkers of benefit.
Search for Subset
A subgroup analysis (n = 161) showed greater advantage for bevacizumab among patients with higher-than-median levels of plasma VEGF-A expression, who had a 30% reduction on risk of progression with bevacizumab.  

"Now, we have to search for the subset of women who have the characteristics associated with benefit from adding an antiangiogenic," he said. A global biomarker study is planned that will evaluate bevacizumab plus paclitaxel, stratified by VEGF-A levels, "to confirm or dispute the concept that this marker has anything to do with predicting benefits with the addition of bevacizumab." ■
Disclosure: Dr. Gianni is a consultant to Roche, Genentech, GSK, Wyeth, Novartis, Eisai, Pfizer, Millennium Takeda, Sanofi-Aventis, Boehringer Ingelheim, Biogen Idec, AstraZeneca, Genomic Health, and Celgene.
Expert Point of View: Bevacizumab Progression-free Survival Benefit Upheld in AVEREL Trial
Reference
1. Gianni L, Romieu G, Lichinitser M, et al: First results of AVEREL, a randomized phase III trial to evaluate bevacizumab in combination with trastuzumab + docetaxel as first-line therapy for HER2-positive locally recurrent/metastatic breast cancer. 2011 CTRC-AACR San Antonio Breast Cancer Symposium. Abstract S4-8. Presented December 8, 2011.
---
Related Articles
Modest benefit reported from AVEREL1 triggered comments among trialists about the future of bevacizumab (Avastin) in breast cancer.

"Although there's controversy about the recent revoking of FDA approval of bevacizumab for metastatic breast cancer, I think there is a consensus in our...