Novel Agent Appears Active in Advanced or Aggressive Systemic Mastocytosis

THE INVESTIGATIONAL agent BLU-285 (avapritinib) has shown significant activity in patients with advanced or aggressive forms of systemic mastocytosis, a rare blood disorder that originates in mast cells, according to the findings of a phase I trial reported at the 2017 American Society of Hematology (ASH) Annual Meeting & Exposition.1 Of 18 measurable patients, 13 (72%) achieved a response, including 2 complete responses and 8 partial responses, reported Daniel J. DeAngelo, MD, PhD, Associate Professor of Medicine at Harvard Medical School and a member of the Adult Leukemia Program at Dana-Farber Cancer Institute, Boston. 

Daniel J. DeAngelo, MD, PhD
Although only about 2,000 cases of systemic mastocytosis are diagnosed annually in the United States, Dr. DeAngelo suspects this number will grow. Typically, patients with this disorder are referred to oncologists by dermatologists who have observed the skin lesions or from allergists and immunologists who are treating the recurring severe anaphylactic reactions. Systemic mastocytosis is a result of a proliferation of mast cells. 
Currently, the standard of care for systemic mastocytosis is midostaurin, a multitargeted kinase inhibitor also approved for acute myeloid leukemia. "Midostaurin is finally catching on," Dr. DeAngelo said, "but it's not a trivial agent to administer. It does have a good overall response rate and improves symptoms, but we don't see a lot of complete or even partial remissions." 
Systemic mastocytosis can occur when mast cells, which help fight infection, grow uncontrollably. The spectrum of disease ranges from indolent systemic mastocytosis to the more aggressive forms, including mastocytosis accompanied by hematologic neoplasms and mast cell leukemia. These aggressive forms are driven by the KIT D816V mutation and can lead to organ damage and ultimately death. Mutated KIT D816V is found in about 90% of patients with systemic mastocytosis; it is inhibited by midostaurin and now more specifically by BLU-285. BLU-285 was designed specifically to treat systemic mastocytosis, and it provides highly potent and selective targeting of KIT D816V, stated Dr. DeAngelo. 
Phase I Dose-Escalation Trial 
The results came from a phase I dose-escalation trial of 32 patients. In part 1 of the ongoing study, the investigators aimed to establish a maximum tolerated dose for the phase II portion of the study. Secondary objectives were to evaluate pharmacokinetics and antineoplastic activity of the drug. 
NEW THERAPY FOR RARE BLOOD DISORDER
The investigational type I KIT inhibitor BLU-285 (avapritinib) was designed specifically to target the D816V mutation that causes systemic mastocytosis.
In a phase I study of 32 patients, the response rate was 72%, with 56% being complete responses.
Thirty patients remain on treatment.
The 32 patients had aggressive systemic mastocytosis, smoldering disease with associated hematologic neoplasms, mast cell leukemia, or other D816V-mutant hematologic neoplasms. Most patients (70%) had received at least one prior antineoplastic therapy, including cladribine, imatinib, interferon-alfa, midostaurin, and azacitidine. The drug was dosed in 7 cohorts, ranging from 30 mg to 400 mg once daily on a 4-week cycle, with dose escalation based on tolerability. 
Clinical Activity at All Doses 
"We saw responses, even in the lowest dose cohort," Dr. DeAngelo reported. The overall response rate was 72%, with 56% being complete and partial responses. Of the 32 patients, 30 remain on treatment, at a median duration of 9 months (range 4–19 months). 
"We saw responses, even in the lowest dose cohort. The data validate KIT D816V as a key disease driver."

— Daniel J. DeAngelo, MD, PhD




Tweet this quote



Rapid reductions in mast cell burden were seen; all 32 patients achieved > 50% reduction from baseline, 15 of 25 patients (60%) achieved bone marrow complete response, and 15 of 25 patients (60%) achieved > 35% reduction of spleen volume as per central review. These reductions were durable, with one patient experiencing stability for at least 1 year. Activity occurred regardless of disease subtype, prior therapy, concomitant mutations, and performance status. 
"The data validate KIT D816V as a key disease driver," Dr. DeAngelo noted. For most patients, clinical symptoms improved rapidly and strikingly, which he attributed to the drug's precise targeting of the KIT D816V mutation. 
Selective targeting of KIT D816V with BLU-285 was well tolerated. About half the treatment-related adverse events were grade 1 or 2. Periorbital edema was the most common side effect, seen in 59% overall and grade ≥ 3 in two (6%) patients. Peripheral edema and fatigue were also common. Grade ≥ 3 neutropenia was observed in only four (13%) patients. 
The recommended phase II dose was determined to be 300 mg once daily. Additional clinical development of BLU-285 across the spectrum of systemic mastocytosis is planned for 2018. There is a phase II trial in advanced systemic mastocytosis and a dose-finding and phase II trial in indolent and smoldering disease. Dr. DeAngelo predicted that BLU-285 might also prove useful in the handful of other KIT-driven cancers. ■
DISCLOSURE: Dr. DeAngelo has served as a consultant for BMS, Incyte, ARIAD, Novartis, Amgen, and Pfizer; received honoraria from Incyte, Immunogen, Blueprint Medicines, Shire, Novartis, Pfizer, and Takeda Pharmaceuticals USA; and received research funding from Immunogen, Blueprint Medicines, ARIAD, Glycomimetics, Celgene, Novartis, Amgen, and Pfizer. 
REFERENCE 
1. DeAngelo DJ, Quiery AT, Radia D, et al. Clinical activity in a phase 1 study of BLU-285, a potent, highly selective inhibitor of KIT D816V in advanced systemic mastocytosis. 2017 ASH Annual Meeting. Abstract 2. Presented December 10, 2017.
---
Related Articles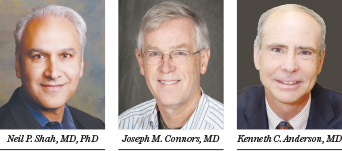 NEIL P. SHAH, MD, PhD, Leader of the Hematopoietic Malignancies Program at the University of California, San Francisco, Helen Diller Family Cancer Comprehensive Cancer Center, noted that BLU- 285 could fill an "unmet medical need" for a KIT inhibitor that is "both potent and selective." He...