EXPERT POINT OF VIEW: Neil P. Shah, MD, PhD; Joseph M. Connors, MD; and Kenneth C. Anderson, MD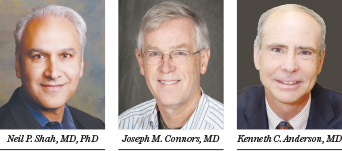 NEIL P. SHAH, MD, PhD, Leader of the Hematopoietic Malignancies Program at the University of California, San Francisco, Helen Diller Family Cancer Comprehensive Cancer Center, noted that BLU- 285 could fill an "unmet medical need" for a KIT inhibitor that is "both potent and selective." He pointed out the KIT D816V mutation is highly resistant to type II tyrosine kinase inhibitors such as imatinib; BLU-285 is a type I inhibitor. 
"While the type I inhibitor midostaurin is approved for advanced systemic mastocytosis, it was not optimized to be a KIT inhibitor," he said. "We know that potency of kinase inhibition can be critical for achieving deep remissions." 
'A Genuine Change' 
JOSEPH M. CONNORS, MD, Clinical Director at the Centre for Lymphoid Cancer at the British Columbia Cancer Agency and Clinical Professor at the University of British Columbia, in Vancouver, commented that BLU-285 represents "a genuine change" in the management of mastocytosis. "We didn't have effective therapy. We had treatments we could offer, which sometimes made patients feel better, but there was no consensus on what was the right treatment. This study offers an opportunity to have that platform. It's essential to have this to make further progress." 
Kenneth C. Anderson, MD, Director of the Lebow Institute for Myeloma Therapeutics and Jerome Lipper Myeloma Center at Dana-Farber Cancer Institute, Boston, commented: "We think this abstract is very exciting because it is reminiscent of the Gleevec [imatinib] story in chronic myelogenous leukemia 20 years ago. Gleevec targets BCR-ABL, which causes the disease, and due to this selective tyrosine kinase inhibitor, we have long-term survivors. In this new study, BLU‑285 targets the mutation that causes the proliferation of malignant mast cells. Excitingly, in this dose-escalation trial, the vast majority of patients responded and are still on treatment. Not only did patients feel better, but clinical signs such as peripheral edema were decreased. It's very promising." ■
DISCLOSURE: Dr. Shah has received research funding from ARIAD, Bristol-Myers Squibb, and Daiichi-Sankyo. Drs. Connors and Anderson reported no conflicts of interest. 
---
Related Articles
THE INVESTIGATIONAL agent BLU-285 (avapritinib) has shown significant activity in patients with advanced or aggressive forms of systemic mastocytosis, a rare blood disorder that originates in mast cells, according to the findings of a phase I trial reported at the 2017 American Society of...