FDA Announces Bevacizumab Decision: Agency Will Revoke Breast Cancer Indication
Drug not shown to be safe and effective in breast cancer patients, FDA concludes

On November 18, FDA Commissioner Margaret A. Hamburg, MD, said she is revoking the agency's approval of the breast cancer indication for bevacizumab (Avastin) after concluding that the drug has not been shown to be safe and effective for that use.
Bevacizumab will remain on the market as an approved treatment for certain types of colon, lung, kidney, and brain cancers (glioblastoma multiforme).
No Evidence of Benefit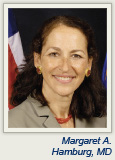 "After reviewing the available studies it is clear that women who take [bevacizumab] for metastatic breast cancer risk potentially life-threatening side effects without proof that the use of [bevacizumab] will provide a benefit, in terms of delay in tumor growth, that would justify those risks. Nor is there evidence that use of [bevacizumab] will either help them live longer or improve their quality of life," Dr. Hamburg said.
Bevacizumab's risks include severe high blood pressure, bleeding and hemorrhaging, heart attack or heart failure, and the development of perforations in different parts of the body such as the nose, stomach, and intestines.
The decision, outlined in Dr Hamburg's 69-page opinion, involves bevacizumab used in combination with paclitaxel for patients who have not been treated with chemotherapy for metastatic HER2-negative breast cancer. This indication must now be removed from bevacizumab's product labeling.
Dr. Hamburg's decision is based on an extensive record, which includes thousands of pages submitted to a public docket, data from several clinical trials, and the record from a 2-day hearing held in June 2011.
Bevacizumab History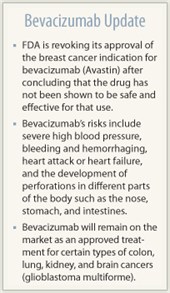 Bevacizumab was approved for metastatic breast cancer in February 2008 under the FDA's accelerated approval program, which allows a drug to be approved based on data that are not sufficiently complete to permit full approval. The accelerated approval was based on promising results from one study—E2100—that found an improvement in progression-free survival of 5.5 months when combined with paclitaxel. The subsequent AVADO and RIBBON1 studies have not shown the same extent of progression-free survival benefit when bevacizumab was combined with other agents. FDA's Center for Drug Evaluation and Research ultimately concluded that the results of these additional studies did not justify continued approval and notified Genentech it was proposing to withdraw approval of the indication. 
Following the procedures set out in FDA regulations, Genentech requested a hearing on the Center's withdrawal proposal, with a decision to be made by the Commissioner. That 2-day hearing, which took place June 28–29, 2011, included recommendations from the FDA's Oncologic Drugs Advisory Committee (ODAC), voting 6–0 in favor of withdrawing approval of bevacizumab's breast cancer indication. After the hearing, the public docket remained open until August 4, 2011. (In an earlier meeting, ODAC had voted 12–1 in favor of the removal of the breast cancer indication from the bevacizumab label.)
'Difficult Decision'
"This was a difficult decision. FDA recognizes how hard it is for patients and their families to cope with metastatic breast cancer and how great a need there is for more effective treatments. But patients must have confidence that the drugs they take are both safe and effective for their intended use," Dr. Hamburg said. She added "FDA is committed to working with sponsors to bring promising cancer drugs to market as quickly as possible using tools like accelerated approval. I encourage Genentech to consider additional studies to identify if there are select subgroups of women suffering from breast cancer who might benefit from this drug."
Genentech has indicated that a biomarker study of bevacizumab plus paclitaxel will be conducted, but no details have become available.
Emotional Reaction
Reaction to the announcement was robust in the lay press. The New York Times (November 19, 2011) reported that the revocation is "an emotional issue that has pitted the hopes of some desperate patients against the statistics of clinical trials."
Some publications took a strong editorial stance. The Wall Street Journal (November 19, 2011) argued that the FDA's demand for objective evidence is a subjective standard and criticized the government for interfering with patients' choices, though Forbes (November 19, 2011) applauded the decision and suggested it was "actually good for the drug industry."
A key issue to patients and their oncologists is coverage. The Centers for Medicare & Medicaid Services has indicated it has no immediate plans to change coverage policy but will reevaluate coverage options as a result of the FDA's action. The Wall Street Journal (November 19, 2011) also reported that Aetna and UnitedHealth Group plan to continue covering bevacizumab for breast cancer, in keeping with the National Comprehensive Cancer Network recommendations. However, Blue Shield of California plans to cease coverage, and Cigna is reviewing its policies, according to the newspaper. ■
Editor's note: Soon after FDA announced its decision to revoke the breast cancer indication for bevacizumab, Health Canada announced it will suspend authorization of the drug for use in the treatment of metastatic breast cancer.  Based on careful review, Health Canada has concluded that bevacizumab has not been shown to be safe and effective in this use. This decision does not affect Health Canada's authorization of bevacizumab in Canada for use in the treatment of metastatic colon, rectal, and lung cancers, as well as in the treatment of glioblastoma.
SIDEBAR: Breast Cancer Experts Voice Opinion and Express 'Disappointment' over FDA Decision
---
Related Articles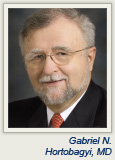 Gabriel N. Hortobagyi, MD, Chair of Medical Breast Oncology at The University of Texas MD Anderson Cancer Center, Houston, said he was "disappointed but not surprised" at the FDA decision to withdraw the bevacizumab (Avastin) indication in breast cancer.
"Once the FDA put this in the hands of...