Breast Cancer Experts Voice Opinion and Express 'Disappointment' over FDA Decision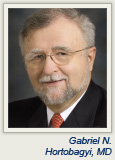 Gabriel N. Hortobagyi, MD, Chair of Medical Breast Oncology at The University of Texas MD Anderson Cancer Center, Houston, said he was "disappointed but not surprised" at the FDA decision to withdraw the bevacizumab (Avastin) indication in breast cancer.
"Once the FDA put this in the hands of ODAC, which they carefully handpicked, and the verdict came back 12 to 1, the handwriting was on the wall," he said. "It would have been hard for the FDA to justify a different decision. I had no great expectations, but I find the process disheartening…. The logic of the entire approval process is flawed."
Patchwork of Coverage
While the Centers for Medicare & Medicaid Services (CMS) has stated that coverage of bevacizumab will continue, Dr. Hortobagyi fears that Congressional cuts to the CMS budget could trigger reconsideration of this stance, due to cost: Nearly $100,000 for a year's treatment with the drug. "And private insurers are all over the map," he added. "At least in the short term, we have a patchwork of coverage."
Dr. Hortobagyi is also concerned that the common practice of off-label prescribing in oncology will create additional complexity. "I can imagine a patient going to court when some insurance company decides to withdraw off-label coverage for [bevacizumab] but not for another cancer drug. The future is going to be interesting."
Larger Issues

Kathy D. Miller, MD, Associate Professor and Sheila D. Ward Scholar at Indiana University School of Medicine and principal investigator for the E2100 trial, concurred that the decision is "a disappointment on many levels."
"As lead investigator, I know the care with which E2100 was designed and conducted, and I am passionate about the validity and reliability of the results," she told The ASCO Post. "But I am actually more disappointed in the larger issues.
These include the lack of a biomarker for bevacizumab and the frustration of the current drug approval process. She hoped the bevacizumab debate would culminate in some clarity of these and other far-reaching issues, "but we haven't seen these larger discussions," she said.
"[Bevacizumab] is not a drug that provides benefit for all patients, but it clearly has benefit for some. Not knowing who these patients are leaves us with having to use [the agent] in a very inefficient, ineffective way," she said. "And what it takes to get a drug approved—short of an improvement in overall survival—is not clear. It appears to be different from one cancer to another, although the disease is incurable in both cases. The reason for these inconsistencies is not obvious. Some have said that breast cancer is being held to a higher standard. You could turn this around and say that if this is the standard we need, then why should patients with other cancers settle for less?"
The high cost of the drug is a factor, she believes. "If [bevacizumab] were dirt cheap we would not be having this argument. This is an area where we can learn a lot from our European colleagues. Drugs may be approved because they meet the regulatory standards but may not be widely available because individual health systems decide the benefits don't justify the costs. This is very different from saying there is not a benefit," she continued. "In Europe they have separated these issues, but in the U.S. we still pretend that cost is not a factor."
Additional Trials
Dr. Miller agreed that an additional trial evaluating bevacizumab plus paclitaxel could help settle the question of the drug's efficacy in breast cancer. Preclinical data suggest the chemotherapy partner makes a substantial difference in outcomes, and the clinical trials suggested this as well.
"If this is so, then AVADO and RIBBON1 are not the studies to confirm E2100," she said. Other phase II studies pairing bevacizumab with paclitaxel have essentially replicated the findings of E2100, but they cannot be considered confirmatory since they were uncontrolled, had different designs, or asked different questions. "If the chemotherapy backbone is important, then we have no confirmatory trials," she said.
Genentech's plans to conduct such a trial with a VEGF-A biomarker component might fill this void, she said.
Meanwhile access to bevacizumab will undoubtedly be a challenge, she agreed. "Some private insurers stopped providing coverage before the decision was made, while others have announced they will continue coverage in spite of it. Access for patients who wish to get this drug is now much more dependent upon who their insurance carrier is, who their oncologist is, and where they live. This is not a situation that any of us wants." ■
Disclosure: Dr. Hortobagyi and Dr. Miller have reported serving as consultants for Genentech; Dr. Miller has reported receiving research funding from Genentech.
---
Related Articles
On November 18, FDA Commissioner Margaret A. Hamburg, MD, said she is revoking the agency's approval of the breast cancer indication for bevacizumab (Avastin) after concluding that the drug has not been shown to be safe and effective for that use.
Bevacizumab will remain on the market as an...