Save 20% When You Stock Your Practice With ASCO Answers Materials for 2021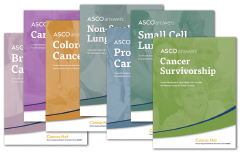 ASCO has helpful, trusted resources to support your patients and their caregivers. Available in three convenient formats, you can choose from fact sheets; topic-specific booklets; and comprehensive, patient-friendly guides. ASCO Answers materials provide trusted, easy-to-understand information about the diagnosis, treatment, side effects, and psychosocial effects of specific cancers, making them the ideal patient education resource. 
Support and empower your patients by supplying them with these award-winning patient education materials. Order today through the ASCO Store at cancer.net/estore and use code SAVE20 to receive a 20% discount. All ASCO Answers materials ship for free within the United States. 
© 2020. American Society of Clinical Oncology. All rights reserved.
---