Surgeon General Releases New Report on Youth Smoking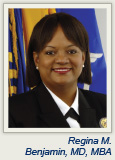 The fight against tobacco use among young people was accelerated recently by Surgeon General Regina M. Benjamin, MD, MBA, with the release of the Surgeon General's Report, Preventing Tobacco Use Among Youth and Young Adults. This report details the scope, health consequences, and influences that lead to youth tobacco use and proven strategies that prevent its use.
To help communicate the report findings and steps anyone can take to join the fight against youth tobacco use, the Surgeon General also unveiled a guide with practical information on addressing tobacco use in young people, Preventing Tobacco Use Among Youth and Young Adults: We Can Make the Next Generation Tobacco-Free. In addition, the Centers for Disease Control and Prevention's Office on Smoking and Health will launch the Surgeon General's Video Challenge to engage youth and young adults in developing original videos that feature one or more of the report's findings. More information can be found at www.Challenge.gov.
'Replacement Smokers'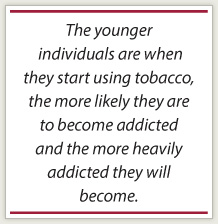 Tobacco is the leading cause of preventable and premature death, killing more than 1,200 Americans every day. For every tobacco-related death, two new young people under the age of 26 become regular smokers. Nearly 90% of these replacement smokers try their first cigarette by age 18. Approximately 3 out of 4 high school smokers continue to smoke well into adulthood.
"Targeted marketing encourages more young people to take up this deadly addiction every day," said U.S. Department of Health and Human Services (HHS) Secretary Kathleen Sebelius. "This administration is committed to doing everything we can to prevent our children from using tobacco."
This administration has taken historic steps to protect children from the dangers of tobacco use, including the passage of the Family Smoking Prevention and Tobacco Control Act, which gives the FDA authority to regulate tobacco products to prevent use by minors. The Tobacco Control Act prevents tobacco use through activities such as age and identification verification at retailers, restrictions on the sale of single cigarettes, and a ban on certain candy and fruit-flavored cigarettes. Other activities include support for state quitlines and implementation of Web- and mobile-based interventions aimed at reaching young people. 
Nicotine's Addictive Power
The Surgeon General's Report provides further scientific evidence on the addictive nature of nicotine. The younger individuals are when they start using tobacco, the more likely they are to become addicted and the more heavily addicted they will become.
"The addictive power of nicotine makes tobacco use much more than a passing phase for most teens. We now know smoking causes immediate physical damage, some of which is permanent," said Dr. Benjamin. "Today, more than 600,000 middle school students and 3 million high school students smoke. We don't want our children to start something now that they won't be able to change later in life."
While the long-term health effects of tobacco use are well known, this report concludes that smoking early in life is associated with substantial health risks that begin immediately in young smokers. These include serious early cardiovascular damage, a reduction of lung functionality, and increased risk of pulmonary diseases later in life.
Expenditures for marketing and promotion of tobacco products exceed $1 million an hour—over $27 million a day—in the United States alone. Targeted messages and images that portray smoking as an acceptable, appealing activity for young people are widespread, and advertising for tobacco products is prominent in retail stores and online. 
Toward Ending the Tobacco Epidemic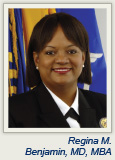 "We can and must continue to do more to accelerate the decline in youth tobacco use," said Howard Koh, MD, MPH, Assistant Secretary for Health at HHS, "Until we end the tobacco epidemic, more young people will become addicted, more people will die, and more families will be devastated by the suffering and loss of loved ones."
Copies of the full Report, executive summary, and easy-to-read guide can be downloaded at http://www.surgeongeneral.gov. To order printed copies of these documents, go to http://www.cdc.gov/tobacco and click on the Publications Catalog link under Tools & Resources. For access to quitting resources, visit www.smokefree.gov. ■
SIDEBAR: Major Conclusions of the Surgeon General's Report on Youth Tobacco Use
---
Related Articles
Cigarette smoking by youth and young adults has immediate adverse health consequences, including addiction, and accelerates the development of chronic diseases across the full life course.
Prevention efforts must focus on both adolescents and young adults because among adults who become daily...