Expert Point of View: Short-term Hormone Therapy Did Not Increase Risk of Cardiovascular Death in Men with Localized Prostate Cancer, RTOG 94-08 Trial Finds


Oliver Sartor, MD, Medical Director of Tulane Cancer Center, New Orleans, said that in his opinion, RTOG 94-08 had some flaws because outdated radiotherapy doses were employed.
"The utility of hormone therapy is questionable with today's doses," Dr. Sartor said. "Using standard radiation doses at the time the study was conducted, androgen-deprivation therapy unequivocally added a survival benefit to the intermediate-risk patients, but not for low-risk patients. It is still open to question whether [androgen deprivation] is necessary with contemporary radiation doses and techniques," he said.
Dr. Sartor added, "The cardiac findings are reassuring, since they demonstrate that short courses of androgen-deprivation therapy are not associated with an elevated risk of cardiovascular morbidity."
Recent Meta-analysis
Dr. Sartor noted that a recent study1 suggests that patients who have a poor outcome after hormonal therapy are those with a prior history of heart failure or myocardial infarction. "For a patient without this history, 4 months of hormones appears safe in terms of cardiovascular mortality."
The study Dr. Sartor referred to was an analysis of 14,594 men undergoing androgen deprivation and brachytherapy. The authors found that (other than in the high-risk subgroup with a history of heart failure or myocardial infarction) there was no association between use of androgen-deprivation therapy and risk of cardiovascular death, and androgen deprivation was associated with a lower risk of disease-specific and all-cause mortality. ■
Disclosure: Dr. Sartor is a consultant to Tolmar.
Reference
1. Nguyen PL, Chen MH, Beckman JA, et al: Influence of androgen deprivation therapy on all-cause mortality in men with high-risk prostate cancer and a history of congestive heart failure or myocardial infarction. Int J Radiat Oncol Biol Phys 82:1411-1416, 2012.
---
Related Articles
Short-term androgen deprivation therapy does not appear to increase cardiovascular mortality in men with clinically localized prostate cancer, according to a post hoc analysis of a large Radiation Therapy Oncology Group (RTOG)-sponsored clinical trial.1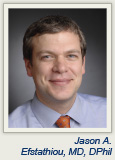 "Our study analyzes data from a large...