WCLC 2019: Survey Findings on Evidence-Based Guidelines for Molecular Testing in Lung Cancer

One-third of those who responded to a survey reported they are unaware of evidence-based guidelines that support the use of molecular testing in lung cancer, according to results from the International Association for the Study of Lung Cancer (IASLC) Global Survey on Molecular Testing in Lung Cancer. These findings were presented by Smeltzer at the IASLC 2019 World Conference on Lung Cancer (WCLC) (Abstract MA21.03).
Current evidence-based standards for molecular testing of lung cancer have been established. However, the global frequency and practice of testing are not well understood.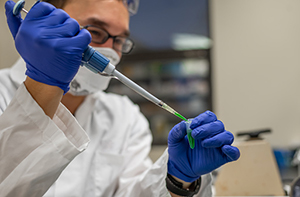 Photo credit: Getty
Survey Details
To address this knowledge gap, IASLC conducted an international survey to evaluate current practice and barriers to molecular testing. The researchers developed a 7-question introduction, with 32 questions for those requesting tests and treating patients, 45 questions on performing/interpreting assays, and 24 questions on tissue acquisition. All respondents were asked to provide three to five barriers that impede their country's ability to offer molecular testing.
Responses
There were 2,537 survey responses representing more than four practice specialties in 102 countries. More than 6 of 10 respondents (61%) reported that molecular testing rates are less than 50% in their country, with the lowest rates reported in Latin America. Nearly 4 in 10 surveyed (39%) were not satisfied with the conditions of molecular testing in their country, citing concerns with the time it takes to receive results, the reliability of samples, and trouble understanding results.
Other findings include:
67% of respondents were aware of the most recent College of American Pathologists/IASLC/Association for Molecular Pathology guidelines
75% reported that they had multidisciplinary tumor boards, but 23% said that board met less than once a month
47% stated there is no policy or strategy to improve the quality of the tissue samples in their country
17% reported patients are not satisfied with the state of molecular testing in their country, and 35% were unsure.
The most frequent barrier to molecular testing was cost, followed by quality/standards, turn-around time, access, and awareness.
"These preliminary analyses show molecular testing usage varies across the globe," said Matthew Smeltzer, PhD, of the University of Memphis. "Barriers vary by region, but one-third of respondents were unaware of evidence-based guidelines—this report underscores the need for global and regional strategies to address barriers."
Disclosure: For full disclosures of the study authors, visit wclc2019.iaslc.org.
The content in this post has not been reviewed by the American Society of Clinical Oncology, Inc. (ASCO®) and does not necessarily reflect the ideas and opinions of ASCO®.
---