Panitumumab Plus Modified FOLFOXIRI for First-Line Treatment of RAS Wild-Type Metastatic Colorectal Cancer

In the German phase II VOLFI trial reported in the Journal of Clinical Oncology, Modest et al found that panitumumab plus modified FOLFOXIRI (fluorouracil, leucovorin, oxaliplatin, and irinotecan) used as first-line therapy improved the objective response rate in patients with RAS wild-type metastatic colorectal cancer.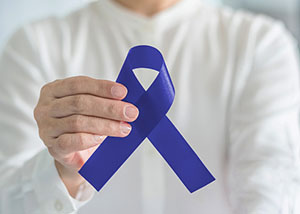 Photo credit: Getty
Study Details
In the open-label multicenter trial, 96 patients were randomly assigned 2:1 between June 2011 and January 2016 to receive panitumumab at 6 mg/kg plus modified FOLFOXIRI (n = 63) or modified FOLFOXIRI alone (n = 33) every 2 weeks until progression, secondary resection of metastases, or up to a maximum of 12 cycles.
Patients had received no previous chemotherapy for metastatic disease, with the exception of one administration of FOLFOXIRI in patients requiring immediate treatment while awaiting results of RAS mutation testing. Patients with potential for secondary resection of metastases with curative intent were permitted in the trial; those undergoing such resection could continue study treatment as adjuvant therapy for a total of 12 perioperative cycles. Patients could have no untreated central nervous system lesions.
The primary outcome measure was objective response rate, with the panitumumab plus modified FOLFOXIRI regimen being considered active if the response rate was ≥ 75%.
KEY POINTS
The addition of panitumumab to modified FOLFOXIRI increased objective response rate.
A numeric improvement in overall survival was observed.
Treatment Outcomes
Median follow-up was 44.2 months in the panitumumab group and 63.3 months in the control group. Both groups received a median of 11 cycles of treatment.
The objective response rate was 87.3% in the panitumumab group vs 60.6% in the control group (odds ratio = 4.47, P = .004). The secondary resection of metastasis rate was 33% vs 12.1% (P = .02). Median progression-free survival was 9.7 months vs 9.7 months (hazard ratio [HR] = 1.07, P = .76). Median overall survival was 35.7 months vs 29.8 months (HR = 0.67, P = .12).
Adverse Events
Grade 3 or 4 adverse events were observed in 81.3% of the panitumumab group vs 66.7% of the control group. The most common in the panitumumab group were diarrhea (25.0%), neutropenia (15.6%), and acneiform dermatitis (14.1%). The most common in the control group were neutropenia (21.2%), diarrhea (12.1%), and peripheral neuropathy (12.1%).
The investigators concluded, "The addition of panitumumab to modified FOLFOXIRI in patients with RAS [wild-type] metastatic colorectal cancer improved the [objective response rate] and rate of secondary resection of metastases and represents a treatment option in selected and fit patients in need of highly active first-line therapy. Future studies should determine whether the addition of panitumumab to modified FOLFOXIRI prolongs survival."
Michael Geissler, MD, of Klinikum Esslingen, Germany, is the corresponding author for the Journal of Clinical Oncology article.
Disclosure: The study was supported by Arbeitsgemeinschaft Internistische Onkologie Studien and Amgen. For full disclosures of the study authors, visit jco.ascopubs.org.
The content in this post has not been reviewed by the American Society of Clinical Oncology, Inc. (ASCO®) and does not necessarily reflect the ideas and opinions of ASCO®.
---