Nab-paclitaxel/Gemcitabine/Cisplatin for Previously Untreated, Advanced Pancreatic Cancer

In a phase Ib/II pilot study reported in JAMA Oncology, Jameson et al found that treatment with nab-paclitaxel, gemcitabine, and cisplatin was active in patients with previously untreated metastatic pancreatic ductal adenocarcinoma.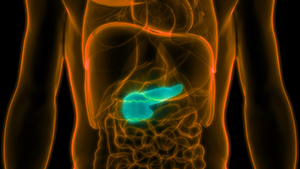 Photo credit: Getty
Study Details
In the study, 25 patients were enrolled between December 2013 and July 2016 from three sites in the United States. Patients were treated with nab-paclitaxel 125 mg/m2, gemcitabine 1,000 mg/m2, and cisplatin at 25 mg/m2, 37.5 mg/m2, or 50 mg/m2 on days 1 and 8 every 21 days until disease progression or unacceptable toxicity. A 3 × 3 dose escalation schema was used in phase Ib at a starting dose of cisplatin 25 mg/m2 to determine the maximum tolerated dose that would be administered in phase II.
The primary endpoint of the study was complete response rate, with a rate of 25% selected as evidence of sufficient activity of the regimen. The study closed in January 2018.
Toxicity
Patients completed a median of eight treatment cycles. The maximum tolerated dose of cisplatin was 25 mg/m2. The first patient treated at 50 mg/m2 experienced a dose-limiting toxicity of grade 4 neutropenic fever and pneumonia. The first two patients treated at 37.5 mg/m2 experienced dose-limiting toxicities of grade 4 colitis and grade 4 thrombocytopenia. Overall, the most common treatment-related grade ≥ 3 adverse events were thrombocytopenia (68%), anemia (32%), and neutropenia (24%). Fatal adverse events occurred in three patients (12%); two events (cerebrovascular event and cryptosporidiosis gastroenteritis) were considered related to study participation.
KEY POINTS
The overall response rate was 71%.
Median overall survival was 16.4 months.
Response Rates and Survival
Among 24 patients evaluable for response, complete response occurred in 2 (8%), a rate that did not meet the primary endpoint of 25%. Partial response was observed in 15 patients (62%), yielding an overall response rate of 71%; an additional 4 patients (17%) had stable disease, yielding a disease control rate of 88%. Median overall survival was 16.4 months, with 16 patients (64%) alive at 1 year, 10 (40%) at 2 years, 4 (16%) at 3 years, and 1 (4%) at 4+ years. Among three patients alive at the end of the study, overall survival was 36 to 59 months. Median progression-free survival was 10.1 months.
The investigators concluded: "This triple-drug regimen showed substantial clinical activity in this small study. Although the primary endpoint was not reached, the high overall response rate, disease control rate, and median survival time among patients with advanced pancreatic ductal adenocarcinoma treated with this combination are encouraging. The regimen is being studied in patients with pancreatic ductal adenocarcinoma in the neoadjuvant setting and in patients with advanced biliary cancers."
Gayle S. Jameson, MSN, ACNP-BC, AOCN, of HonorHealth Research Institute, Scottsdale, AZ, is the corresponding author for the JAMA Oncology article.
Disclosure: The study was funded by the Seena Magowitz Foundation, Stand Up to Cancer, Mattress Firm, Lustgarten Foundation, TGen Foundation, and HonorHealth Foundation. For full disclosures of the study authors, visit jamanetwork.com.
The content in this post has not been reviewed by the American Society of Clinical Oncology, Inc. (ASCO®) and does not necessarily reflect the ideas and opinions of ASCO®.
---