Addition of Bevacizumab to Chemotherapy in Recurrent or Metastatic Head and Neck Cancer

As reported in the Journal of Clinical Oncology by Argiris et al, the Eastern Cooperative Oncology Group (ECOG)-American College of Radiology Imaging Network Cancer Research Group–coordinated phase III E1305 trial has shown no overall survival benefit with the addition of bevacizumab to chemotherapy in recurrent or metastatic squamous cell carcinoma of the head and neck.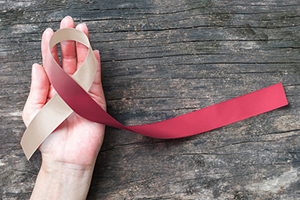 Photo credit: Getty
Study Details
In the trial, 403 patients were randomly assigned to receive bevacizumab plus investigator's choice of platinum-based doublet chemotherapy (n = 203) or chemotherapy alone (n = 200). Chemotherapy could consist of docetaxel/cisplatin, docetaxel/carboplatin, cisplatin/flourouracil (5-FU), or carboplatin/5-FU in 21-day cycles and could be stopped after six cycles if a maximum response was achieved. Bevacizumab was given at 15 mg/kg on day 1 of each chemotherapy cycle and every 3 weeks until disease progression.
Patients were either chemotherapy-naive or could have received prior platinum chemotherapy as part of multimodal therapy completed at least 4 months prior to study entry. The study was opened in August 2008 and closed in February 2015, and the current, final report reflects data available as of June 2018. The primary endpoint was overall survival.
Overall Survival
Median follow-up of surviving patients was 40 months. Median overall survival was 12.6 months in the bevacizumab/chemotherapy group vs 11.0 months in the chemotherapy alone group (hazard ratio [HR] = 0.87, P = .22).
Overall survival at 2, 3, and 4 years was 25.2% vs 18.1%, 16.4% vs 10.0%, and 11.8% vs 6.4%, for bevacizumab/chemotherapy and chemotherapy alone, respectively. Analysis limited to 365 eligible patients who started study treatment showed a median overall survival of 14.2 with bevacizumab/chemotherapy vs 11.1 months with chemotherapy alone (HR = 0.82, P = .10).
KEY POINTS
The addition of bevacizumab to chemotherapy did not significantly improve overall survival.
The regimen was associated with improved progression-free survival and greater toxicity.
Median progression-free survival was 6.0 vs 4.3 months (HR = 0.70, P = .0014). Overall response rates were 35.5% vs 24.5% (P = .016).
Adverse Events
The incidence of treatment-related grade 3 or 4 toxicities was significantly higher in the bevacizumab/chemotherapy group vs the chemotherapy alone group for oral mucositis, hypertension, dehydration, thromboembolic events, diarrhea, dysphagia, febrile neutropenia, leukopenia, neutropenia, abdominal pain, fatigue, and worst degree of toxicity. The bevacizumab/chemotherapy group had higher rates of treatment-related grade 3 to 5 bleeding events (6.7% vs 0.5%, P < .001) and treatment-related deaths (9.3% vs 3.5%, P = .022).
The investigators concluded, "The addition of bevacizumab/chemotherapy did not improve [overall survival] but improved the response rate and progression-free survival with increased toxicities. These results encourage biomarker-driven studies of angiogenesis inhibitors with better toxicity profiles in select patients with squamous cell carcinoma of the head and neck."
Athanassios Argiris, MD, of Thomas Jefferson University, is the corresponding author for the Journal of Clinical Oncology article.
Disclosure: The study was supported by the National Cancer Institute. For full disclosures of the study authors, visit jco.ascopubs.org.
The content in this post has not been reviewed by the American Society of Clinical Oncology, Inc. (ASCO®) and does not necessarily reflect the ideas and opinions of ASCO®.
---