Does Yoga Improve Quality of Life in Men With Prostate Cancer?

A diagnosis of prostate cancer may translate to approximately a 30% increase in the incidence of depression and anxiety, a fourfold higher risk of heart attack, and a twofold higher risk of suicide. A study published by Kaushik et al in Prostate Cancer and Prostatic Diseases aimed to evaluate the effect of yoga on quality of life in men newly diagnosed with localized prostate cancer.
A pilot randomized clinical trial by urology researchers at the Mays Cancer Center, home to UT Health San Antonio MD Anderson Cancer Center, enrolled 29 men who were awaiting prostatectomy. Fourteen were randomly assigned to participate in yoga and 15 were assigned to the standard of care. The median age of participants was 56 years in the yoga group and 60 years in the standard-of-care group.
"We gave the active intervention group 6 weeks of yoga, at least twice a week, for 60 to 75 minutes," said lead author Dharam Kaushik, MD, Associate Professor of Urology in UT Health San Antonio's Joe R. and Teresa Lozano School of Medicine and a surgeon in the Mays Cancer Center.
The primary outcome measure was self-reported quality of life, assessed by the Expanded Prostate Index Composite (EPIC), Functional Assessment of Cancer Therapy-Prostate (FACT-P), Functional Assessment of Chronic Illness Therapy-Fatigue (FACIT–F), and the Functional Assessment of Cancer Therapy-General (FACT-G); secondary outcomes were changes in immune cell status and cytokine levels with yoga.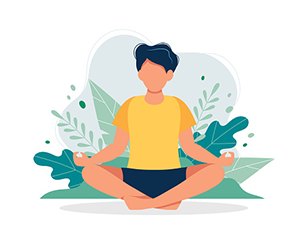 Photo credit: Getty
Via the questionnaires, the team documented the men's perceived quality of life at the start of yoga, at the time of surgery, and after surgery. Men who did not do yoga completed the same questionnaires at study enrollment and at the other two junctures.
The team drew blood samples before the men began yoga and after all sessions were completed. Samples were also taken from men who did not do yoga.
Outcomes With Yoga
"What we found was very interesting," Dr. Kaushik said. "Yoga improved quality of life in men compared to the standard of care, specifically on the fatigue scale, meaning they were less tired; on sexual function; and on their functional, physical, and social well-being."
A more robust immune response and lower levels of inflammation were also observed in the yoga group, he added.
"This is positive data and further large-scale studies are needed, for which this pilot study can be a model," Dr. Kaushik said.
The patients in the yoga group showed increased numbers of circulating CD4+ and CD8+ T cells, which are important contributors to immune health. Among other markers, the yoga group also exhibited a reduction in inflammatory markers called cytokines.
The study authors concluded, "Perioperative yoga exercise improved quality of life, promoted an immune response, and attenuated inflammation in men with prostate cancer. Yoga is feasible in this setting and has benefits that require further investigation."
Disclosure: For full disclosures of the study authors, visit nature.com.
The content in this post has not been reviewed by the American Society of Clinical Oncology, Inc. (ASCO®) and does not necessarily reflect the ideas and opinions of ASCO®.
---