Serial COVID-19 Screening in Asymptomatic Patients Receiving Treatment for Cancer

In a United Arab Emirates single-institution study reported as a research letter in JAMA Oncology, Al-Shamsi et al found a high rate of COVID-19 infection among asymptomatic patients with solid tumors undergoing cancer treatment.
Study Details
The study included 109 patients receiving treatment for solid tumors with no COVID-19 symptoms who were consecutively enrolled at Al Zahra Hospital, Dubai, between March 13, 2020, and May 26, 2020, and followed through June 29, 2020. All patients were prospectively screened for COVID-19 symptoms and had a nasopharyngeal swab taken for SARS-CoV-2 polymerase chain reaction (PCR) testing at each screening. Screening was performed 48 hours before each cycle of systemic chemotherapy or immunotherapy, weekly for daily radiation therapy or concurrent chemoradiation therapy, and monthly for daily targeted or hormonal therapy. Patients were also screened for new pulmonary infiltrates, symptoms, or at physician discretion.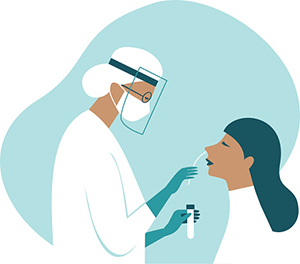 Photo credit: Getty
Cancer treatment, apart from hormonal therapy, was paused until two consecutive negative PCR results were obtained and clinical recovery had occurred or at physician discretion. Health-care workers performed daily self-screening for symptoms and underwent weekly PCR screening.
Key Findings
The 109 asymptomatic patients underwent 384 screening swabs across a median of two cycles of treatment (range = 1–8).
A total of 32 patients (29.4%) acquired COVID-19. Among these, 25 (78.1%) were diagnosed while asymptomatic and 7 (21.9%) presented with interval symptoms after negative PCR screening. Overall, 25 (6.4%) of the 384 screening swabs yielded positive results.
Among the 32 patients diagnosed with COVID-19, 27 (84.4%) had mild infection and 6 (18%) remained asymptomatic. A total of nine (28.1%) were admitted to the hospital—six (18.8%) due to COVID-19 and three for other reasons. Intensive care unit admission was required for four patients (12.5%) and death occurred in four patients (12.5%).
Compared with patients without COVID-19, those with COVID-19 had a significantly higher rate of hospitalization (28.1% vs 10.4%, P = .04) and a numerically higher mortality rate (12.5% vs 5.2%, P = .23).
Surviving patients with COVID-19 resumed chemotherapy after a median of 16 days (range = 0–26 days), compared with 4 days (range = 0–21 days) for patients without COVID-19.
Three (25%) of 12 clinicians (25%), including 1 physician and 2 nurses, were diagnosed with COVID-19 prior to symptom onset via PCR screening and developed mild symptomatic infection. Infection in two was traced to care of presymptomatic patients with COVID-19.
The investigators stated, "Our microbiologic screening program identified a high rate of COVID-19 among patients with cancer, with 32 of 109 (29.4%) patients developing COVID-19 during the study period. In comparison, the cumulative prevalence of COVID-19 in the United Arab Emirates was 496.3 per 100,000 residents as of June 29, 2020. Most infections were identified in the presymptomatic phase. In the absence of this microbiologic screening, such patients would have proceeded with anticancer therapy unaware of their COVID-19 infection, which may have increased their complication risk."
They concluded, "Although limitations of this study included small sample size and no control group, implementation of microbiologic screening for SARS-CoV-2 among patients with cancer guided continuation of anticancer therapy. As we work to provide safe uninterrupted oncologic care amidst the COVID-19 pandemic, microbiologic screening should be considered for patients with cancer receiving anticancer therapy."
Humaid O. Al-Shamsi, MD, of Burjeel Oncology-Burjeel Medical City, Abu Dhabi, is the corresponding author for the JAMA Oncology article.
Disclosure: The study was supported by Roche Pharmaceuticals Middle East Free Zone Company. For full disclosures of the study authors, visit jamanetwork.com.
The content in this post has not been reviewed by the American Society of Clinical Oncology, Inc. (ASCO®) and does not necessarily reflect the ideas and opinions of ASCO®.
---