Meta-analysis of Outcomes With Gamma Knife Radiosurgery for Uveal Melanoma or Ocular Metastases

In a systematic review and meta-analysis reported in The Lancet Oncology, Parker et al found that Gamma Knife radiosurgery was associated with high local control and tumor regression rates in patients with uveal melanoma or intraocular metastases.
As stated by the investigators, "Gamma [K]nife radiosurgery is regarded as the gold-standard stereotactic radiosurgery modality for the treatment of intracranial tumours, and its use has been expanded for the treatment of intraocular malignancies. The aim of this study was to systematically evaluate the efficacy, outcomes, and complications of [Gamma Knife] radiosurgery for uveal melanomas and metastases."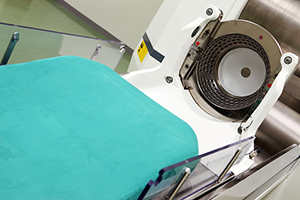 Photo credit: Getty
Study Details
A literature review through February 2020 was performed to identify studies published in English in which the use of Gamma Knife radiosurgery as the primary treatment for uveal melanoma or intraocular metastases was evaluated. Studies reporting treatment of benign tumors, extraocular tumors, or other forms of stereotactic radiosurgery were excluded from the analysis. Local tumor control and tumor regression were the primary outcome measures. Heterogeneity between studies was assessed with the I² test.
Key Findings
A total of 28 studies were included in the meta-analysis.  
In the meta-analysis, 840 of 898 patients from 19 studies achieved local control (pooled estimate = 96%, 95% confidence interval [CI] = 94%–97%; I²=16%), and 378 of 478 patients from 16 studies achieved tumor regression (pooled estimate = 81%, 95% CI = 70%–90%; I²=83%).
The most common complications were glaucoma (157 of 878 patients in 24 studies; pooled estimate = 15%), radiation retinopathy (290 of 861 patients in 21 studies; pooled estimate = 25%), and vitreous hemorrhage (105 of 812 patients in 12 studies; pooled estimate = 11%).
Only four studies reported the total number of patients experiencing complications; on the basis of these studies, the pooled estimate for experiencing at least one radiation-induced complication was 43%.
A total of 68 of 782 patients (pooled estimate = 7%) required enucleation due to tumor recurrence (not as complication of radiosurgery).
A total of 380 of 409 patients (pooled estimate = 92.4%) survived at 3 years and 257 of 333 patients (pooled estimate = 76.3%) survived 5 years after Gamma Knife radiosurgery.
The investigators concluded, "Gamma [K]nife radiosurgery is an efficacious primary method of treating uveal melanomas and intraocular metastases, with reliable tumor control rates. Randomized controlled trials should further evaluate the safety and efficacy of [Gamma Knife] radiosurgery in this setting."
Tariq Parker, MRCS, of the Nuffield Department of Surgery, University of Oxford, is the corresponding author for The Lancet Oncology article.
Disclosure: The study was funded by The Rhodes Trust and the Howard Brain Sciences Foundation. For full disclosures of the study authors, visit thelancet.com.
The content in this post has not been reviewed by the American Society of Clinical Oncology, Inc. (ASCO®) and does not necessarily reflect the ideas and opinions of ASCO®.
---