Studies Report Efficacy of Proton Radiotherapy for Hepatocellular Carcinoma

Two new studies published in the International Journal of Radiation Oncology • Biology • Physics focused on the use of proton radiation therapy to treat patients with hepatocellular carcinoma. The first study, by Sanford et al, found that proton radiation may extend overall survival compared to traditional photon radiation—with reduced toxicity. The second study, by Hsieh et al, identified predictors for reducing liver damage that can result from radiation treatments.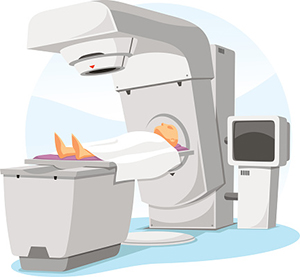 Photo credit: Getty
Overall Survival With Proton vs Photon Radiotherapy
Sanford et al compared outcomes for patients treated with the traditional photon radiation therapy to those treated with proton therapy. The study showed proton radiation was associated with better median overall survival (31 months vs 14 months; hazard ratio = 0.47, P = .0008) and a decreased incidence of nonclassic radiation-induced liver disease (odds ratio = 0.26, P = .03), compared to photon radiation. 
The 24-month overall survival for patients treated proton and photon radiotherapy was 59.1% and 28.6%, respectively. Locoregional control was high for both treatment arms (93% for proton radiotherapy and 90% for photon radiotherapy) and did not differ between patient groups in this retrospective analysis of 133 patients treated at a single institution.
The authors concluded that the improved overall survival time for those treated with proton radiation therapy could be due to the lower occurrence of posttreatment liver decompensation.
"In the United States, patients with hepatocellular carcinoma tend to have underlying liver disease, which could both preclude them from surgery and make radiation therapy more challenging as well…. [H]aving a therapy option that is less toxic could potentially help many patients," said first study author Nina N. Sanford, MD, Assistant Professor of Radiation Oncology at the University of Texas Southwestern Medical Center.
She continued, "Proton radiation therapy delivers less radiation dose to normal tissues near the tumor, so for patients with hepatocellular carcinoma, this would mean less unwanted radiation dose impacting the part of the liver that isn't being targeted. We believe this may lead to lower incidence of liver injury. Because many patients with hepatocellular carcinoma have underlying liver disease to begin with, it is possible that the lower rates of liver injury in the proton group are what translated to improved survival for those patients."
Predictors of Liver Damage
In the past, the role of radiation therapy for patients with hepatocellular carcinoma has been debatable, because the high doses needed to treat these tumors can result in liver disease. Hsieh et al sought to identify metrics that predict radiation-induced liver disease in patients treated with proton therapy. Researchers found that the volume of liver untouched by radiation was more important than the dose of radiation delivered for preventing treatment-related liver disease.
"Our data indicate that if a sufficient volume of the liver is spared, ablative radiation can be safely delivered with a minimal risk of radiation-induced liver disease, regardless of dose," said first study author Cheng-En Hsieh, MD, a radiation oncologist with joint appointments at The University of Texas MD Anderson Cancer Center in Houston and Chang Gung Memorial Hospital in Taiwan. "This is similar to hepatectomy, where sparing of sufficient liver volume allows a large portion of liver to be safely resected."
The researchers found radiation-induced liver disease could also be predicted by tumor size, liver volume, and severity of liver disease prior to treatment.
Disclosure: For full disclosures of the study authors, visit redjournal.org.
The content in this post has not been reviewed by the American Society of Clinical Oncology, Inc. (ASCO®) and does not necessarily reflect the ideas and opinions of ASCO®.
---