Molecular Changes in Progression of IDH Wild-Type Glioblastoma

In a study reported in the Journal of Clinical Oncology, Draaisma et al identified molecular changes at tumor recurrence vs the primary tumor profiles in patients receiving standard chemoradiotherapy with temozolomide for IDH wild-type glioblastoma multiforme. The findings may help inform precision treatment trials in patients with progressive disease.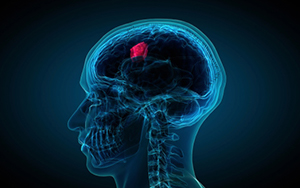 Photo credit: Getty
The study involved 186 paired primary and recurrent glioblastoma multiforme samples from patients in the EORTC 1542 study treated with chemoradiotherapy with temozolomide. Overall, the molecular profile of the cohort primary tumors was similar to that of other reported glioblastoma multiforme cohorts, with 95% of samples being IDH wild-type and approximately 50% being EGFR-amplified. Non–IDH wild-type samples were excluded from the paired sample analysis.
Key Findings
A high concordance in population frequency of mutations was observed between the primary and recurrent tumors, and molecular events were stable in approximately 80% of identified events.
At the level of individual genes and pathways, as many as one-third of recurrent samples exhibited mutational change, including a 37% loss of EGFRvIII mutations at recurrence. An increase in genes involved in DNA methylation was observed, suggesting the possibility of a novel treatment target for a subgroup of patients with recurrent disease. Analysis of MGMT promoter–methylated and –unmethylated tumors showed that MSH6 and TERT promoter mutations were more likely to be gained in MGMT-methylated tumors; patterns of change were similar for MGMT-methylated and -unmethylated tumors for most other molecular events. MGMT promoter methylation retained prognostic utility in recurrence samples.  
Hypermutation at recurrence was observed in 8% of cases and was not associated with outcome; this finding suggests the potential for immune checkpoint inhibitor treatment in this subgroup.   
The investigators concluded, "In conclusion, this large cohort of matched primary and recurrent homogeneously treated glioblastoma multiforme tumors establishes the frequency of glioblastoma multiforme driver instability and provides a framework for data-driven targeted therapy trial design. We also found that MGMT promoter methylation is prognostic at tumor recurrence and that the hypermutated phenotype only occurs in ± 8% of temozolomide-treated IDH wild-type glioblastoma multiformes."
Pim J. French, PhD, of the Department of Neurology, Erasmus MC, Rotterdam, is the corresponding author for the Journal of Clinical Oncology article.
Disclosure: The study was supported by Télévie, Brussels. For full disclosures of the study authors, visit jco.ascopubs.org.
The content in this post has not been reviewed by the American Society of Clinical Oncology, Inc. (ASCO®) and does not necessarily reflect the ideas and opinions of ASCO®.
---