FDA Approves Voxelotor for Sickle Cell Disease

On November 25, the U.S. Food and Drug Administration (FDA) granted accelerated approval to voxelotor (Oxbryta) for adults and pediatric patients 12 years of age and older with sickle cell disease.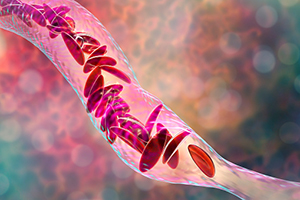 Photo credit: Getty
"[Voxelotor] is an inhibitor of deoxygenated sickle hemoglobin polymerization, which is the central abnormality in sickle cell disease," said Richard Pazdur, MD, Director of the FDA's Oncology Center of Excellence and Acting Director of the Office of Oncologic Diseases in the FDA's Center for Drug Evaluation and Research. "With [voxelotor], sickle cells are less likely to bind together and form the sickle shape, which can cause low hemoglobin levels due to red blood cell destruction. This therapy provides a new treatment option for patients with this serious and life-threatening condition."
HOPE Trial
Efficacy was evaluated in 274 patients with sickle cell disease in HOPE, a randomized, double-blind, placebo-controlled, multicenter trial. Patients were randomized to voxelotor 1,500 mg (n = 90), 900 mg (n = 92), or placebo (n = 92). The median age was 24 years (range = 12–64). Approximately 65% of patients were taking hydroxyurea at trial entry. Patients were enrolled if their baseline hemoglobin (Hb) was ≥ 5.5 to ≤ 10.5 g/dL. Patients on stable hydroxyurea doses continued the drug throughout the trial. Randomization was stratified by whether the patient was already receiving hydroxyurea, by geographic region, and by age. The primary efficacy outcome measure was Hb response rate defined as an Hb increase of > 1 g/dL from baseline to week 24.
Results
The response rate for voxelotor was 51.1% (46 of 90 patients) compared to 6.5% (6 of 92) in the placebo group (P < .0001). Additional efficacy evaluation included change in Hb, percent change in indirect bilirubin, and percent reticulocyte count during this time period. In the voxelotor 1,500 mg group, the mean change for Hb, indirect bilirubin, and percent reticulocyte count were 1.14g/dL, ‑29.08%, and -19.93%, respectively. In the placebo group, the mean change during this time period for Hb, indirect bilirubin, and percent reticulocyte count were –0.08g/dL, –3.16%, and 4.54%, respectively. 
The most common adverse reactions (> 10%) reported with voxelotor were headache, diarrhea, abdominal pain, nausea, rash, fatigue, and pyrexia. Product information includes a warning for hypersensitivity and potential laboratory interference. Voxelotor may interfere with measurement of Hb subtypes (HbA, HbS, and HbF) by high-performance liquid chromatography.
The recommended voxelotor dose is 1,500 mg orally once daily with or without food. View the full prescribing information for voxelotor.
The content in this post has not been reviewed by the American Society of Clinical Oncology, Inc. (ASCO®) and does not necessarily reflect the ideas and opinions of ASCO®.
---