DNA Vaccine for Patients With Progressive, Nonmetastatic, Castration-Sensitive Prostate Cancer

In a phase II study reported in the Journal of Clinical Oncology, McNeel et al found that a DNA vaccine (pTVG-HP) encoding prostatic acid phosphatase did not improve 2-year metastasis-free survival vs control treatment in patients with progressive, nonmetastatic, castration-sensitive prostate cancer. Potential benefit was observed in a subgroup of patients with rapidly progressive disease.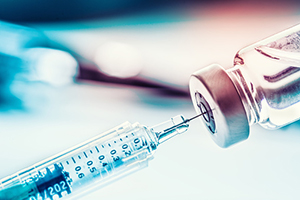 Photo credit: Getty
Study Details
The double-blind trial involved 97 evaluable patients with a prostate-specific antigen (PSA) doubling time of less than 12 months enrolled between 2011 and 2016 at the University of Wisconsin; the University of California, San Francisco; and Johns Hopkins University. Patients were randomly assigned to receive pTVG-HP coadministered intradermally with 200 mg of adjuvant granulocyte-macrophage colony-stimulating factor (GM-CSF; n = 48) or 200 mg of GM-CSF alone (n = 49) six times at 14-day intervals and then quarterly for up to 2 years.
The primary endpoint was 2-year metastasis-free survival.
Metastasis-Free Survival
Metastasis-free survival at 2 years was 41.8% in the pTVG-HP group vs 42.3% in the control group (P = .97). Median metastasis-free survival was 18.9 vs 18.3 months (hazard ratio [HR] = 1.6, P = .13). Among patients with a pretreatment PSA doubling time < 3 months, median metastasis-free survival was 12.0 months vs 6.1 months (HR = 4.4, P = .03). Median on-treatment PSA doubling time was 5.4 months vs 8.9 months (P = .08).
Among 34 patients undergoing 18F-sodium fluoride (NaF) positron-emission tomography/computed tomography (PET/CT) to detect bone metastases, changes in total standardized uptake values from months 3 to 6 increased by 50% in patients treated with GM-CSF alone and decreased 23% in patients treated with pTVG-HP (P = .07).
KEY POINTS
No significant difference in 2-year metastasis-free survival was observed between the vaccine group and the control group.
Among patients with pretreatment PSA doubling time < 3 months, median metastasis-free survival was longer in patients receiving vaccine.
Prostatic acid phosphatase­­–specific multifunctional Th1-biased T cells were significantly increased at 3 months but not at 6 months in patients who received pTVG-HP.
Adverse Events
Among patients receiving pTVG-HP, five had grade 3 adverse events considered at least possibly related to treatment (hypertension in two patients and allergic reaction, syncope, and neutropenia in one patient each). One patient receiving the vaccine had a grade 4 adverse event (neutropenia). No treatment-related grade 3 or 4 adverse events were observed in the control group.
Grade 1 or 2 adverse events that occurred in > 10% of the vaccine group included injection site reactions, fatigue, flu-like symptoms, and headache. Two patients treated with the vaccine discontinued treatment due to adverse events (one due to an allergic reaction and one due to syncope).
The investigators concluded, "pTVG-HP treatment did not demonstrate an overall increase in 2-year [metastasis-free survival] in patients with castration-sensitive prostate cancer, with the possible exception of a subgroup with rapidly progressive disease. Prespecified 18F-NaF PET/CT imaging conducted in a subset of patients suggests that vaccination had detectable effects on micrometastatic bone disease. Additional trials using pTVG-HP in combination with [programmed cell death protein 1] blockade are underway."
Douglas G. McNeel, MD, PhD, of the University of Wisconsin-Madison Carbone Cancer Center, is the corresponding author for the Journal of Clinical Oncology article.
Disclosure: The study was supported by the U.S. Army Medical Research and Materiel Command Prostate Cancer Research Program, National Institutes of Health, and Madison Vaccines. For full disclosures of the study authors, visit jco.ascopubs.org.
The content in this post has not been reviewed by the American Society of Clinical Oncology, Inc. (ASCO®) and does not necessarily reflect the ideas and opinions of ASCO®.
---