COVID-19 Infection in Pediatric Patients With Cancer

In a study reported in a research letter in JAMA Oncology, Boulad et al found a low rate of COVID-19 morbidity among infected pediatric patients with cancer seen in the Memorial Sloan Kettering Cancer Center pediatric program, as well as a low rate of infection in patients without COVID-19 symptoms.
The study was performed prior to identification of the multisystem inflammatory syndrome that has been associated with SARS-CoV-2 infection in children and adolescents.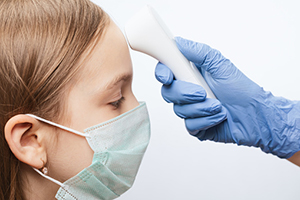 Photo credit: Getty
Study Details
In the study, pediatric patients presenting for outpatient or inpatient care were screened for COVID-19 symptoms or exposure to contacts with known SARS-CoV-2 infection. Over an approximately 1-month period, testing for infection using a reverse transcription polymerase chain reaction assay was performed in patients exposed to COVID-19 (screen-positive) or with symptoms of infection; in asymptomatic patients prior to deep sedation, myelosuppressive chemotherapy, or admission to hospital; and in caregivers accompanying patients for admission or multiday outpatient chemotherapy.
Key Findings
Between March 10 and April 12, 2020, testing in 178 pediatric patients, including 107 male and 71 female patients (mean age = 11.1 years), showed that 20 (11.2%) were positive for infection (mean age = 15.9 years).
Among 58 patients tested on the basis of positive screening or symptoms, 17 (29.3%) had positive test results. Among 120 asymptomatic patients without known exposure, 3 (2.5%) had positive results (P < .001 for difference).
Among the 20 patients who tested positive, 3 were female. Thus, overall, 17 (15.9%) of 107 male patients vs 3 (4.2%) of 71 female patients had positive tests (P = .02).
Hospitalization for COVID-19 symptoms was required for only one patient (noncritical care). Three additional patients without significant COVID-19 symptoms were admitted for concomitant fever and neutropenia, cancer morbidity, or planned chemotherapy. All other infected patients had mild symptoms that were able to be managed at home.
Among 74 adult caregivers tested, 13 caregivers (17.6%) for 10 patients had positive results. Tests were positive for 10 (14.7%) of 68 asymptomatic caregivers without known exposure. Simultaneous positive test results were found in five patient/caregiver pairs, with five patients with exposure to infected caregivers having negative results.
As stated by the investigators, their findings indicate that:
The rate of SARS-CoV-2 infection among asymptomatic pediatric patients is very low
The morbidity of COVID-19 in pediatric patients with cancer is low, with only 5% requiring hospitalization for COVID-19 symptoms
Unidentified SARS-CoV-2 infection in asymptomatic caregivers is an infection control concern
Consistent with the observation that critical disease is more common in adult males vs females with COVID-19, the infection rate was higher in male vs female children; these findings are suggestive of a biologic bias in infectivity.
The investigators concluded, "This report suggests that pediatric patients with cancer may not be more vulnerable than other children to infection or morbidity resulting from SARS-CoV-2. Although the asymptomatic SARS-CoV-2 carrier rate in children in the general population is not known, our testing of 120 asymptomatic pediatric patients with cancer revealed only a 2.5% rate of SARS-CoV-2 positivity. By comparison, we observed a 14.7% rate of SARS-CoV-2 positivity in their asymptomatic caregivers…Together, our results do not support the conjecture that children are a reservoir of unrecognized SARS-CoV-2 infection."
Andrew L. Kung, MD, PhD, of the Department of Pediatrics, Memorial Sloan Kettering Cancer Center, is the corresponding author for the JAMA Oncology article.
Disclosure: The study was supported by internal institutional funding from the Memorial Sloan Kettering Cancer Center. For full disclosures of the study authors, visit jamanetwork.com.
The content in this post has not been reviewed by the American Society of Clinical Oncology, Inc. (ASCO®) and does not necessarily reflect the ideas and opinions of ASCO®.
---