ASCO Survey on Early Impact of COVID-19 on the Performance of Oncology Clinical Trials

An article by Waterhouse et al in JCO Oncology Practice presented results of a recent ASCO survey of clinical programs exploring the early impact of the COVID-19 pandemic on the performance of oncology clinical trials. Results highlighted the numerous issues faced by the programs, steps that are being taken to address these issues, and the potential for beneficial changes in the conduct of trials after the current crisis passes.
"[M]any of the adaptations to trials made during the pandemic provide a long-term opportunity to improve and transform the clinical trial system."

— Waterhouse et al




Tweet this quote



The survey, conducted in late March, was offered to clinical programs represented on the ASCO Cancer Research Committee and Research Community Forum Steering Group and task forces to obtain information on the types of changes and challenges clinical trial programs were experiencing early in the pandemic. Among 32 survey respondents, 14 represented academic programs and 18 represented community-based programs. Survey findings are summarized below.
Research Program Policies and Priorities
Most respondents (64%) reported that their institutions had developed and instituted formal policies related to the COVID-19 pandemic, with most reporting implementation of remote patient care interactions, including patient review of symptoms (90.6%) and telehealth visits (87.5%). Approximately three-quarters of programs mandated remote work by research staff; 65.6% had implemented remote site initiation visits, and 71.9%, remote monitoring by sponsors and/or contract research organizations.  
Delay of clinical research activities was common: 59.4% of programs halted screening and/or enrollment for certain clinical trials, and 59.4% stopped research-only visits except those providing cancer treatment. Half of the programs had stopped research-only blood and/or tissue collections.
Approximately half (53.1%) of programs reported prioritizing enrollment for certain clinical trials, with reported prioritization strategies including a tier-based approach based on patient needs, safety, and disease severity; potential patient and site burdens; and availability and allocation of program resources. National Cancer Institute (NCI)-funded cancer care delivery research and prevention/control trials were halted in accordance with NCI guidance.
Challenges in Conducting Clinical Trials
More than half of programs reported a decrease in patient ability or willingness to come to their site (54.8%) and reported that staff time required to organize, implement, and conduct telehealth visits was a significant challenge. In addition, 51.6% reported limited availability of ancillary services such as radiology, surgery, and cardiology. Time spent in discussion with sponsors, contract research organizations, and institutional review boards with regard to modification of clinical trial procedures was cited as a challenge by 51.6% of respondents.
Opportunities to Improve Clinical Trials
Respondents also identified a number of ways in which experience during the COVID-19 pandemic might help improve clinical trial conduct post–COVID-19. Among the potential improvements cited were telehealth visits for trial participants (90.3%), remote patient review of symptoms (77.4%), remote site initiation visits (71.0%) and monitoring by sponsors/contract research organizations (64.5%), and remote safety lab collections (45.2%). 
Other opportunities to improve clinical trial conduct identified by respondents included improved efficiency during study launch and enrollment (eg, enhanced electronic institutional review board communications and responses, remote consenting); remote patient care (including shipping oral drugs directly to patients, remote adverse event assessments, and patient review of symptoms); flexibility with drug and specimen distribution, management, and documentation for transportation; and streamlined data collection. Increased remote work by research staff was identified as a potential means for improving job productivity, satisfaction, and staff retention, as well as alleviating space issues at study sites.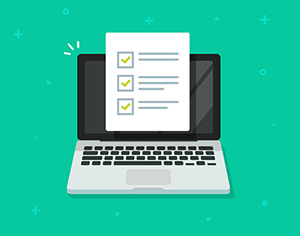 Photo credit: Getty
Strategies for Conducting Trials During the Pandemic  
The authors stated, "Adaptations to clinical trial practices during the pandemic are critical to ensuring patient access to both ongoing and new study treatments. Clinical trial programs should follow guidance on conducting clinical trials during the pandemic from the U.S. Food and Drug Administration, [the] NCI, ASCO, and others."
They recommended that programs should also consider adopting a number of high-level strategies to assist in meeting the challenges posed by the pandemic, such as the following actions: 
Keep participants informed about changes to trials and their care and remind participants to alert their research team about changes to their health.
Develop formal COVID-19 standard operating procedures for clinical trials that could be repurposed with other disease outbreaks.
Leverage e-signatures for informed consent and other study documents.
Organize daily staff "huddles" to provide updates and discuss operational challenges.
Promote telehealth visits for patients.
Implement patient review of symptoms and adverse events (eg, through patient portal, e-mail, phone, video).
Establish a system for prioritizing clinical trial resource allocation (eg, determine in which trials to maintain screening and enrollment).
Require remote study initiation visits and monitoring from trial sponsors and contract research organizations.
Use remote safety lab collections where feasible.
Ship oral drugs directly to patients.
Communicate any changes or concerns about existing trials to institutional review boards.
Ensure thorough documentation of changes to procedures and modifications to or deviations from protocols and use a "COVID-19" tag to facilitate searching after the pandemic.
They noted that such changes offer the potential for making clinical trials more patient-friendly and reducing the time and expense of participating in clinical trials.
The authors summarized, in part, "The changes in clinical trial procedures identified by the survey could serve as strategies for other programs attempting to maintain their clinical trial portfolios during the COVID-19 pandemic. Additionally, many of the adaptations to trials made during the pandemic provide a long-term opportunity to improve and transform the clinical trial system."
A detailed report of the survey findings can be found on ASCO's website.
Patricia Hurley, MSc, CPHQ, of ASCO, is the corresponding author for the JCO Oncology Practice article.
Disclosure: For full disclosures of the study authors, visit asco.org.
The content in this post has not been reviewed by the American Society of Clinical Oncology, Inc. (ASCO®) and does not necessarily reflect the ideas and opinions of ASCO®.
---