Miami Breast Cancer Conference: Genomic Assays Show Utility in Predicting Pathologic Complete Response Rate in Pre- and Postmenopausal Patients With Breast Cancer

New data from the prospective Neoadjuvant Breast Symphony Trial (NBRST), which demonstrated the predictive and prognostic abilities of the MammaPrint and BluePrint assays and underpinned their preoperative utility in pre-and postmenopausal patients with breast cancer, were presented at PER's Miami Breast Cancer Conference, held virtually this year.
Analysis by Age and Menopausal Status
The poster, entitled "Pathologic Complete Response Rates According to MammaPrint and BluePrint Results are Consistent Among Pre- and Postmenopausal Patients," outlined the first age-based analyses of the MammaPrint and BluePrint assays in the preoperative setting. The data show that pathologic complete response rates varied according to molecular subtype, with MammaPrint and BluePrint accurately predicting pathologic complete response in patients of all subtypes, regardless of age. This analysis reinforces both tests' utility in better tailoring preoperative treatment and in determining the best timing for surgery for patients of all ages with breast cancer.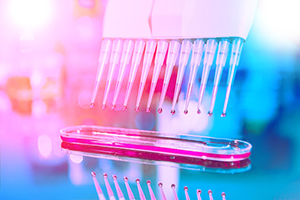 Photo credit: Getty
"Among the many clinically meaningful findings provided by the NBRST trial, we were focused on the importance of conducting a further subanalysis of the trial's data based on age," said William Audeh, MD, Chief Medical Officer of Agendia and a study author. "It is critical that we have a full understanding of the biology of each patient's breast cancer, and whether age in itself affects the response to chemotherapy in the neoadjuvant setting. Our findings indicate that it is the genomic profile of the tumor, and not age of the patient, which determines response to chemotherapy. It is useful, in these challenging times, to know that we can triage each patient effectively with genomic tools that can give predictive and prognostic information essential for optimal treatment planning."
This age-based analysis reinforces the importance of the multidisciplinary care team having meaningful genomic information at the earliest point after a diagnosis of breast cancer to inform the decision for the timing of surgery and systemic therapy. With recent analyses of premenopausal patients with breast cancer suggesting a clinical benefit with adjuvant chemotherapy, genomic tests that accurately predict outcomes across age ranges are crucial in the research community's ongoing efforts to determine whether this age-dependent benefit is due to a direct cytotoxic effect on the tumor or a secondary hormonal effect due to ovarian suppression by chemotherapy.
"These data confirm that genomic tests, like MammaPrint and BluePrint, have a place in every breast cancer diagnosis," said James Pellicane, MD, Director of Breast Oncology at the Bon Secours Cancer Institute and an author of the poster. "Diving into the large bank of knowledge provided by the NBRST trial continues to help us facilitate more informed treatment decisions that will benefit the enormously diverse group of people who are diagnosed with breast cancer."
Disclosure: Dr. Audeh has been employed by Agendia; has served in a leadership role for Agendia; holds stock or other ownership interests in Agendia; has received research funding from Agendia; and has been reimbursed for travel, accommodations, or other expenses by Agendia. No disclosures were available for Dr. Pellicane.
The content in this post has not been reviewed by the American Society of Clinical Oncology, Inc. (ASCO®) and does not necessarily reflect the ideas and opinions of ASCO®.
---