Trends in Deaths From Cutaneous Melanoma in the United States

Recent treatment advances in metastatic melanoma resulted in reductions in population-level mortality from the disease, according to a study published by Polsky et al in the American Journal of Public Health.
Methods
Researchers analyzed new cases and deaths from melanoma from nine U.S. Surveillance, Epidemiology, and End Results registry areas. These numbers spanned from 1986 to 2016 and involved nearly a million Americans.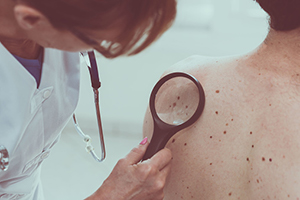 Photo credit: Getty
Results
The report showed that death rates among white Americans with cutaneous, metastatic melanoma climbed 7.5% between 1986 and 2013, but then dropped by 17.9% over the next 3 years, with sharp declines noted in men older than age 50 beginning in 2014.
The authors of the report say the size of the declines outstrip comparable decreases in cancers of the prostate, breast, and lung. They also noted that the drop in melanoma deaths coincided with the introduction of 10 new therapies for the malignancy—immunotherapies or targeted treatments focusing on specific genetic mutations.
"Our findings show how quickly patients and physicians accepted these new drugs because they profoundly reduce deaths from melanoma," said co-senior study author David Polsky, MD, PhD. "These therapies are now considered the backbone of how we treat this cancer."
The newer therapies, which came into use in the last decade, are far more effective and less toxic than standard chemotherapy. The drugs fall into two broad categories: those that target the BRAF gene, which is mutated in a little less than half of patients with melanoma; and immune checkpoint inhibitors.
Detection of Melanoma
The authors noted that the steep drop in deaths cannot be readily explained by better detection methods, because death rates did not drop steadily over time, but, rather, sharply. In addition, many health-care groups have been pushing for early detection exams since the 1980s, so the timing of these declines matches up better with the introduction of the new therapies. Nevertheless, the researchers caution that early detection is still important, allowing for less toxic forms of treatment and lower health-care costs. They emphasized that prevention, avoiding excessive ultraviolet light exposure, and promptly seeking medical care when there is a change in the skin's appearance are crucial to reducing the risk of developing metastatic melanoma.
The authors concluded, "The introduction of new therapies for metastatic melanoma was associated with a significant reduction in population-level mortality. Future research should focus on developing even more effective treatments, identifying biomarkers to select patients most likely to benefit, and renewing emphasis on public health approaches to reduce the number of patients with advanced disease."
Disclosure: For full disclosures of the study authors, visit ajph.aphapublications.org.
The content in this post has not been reviewed by the American Society of Clinical Oncology, Inc. (ASCO®) and does not necessarily reflect the ideas and opinions of ASCO®.
---