Phenelzine for Biochemical Recurrent Castration-Sensitive Prostate Cancer

A monoamine oxidase A (MAOA) inhibitor in use for decades as an antidepressant demonstrated activity in patients with recurrent prostate cancer, with most toxicities seen with the treatment being reported as mild. These findings were published by Gross et al in Prostate Cancer and Prostatic Diseases.
"To our knowledge, this study is the first clinical trial of an MAOA inhibitor in patients with cancer," said senior study author Jean Shih, PhD, of the University of Southern California's (USC) School of Pharmacy who has intensively studied the enzyme MAO.
"If our findings are confirmed, this could be part of a new avenue for patients that could avoid undesirable side effects of standard therapies," said first study author Mitchell Gross, MD, PhD, a medical oncologist and Research Director at the Lawrence J. Ellison Institute for Transformative Medicine of USC.
Study Background
In prostate cancer, MAOA inhibitors disrupt androgen receptor signaling. Previous studies of animal and human prostate cancer cell lines showed that MAOA inhibitors decreased the growth and spread of prostate cancer.
Since phenelzine is already FDA-approved, the researchers were able to rapidly design and implement a pilot study to test the drug's ability to fight cancer.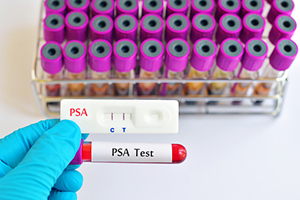 Photo credit: Getty
For this study, researchers enrolled 20 participants with biochemical recurrent prostate cancer who had elevated prostate-specific antigen (PSA) levels—≥ 0.4 ng/ml (postprostatectomy) or ≥ 2 ng/ml above nadir (post–radiation therapy). Patients also had no evidence of metastasis on imaging and had normal androgen levels. Patients received 30 mg of phenelzine twice a day for 12 weeks. The primary endpoint was the proportion of patients who achieved a decline in their PSA level of 50% or more from study baseline.
Results
Fifty-five percent of the men experienced PSA declines; five patients saw PSA level declines of 30% or more, and two saw decreases of 50% or more. At 12 weeks, 17 of the 20 patients remained on treatment.
Reported adverse events included grade 1 or 2 dizziness, hypertension, and edema. There was one patient who experienced grade 4 hypertension and two who experienced grade 3 syncope, requiring discontinuation of treatment.
Additionally, a hospital anxiety depression score questionnaire was used as an assessment for mood symptoms; patients' replies showed a decrease in anxiety and no change in depressive symptoms with phenelzine treatment.
The researchers explained that the main limitations of the study include the lack of a placebo comparison group and the small sample size. Additional studies are planned, and Dr. Shih has patented a second-generation MAOA inhibitor tagged with a substance that could help doctors see where cancer has metastasized.
The authors concluded, "Phenelzine demonstrated efficacy in patients with biochemical recurrent castrate-sensitive prostate cancer. Most treatment-related toxicities were mild, but rare significant and reversible cardiovascular toxicities were observed. Therapies directed at MAOA may represent a new avenue for treatment in patients with recurrent prostate cancer."
Disclosure: For full disclosures of the study authors, visit nature.com.
The content in this post has not been reviewed by the American Society of Clinical Oncology, Inc. (ASCO®) and does not necessarily reflect the ideas and opinions of ASCO®.
---