Addition of Vincristine/Irinotecan to Established Chemotherapy Regimen in Patients With Diffuse Anaplastic Wilms Tumor

In a Children's Oncology Group study (AREN0321) reported in the Journal of Clinical Oncology, Daw et al found that the addition of vincristine/irinotecan to a regimen used in the National Wilms Tumor Study 5 (NWTS-5; vincristine, doxorubicin, cyclophosphamide, carboplatin, and etoposide plus radiotherapy; regimen UH1) produced high response rates among patients with measurable stage IV diffuse anaplastic Wilms tumor. Outcomes in all patients with stage II to IV disease were similar to or better than those with stage II to IV diffuse anaplastic Wilms tumor in NWTS-5.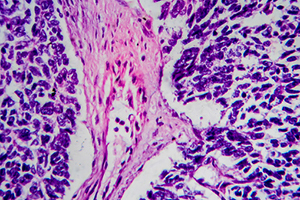 Photo credit: Getty
Study Details
The study involved 66 eligible patients. Those with stage II to IV nonmeasurable diffuse anaplastic Wilms tumor received the UH1 regimen used in NWTS-5; those with stage IV measurable diffuse anaplastic Wilms tumor could receive an upfront window of vincristine/irinotecan consisting of vincristine (1.5 mg/m2 per day) on days 1 and 8 and irinotecan (20 mg/m2 per day) on days 1 to 5 and 8 to 12 of a 21-day cycle. In the absence of progressive disease, a second vincristine/irinotecan cycle was given and patients with partial response to the vincristine/irinotecan window had the doublet therapy incorporated into regimen UH1 (ie, regimen UH2).
Key Findings
Among 14 patients with stage IV measurable disease who received vincristine/irinotecan, 11 (79%) had complete response (n = 1) or partial response (n = 10) after two treatment cycles.
As a result of excessive nonhematologic toxicity, doses of doxorubicin, cyclophosphamide, and etoposide were reduced mid-study. Among all patients, four (6%) died as a result of toxicity.
For the AREN0321 study population vs the 110 patients in NWTS-5 with stage II to IV disease, 4-year rates were 67.7% vs 57.5% (P = .26) for event-free survival, 72.9% vs 57.5% (P = .048) for relapse-free survival, and 73.7% vs 59.2% (P = .08) for overall survival. 
The investigators concluded: "Vincristine/irinotecan produced a high response rate in patients with metastatic diffuse anaplastic Wilms tumor. AREN0321 treatment seemed to improve outcomes for patients with stage II to IV diffuse anaplastic Wilms tumor compared with NWTS-5, but with increased toxicity. The UH2 regimen warrants further investigation with modifications to reduce toxicity."
Najat C. Daw, MD, of the Division of Pediatrics, The University of Texas MD Anderson Cancer Center, is the corresponding author for the Journal of Clinical Oncology article.  
Disclosure: The study was supported by St. Baldrick's Foundation and grants from the National Institutes of Health. For full disclosures of the study authors, visit ascopubs.org.
The content in this post has not been reviewed by the American Society of Clinical Oncology, Inc. (ASCO®) and does not necessarily reflect the ideas and opinions of ASCO®.
---