New Report Says Cancer and Its Therapies May Impair Survivors' Ability to Work

Although cancer survivors are living longer, cancer and its treatment can result in long-lasting or late-onset impairments that may affect their ability to work, according to a new report from the National Academies of Sciences, Engineering, and Medicine entitled Diagnosing and Treating Adult Cancers and Associated Impairments.
Cancer survivors who are younger than age 65 and unable to work because of cancer-related impairments may apply for disability benefits from the Social Security Administration (SSA). To inform SSA's disability determinations for cancer survivors, the new report examined advances in the prognosis, diagnosis, and treatment of cancer, and the growing number of survivors living with impairments and functional limitations. SSA's assessments of adult patients with cancer largely focus on terminal and metastatic cancers with a high likelihood of death, rather than those with a high likelihood of survival, said the authoring committee.
Working-Age Cancer Survivors
Of the estimated 16.9 million cancer survivors in the United States, about one-third of them are of working age (typically age 20 to 64). If survivors experience long periods of impairment that preclude them from working, they may need SSA disability benefits for longer than expected. Those who do return to work may need reasonable accommodations, such as job modifications or a flexible work schedule, the report added.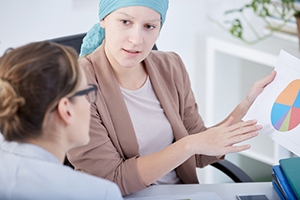 Photo credit: Getty
The committee found that pain, fatigue, abnormal swelling, depression and anxiety, peripheral nerve damage, and cognitive limitations are among the most common impairments that may impact those whose goal is returning to work. These impairments may occur during treatment and persist afterward or emerge months or years after treatment ends. The report focused on the impairments and functional limitations associated with the treatment of breast cancer and lung cancer, which make up almost 30% of disability claims, as well as other common cancers, including colorectal cancers, which account for 12% of claims.
"Some cancer survivors may be eager to get back to work for financial reasons, the sense of routine, and for social connectivity; however, the cancer type, stage, and type and duration of treatment may all factor into the decision about when and how to return to work," said Dan G. Blazer, MD, PhD, Professor Emeritus of Psychiatry and Behavioral Sciences at Duke University School of Medicine and Chair of the committee that wrote the report. "During the disability determination process, it's important to consider not only impairments arising from the cancer itself but also those arising from cancer treatment or other health conditions the patient may have."
Effect of Specific Treatments
The report also examined how new and emerging cancer treatments—including immunotherapies and other targeted therapies, minimally invasive surgeries, and new radiation techniques—have significantly improved survival for some patients. Little is known, however, about the long-term and late-onset toxicities of these treatments, particularly immunotherapies, for different cancers and populations. The report emphasized the need for more research on persistent toxicities among long-term survivors, and among those with comorbidities such as diabetes or cardiovascular diseases.
In addition to drug and surgical interventions, there are a number of evidence-based nonpharmacologic interventions to address cancer-related impairments. These include exercise and physical activity, rehabilitation (physical and occupational therapy and speech and language therapy), and psychological and emotional interventions. Although these interventions are evidence-based and have been shown to improve outcomes, they are often underused and underprescribed for cancer-related impairments, the report concluded.
Survivorship care, a fundamental part of the care continuum, provides cancer-related and supportive interventions that address the individual needs of each survivor. Yet, care team members may lack the resources to assess patients for impairments or provide the necessary interventions. Education efforts, including certification programs, are underway to expand training opportunities for health-care providers to ensure they are able to meet the long-term needs of cancer survivors during and after treatment.
Disclosure: The study—undertaken by the Committee on Diagnosing and Treating Adult Cancers—was sponsored by the U.S. Social Security Administration.
The content in this post has not been reviewed by the American Society of Clinical Oncology, Inc. (ASCO®) and does not necessarily reflect the ideas and opinions of ASCO®.
---