Proteomic Analysis of Endometrial Cancer

A comprehensive molecular study of endometrial cancer published by Dou et al in Cell has further defined the contributions of key genes and proteins to the disease. The overview suggests new treatment approaches that could be tailored for each patient, as well as potential biologic targets for future drug design.
Led by researchers from over a dozen institutions, the team reached its conclusions by measuring levels of key proteins. Controlled by instructions encoded in genes, protein levels in cancer cells are the functional result of genetic changes that affect risk for endometrial cancer, the researchers explained. Focused on proteomics, the study compared protein levels in 95 uterine tumors and 49 normal uterine tissue samples.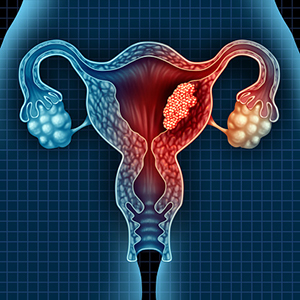 Photo credit: Getty
"While more time-consuming and expensive, proteomics reveals insights into cancer risk that cannot be found by experiments that look at changes in the genetic code alone," said study senior coauthor David Fenyö, PhD, Professor in the Department of Biochemistry and Molecular Pharmacology and a faculty member in the Institute for Systems Genetics at NYU Langone Health. "Proteomics identifies the proteins that are most active in a specific tumor, which potentially enables the design of treatments that will work best against that tumor in particular."
The study also examined the chemical changes to proteins, called posttranslational modifications, which determine when and where the proteins are "switched on or off." Altogether, the researchers took more than 12 million measurements of differences between normal and cancerous cells in DNA and RNA, protein levels, and chemical changes to DNA and proteins.
Endometrioid vs Serous Subtypes
A key finding of the study was a new way to distinguish a highly aggressive type of endometrial cancer from a less aggressive type that looks similar under a microscope. Telling the two types apart would help clinicians to better fit treatment approaches to a given patient, and to do so earlier in the course of the disease.
One subtype of endometrial cancer—endometrioid—is often identified early and comprises about 85% of all endometrial cancers. A second subtype—serous—is more aggressive, is typically identified later, and accounts for more deaths than endometrioid tumors. Within the endometrioid group, there is an aggressive subset of tumors with molecular markers that are more similar to the serous subtype.
The team focused much of their work on determining what distinguishes these aggressive endometrioid tumors from the serous tumors and the less aggressive endometrioid tumors. They found a subset of proteins that were phosphorylated—had a certain posttranslational modification that switches on proteins—in the aggressive subset of endometrioid tumors and in serous tumors, but not in the less aggressive subset of endometrioid tumors. Moreover, the researchers found that some of these hyperactive proteins can be targeted by drugs that are currently approved by the U.S. Food and Drug Administration for other purposes.
In addition, research had previously established that some people with the less aggressive subset of endometrioid tumors have a genetic mutation that overproduces the protein beta-catenin, which results in a poor prognosis. The team found evidence that the high levels of beta-catenin in these seemingly less aggressive tumors are linked to an increased activity of a signaling pathway called Wnt, which is known to spur abnormal cell growth.
"For many years scientists have been using genomics, the study of the genetic code, which is a very effective way but relatively basic way to look at cancer," said study co–lead author Emily Kawaler, a student at NYU Grossman School of Medicine. "But if we add on all of these extra levels—proteins, RNA, and the ways proteins talk to each other—then we can learn even more about how cancer is actually working."
Disclosure: This work was supported by the National Cancer Institute's Clinical Proteomic Tumor Analysis Consortium, the Cancer Prevention and Research Institutes of Texas, and the McNair Medical Institute at The Robert and Janice McNair Foundation. For full disclosures of the study authors, visit cell.com.
The content in this post has not been reviewed by the American Society of Clinical Oncology, Inc. (ASCO®) and does not necessarily reflect the ideas and opinions of ASCO®.
---