ASH 2020: SARS-Cov-2 Multivirus-Specific T Cells for the Treatment of Hospitalized Patients With COVID-19

Researchers have successfully built banks of SARS-CoV-2–specific T cells obtained from people who recovered from the virus that are now poised to be used as an experimental treatment in patients hospitalized with COVID-19. This T cell–based therapy may represent a step forward in the search for treatments against COVID-19, especially for patients who are more vulnerable to severe COVID-19 infection and complications because they lack these natural virus-fighting immune cells. The findings were presented at the 2020 American Society of Hematology (ASH) Annual Meeting & Exposition (Abstract 612).
"This approach could be critical in the treatment of COVID-19 given emerging evidence that people who are at the highest risk for needing mechanical ventilation or of dying have underlying T-cell deficiencies," said lead author Spyridoula Vasileiou, PhD, of the Center for Cell and Gene Therapy, Baylor College of Medicine, Texas Children's Hospital, and Houston Methodist Hospital. She added that lower T-cell counts and dysregulation have been more common in patients with severe vs mild COVID-19 infection.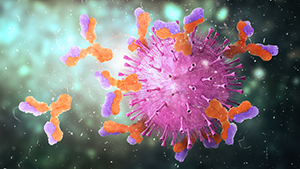 Photo credit: Getty
Creation of T Cells
The team has previously demonstrated the feasibility, safety, and efficacy of administering similar off-the-shelf multivirus-specific T-cell products for BK virus, cytomegalovirus, and three other viruses. They sought to do the same with SARS-CoV-2 by first studying immunity to this virus in people in the community who were exposed to and were able to clear the virus on their own. They identified various parts or proteins of SARS-CoV-2 that their immune systems targeted and used these proteins to grow SARS-CoV-2–specific T cells in the lab at high selectivity and high potency.
"We were able to generate these off-the-shelf T cells at very large numbers, so they are ready and immediately available to patients in need," said Dr. Vasileiou.
T cells fight viruses in two ways: helper T cells spur B cells and other immune defenders into action, and killer T cells seek out and destroy virus-infected cells. These SARS-CoV-2–specific T cells are designed to attack the virus on multiple fronts by targeting a range of SARS-CoV-2 proteins, not just the SARS-CoV-2 spike protein that allows the virus to enter cells. Based on the results of their laboratory tests, the researchers are optimistic that this treatment will boost the immune system in high-risk patients with COVID-19 to help them fight the infection.
"By targeting multiple proteins, we are trying to hit the virus hard at multiple different points in its life cycle to be able to very effectively and efficiently eliminate virally infected cells in patients with COVID-19," said Dr. Vasileiou. "Because these SARS-CoV-2 multivirus-specific T-cell products are living cells, when we infuse them into patients, the cells will expand in number, migrate to cells infected with the virus, and selectively eliminate them."
Trial Underway
A trial is now underway at Houston Methodist Hospital to determine the safety and optimal (or maximum tolerated) dose of these SARS-CoV2-specific T cells in hospitalized patients with COVID-19 who are at high risk of requiring mechanical ventilation, including those who have some underlying immune T-cell deficit that is putting them at high risk of severe illness and death. This study will be followed by a randomized pilot trial comparing the administration of this therapy to routine care treatment. If the therapy proves effective, Dr. Vasileiou explained that this treatment may fill an important gap—even after a vaccine becomes available.
"In general, vaccines are preventive agents developed to induce an antibody or B-cell response, but these patients who already have the disease have some sort of T-cell deficit where something is going on in the background that renders them unable to marshal a strong immune response," she said. "Building banks of SARS-CoV-2–specific T cells from healthy individuals who were already able to efficiently fight off the virus should give their immune system a boost."
She explained that at present—and with no current vaccine—it is estimated that about 20% of individuals infected with SARS-CoV-2 require hospitalization due to the virus and could be potentially eligible for this type of therapy. Once vaccines are available, this number is likely to improve, but therapeutic agents like off-the-shelf T cells will still be needed to treat patients who, despite the vaccine, still develop severe illness from COVID-19.
Disclosure: This study was sponsored by AlloVir. For full disclosures of the study authors, visit ash.confex.com.
The content in this post has not been reviewed by the American Society of Clinical Oncology, Inc. (ASCO®) and does not necessarily reflect the ideas and opinions of ASCO®.
---