Proportion of Never-Smokers Among Patients With Lung Cancer in Seven U.S. States

In a study reported in a research letter in JAMA Oncology, Siegel et al found that never-smokers accounted for 12.5% of patients diagnosed with lung cancer in seven U.S. states during a recent 6-year period, with women accounting for a higher proportion than men.
Study Details
The study included data from the Centers for Disease Control and Prevention (CDC) National Program of Cancer Registries on patients aged ≥ 20 years diagnosed with microscopically confirmed malignant lung and bronchus cancer between January 2011 and December 2016. The seven states included in the analysis (Alaska, Colorado, Florida, Idaho, Louisiana, North Carolina, and Rhode Island) were those in which < 15% of cases had cigarette use status coded as unknown during the study years.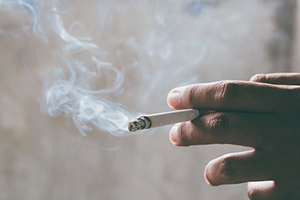 Photo credit: Getty
Key Findings
A total of 129,309 patients, including 61,351 women and 67,958 men, were included in the analysis, with 13,496 excluded due to unknown cigarette use status. Of these, 47,495 (36.7%) were current, 65,665 (50.8%) former, and 16,149 (12.5%) never-smokers.
The proportion of never-smoking patients was higher in women vs men overall (15.7% vs 9.6%, prevalence ratio = 1.63, 95% confidence interval [CI] = 1.58–1.68), as well as across all age, race/ethnicity, and histology categories.
According to age, the proportion of never-smokers was highest among patients aged 20 to 49, with 609 (27.7%) of 2,198 women and 387 (18.6%) of 2,077 men being never-smokers. The proportion was lowest among those aged 50 to 64, with 2,250 (12.7%) of 17,673 women and 1,628 (8.2%) of 19, 809 men being never-smokers.
According to race/ethnicity, the proportions of women and men who were never-smokers were 13.4% (6,757 of 50,407) and 9.0% (4,794 of 53,300), respectively, among White patients; 19.0% (1,124 of 5,905) and 8.6% (705 of 8,173) among Black patients; and 32.6% (1,289 of 3,952) and 16.0% (836 of 5,225) among Hispanic patients.
According to histology, 6% to 8% of women and men with small cell (9,114 women and 8,598 men) or squamous cell carcinomas (11,820 women and 19,466 men) were never-smokers, compared with 5,968 (19.6%) of 30,504 women and 3,339 (11.8%) of 28,382 men with adenocarcinoma.
The proportions of current smokers were 49.8% among women aged 20 to 49 and 50.8% among those aged 50 to 64, and 54.8% and 56.6% among men aged 20 to 49 and 50 to 64. Among patients aged 65 to 79, 33.1% of women and 33.3% of men were current smokers and 86.2% and 91.2% were ever smokers. Across all ages, the proportion of current smokers was higher in Black patients (40.5% for women, 48.3% for men) compared with White patients (36.2% for women, 36.6% for men) and Hispanic patients (26.8% for women, 26.8% for men).
As stated by the investigators, "More than 84% of women and 90% of men with a new diagnosis of lung cancer had ever smoked, with about half of patients aged 20 to 64 years being current smokers. A higher proportion of never-smokers occurred among women with lung cancer compared with men across all age groups, race/ethnicities, and most histologies. Patients with adenocarcinoma had a higher proportion of never smoking, which was consistent with past literature…Our findings reinforce the need to strengthen and increase cigarette cessation and lung cancer screening uptake among high-risk current and former smokers. Research focusing on never-smokers may inform the assessment of lung cancer risk factors, such as secondhand smoke exposure, occupational exposures, radon, air pollution, and genetic factors."
David A. Siegel, MD, MPH, of the Division of Cancer Prevention and Control, CDC, is the corresponding author for the JAMA Oncology article.
Disclosure: The study was supported in part under CDC cooperative agreements of the National Program of Cancer Registries in conjunction with the participating states. The report was created through staff support from CDC and the American Cancer Society. For full disclosures of the study authors, visit jamanetwork.com.
The content in this post has not been reviewed by the American Society of Clinical Oncology, Inc. (ASCO®) and does not necessarily reflect the ideas and opinions of ASCO®.
---