Three Novel Genetic Variants Linked to Male Breast Cancer Discovered

Scientists have newly discovered three genetic changes that increase the risk of breast cancer in men. These findings were published by Maguire et al in the Journal of the National Cancer Institute.
The researchers identified three common variations in DNA that predispose men to developing breast cancer, bringing the total known number to five. All three genetic variants are known to be linked to female breast cancer, but scientists found the changes to have a greater effect on breast cancer risk in men than in women.
Male Breast Cancer
Men with a strong family history of breast cancer among female relatives are known to be at greater risk for developing the malignancy, and around 10% of male cases are caused by mutations in the BRCA2 gene. But the exact causes of breast cancer in men are not yet understood, and for years, there has been considerable debate about whether male and female breast cancers are distinct from one another.
While mutations in genes such as BRCA2 can increase the risk of breast cancer, these faults are relatively rare, and major research has shown that single-letter changes to our DNA code (ie, single-nucleotide polymorphisms, or SNPs) also influence cancer risk. With up to 15 million places where SNPs can exist across our genome, these changes are relatively common.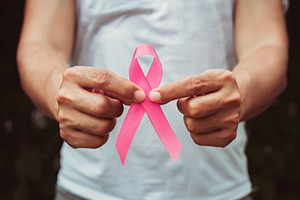 Photo credit: Getty
Study Methods
The study involved 1,380 men with breast cancer, primarily from the Breast Cancer Now Male Breast Cancer Study based at The Institute of Cancer Research, London (ICR).
The scientists discovered three new SNPs that were significantly associated with an increased risk of breast cancer in men: one on chromosome 6 (rs9371545) and two on chromosome 11 (rs554219 and rs78540526). These SNPs increased the risk of developing breast cancer in men by approximately 47%, 45%, and 61%, respectively.
The researchers then investigated the extent of the shared genetic causes of the disease in men and women by evaluating 172 regions in the genome linked to female breast cancer for an association with male breast cancer. The team found a strong correlation between the genetic risk factors of male and female breast cancer, with 20% of SNPs that influence (increase or decrease) the risk of breast cancer in women also having an effect on male breast cancer risk.
The study also observed some important differences, with some SNPs carrying a greater increase in risk for women than for men or vice versa, and some SNPs also changing the risk in opposite directions for men than for women.
Having identified this overlap, the researchers then investigated how well a DNA test (313 SNP risk score), which was designed to estimate breast cancer risk in women, worked for men.
They found there was nearly a fourfold increase in risk between men in the highest genetic risk category and those in the lowest (odds ratio = 3.86), and that the distribution of cases across risk categories was similar to that observed in women.
Next Steps
The findings add to a 2012 discovery published in Nature Genetics, which showed that a single change in the genetic code of a gene called RAD51B can increase the risk of breast cancer in men by up to 50%.
It is hoped that the discovery of new locations in the genome linked to male breast cancer could enable scientists to identify the biologic mechanisms that cause the disease to develop in men, and could ultimately lead to the development of new preventive drugs for those at high risk.
While further research would be needed, the authors also suggest the findings could help to develop more precise risk testing for men carrying BRCA2 mutations, enabling them to understand whether they are at additional or lower risk due to other genetic changes, which could help guide decisions around any risk-reducing steps.
Commentary
Lead study author Nick Orr, PhD, of the ICR and Queen's University Belfast, said in a statement, "There has been much debate about whether breast cancers in women and men are distinct from one another. Our study has shown, for the first time, that the genetic factors influencing susceptibility to male breast cancer and the most common type of female breast cancer are much more alike than they are different."
"Our findings suggest that the underlying biology that affects how breast cancer develops and grows are probably similar in men and women. This means that advances in prevention and treatment for the disease may be of benefit to all patients, irrespective of their [sex]."
The Breast Cancer Now Male Breast Cancer Study is the largest collection of DNA and tumor samples from men with breast cancer in the world, with over 1,000 men who have been diagnosed participating, as well as over 1,000 men without breast cancer. Based at the ICR, the study was established in 2008 to pinpoint the genetic, environmental, and lifestyle causes of breast cancer in men.
Breast Cancer Now described the new research as a "major step forward in our understanding of male breast cancer," calling for greater awareness of the disease in men and for research into the shared genetic causes of male and female breast cancer, and to develop risk-reducing drugs and other interventions to prevent more cases among those at increased risk.
Disclosure: For full disclosures of the study authors, visit academic.oup.com/jnci.
The content in this post has not been reviewed by the American Society of Clinical Oncology, Inc. (ASCO®) and does not necessarily reflect the ideas and opinions of ASCO®.
---