Gynecologic Cancer Screening After a Natural Disaster

Cervical cancer screening rates were significantly affected in the years following the Great East Japan Earthquake of 2011, according to a report published by Miki et al in PLOS ONE.
"Conflicts and disasters, and the social isolation that often follows, have a major impact on health care and lead to delays in the diagnosis and treatment of cancers," said first author Yasuhiro Miki, DVM, PhD, who specializes in disaster obstetrics and gynecology.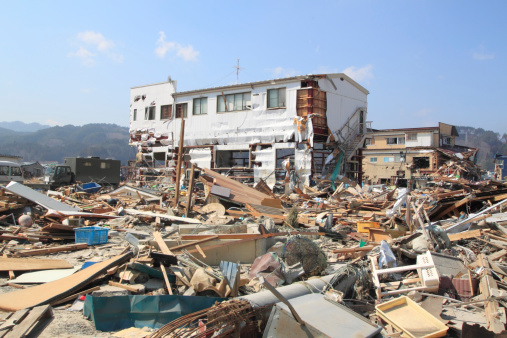 Photo credit: Getty
On March 11, 2011, Miyagi Prefecture in eastern Japan experienced a 9.0 magnitude earthquake, followed by a destructive tsunami that affected its coastal areas. Dr. Miki and colleagues at Tohoku University examined how the earthquake affected cervical cancer screening rates in Miyagi Prefecture.
Cervical Cancer Screening in Japan
Across Japan, approximately 15 women per 100,000 people are affected by cervical cancer. This rate is higher than that in countries such as the United States (6.5) and South Korea (8.4) and more similar to the rates seen in India (14.7) and the Philippines (14.9).
Also, less than 1% of girls in Japan have received the human papillomavirus vaccine, which protects against cervical cancer. This means that cervical cancer screening is of particular importance for early detection and diagnosis of the disease. Even so, cervical cancer screening rates are lower in Japan (42.3% of women aged 20–69) compared to other countries (80% in the United States and the United Kingdom, for example).
Study Findings
In the 5 years after the 2011 disaster, cervical cancer screenings dropped by more than 3% in four areas of Miyagi Prefecture covered by mobile van testing. In the coastal city of Onagawa, for example, cervical cancer screening dropped 7% following the disaster. Although rates improved slightly over the years, they were still 6.9% lower in 2016 compared to pre-earthquake levels. Similar trends, though less severe, were found in other areas of the prefecture; with rates significantly lower in coastal areas vs noncoastal ones.
"Cervical cancer screening is essential for maintaining good health, but in many affected areas, the rates markedly decreased in the year following the earthquake," said Dr. Miki. "More problematically, the decline in cervical cancer screening rates did not even recover in some areas 5 years after the earthquake."
The study authors concluded, "A delay in seeking health care, also known as 'patient's delay,' is considered one of the problems of cancer treatment in affected areas. It is possible that a decrease in the cervical cancer screening rates may lead to low detection of advanced stages of cancer. Therefore, the establishment of a comprehensive medical system including medical screening after a disaster is important for the management of women's health."
Disclosure: For full disclosures of the study authors, visit journals.plos.org.
The content in this post has not been reviewed by the American Society of Clinical Oncology, Inc. (ASCO®) and does not necessarily reflect the ideas and opinions of ASCO®.
---