Kombucha

The ASCO Post's Integrative Oncology series is intended to facilitate the availability of evidence-based information on integrative and complementary therapies sometimes used by patients with cancer. In this installment, Yen Nien Hou, PharmD, DipIOM, LAc, and Jyothirmai Gubili, MS, focus on kombucha—a fermented, lightly effervescent, sweetened black tea that includes the culture of bacteria and yeast—because of its popularity as a functional food.

Yen Nien Hou, PharmD, DipIOM, LAc

Jyothirmai Gubili, MS
Common names: Champagne of life, Manchurian mushroom, tea fungus, kargasok tea, haipao, combucha, spumonto, tschambucco
Overview
Kombucha is a fermented beverage containing sweetened black tea and a symbiotic culture of bacteria and yeasts. Green tea and oolong tea are also used in lieu of black tea. Thought to have its origins in China, kombucha has gained worldwide popularity as a functional food. Proponents claim that it confers a variety of health benefits that include lowering cholesterol and blood pressure as well as exerting immunostimulatory and anticancer effects.
The Science
The symbiotic culture of bacteria and yeasts is composed of various acetic and lactic acid bacteria and yeasts that include Saccharomyces species. After fermentation, kombucha is a concoction of various sugars, polyphenols, fiber, ethanol, amino acids, and water-soluble vitamins—all thought to be responsible for its health benefits.1,2
OF NOTE
Functional foods, such as kombucha, are popular for their perceived health benefits. Physicians should be aware of the lack of any supportive data and the risks associated with the use of kombucha.

Preclinical studies indicate that kombucha has anti-inflammatory, antioxidant, immunostimulatory,3 hypolipidemic,4 and hepatoprotective5 effects. However, clinical data are lacking, except for a small, uncontrolled trial involving 24 subjects with non–insulin-dependent diabetes mellitus. The authors reported that daily consumption of 60 mL of kombucha for 90 days was associated with normalized blood sugar values.6

Further research is needed to assess the potential health benefits of kombucha and to determine the mechanisms underlying its actions.1,7

Adverse Reactions

Topical use of kombucha has been associated with a case of cutaneous anthrax.8 Oral consumption of kombucha has been associated with the following:
Yeast infections,9 severe illness, and death10,11
Hepato- and gastrointestinal toxicities including allergic reactions, jaundice and nausea, vomiting, and head and neck pain12-14
Myositis associated with pleural effusions, pericardial effusion with tamponade, and 'mechanic's hands'15
Severe metabolic lactic acidosis16
Clostridium septicum sepsis resulting in encephalitis and pneumocephalus.17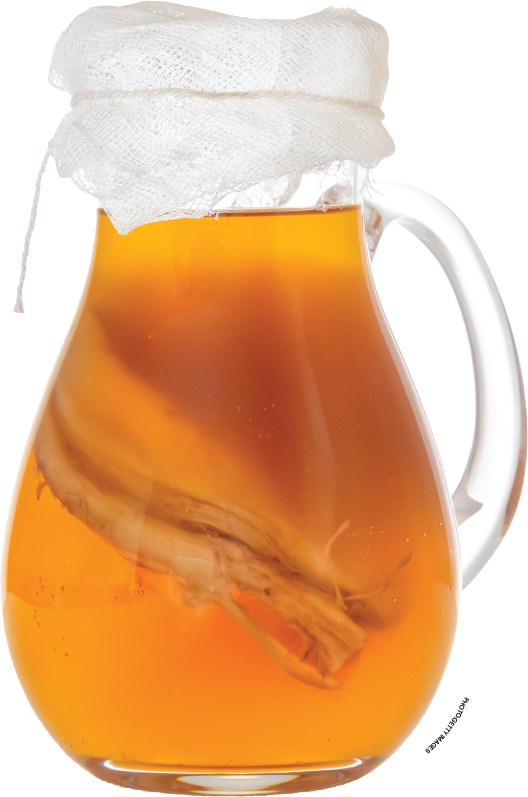 Herb-Drug Interactions
Because kombucha tea is acidic, it may affect the bioavailability of drugs that depend on gastric pH for dissolution and absorption.9
Summary
Brewing kombucha requires live symbiotic culture of bacteria and yeast. When making this beverage at home, following good hygiene is important to avoid contamination. Always talk to your health-care provider to find out whether kombucha tea is appropriate for you, especially if you are immunocompromised.
Dr. Hou is the Manager of the "About Herbs" website, maintained by Memorial Sloan Kettering Cancer Center's Integrative Medicine Service, and Ms. Gubili is Editor, both at the Integrative Medicine Service, Memorial Sloan Kettering Cancer Center, New York.
GUEST EDITOR

Jun J. Mao, MD, MSCE
Integrative Oncology is guest edited by Jun J. Mao, MD, MSCE, Laurance S. Rockefeller Chair in Integrative Medicine and Chief of Integrative Medicine Service at Memorial Sloan Kettering Cancer Center, New York.
DISCLOSURE: Dr. Hou and Ms. Gubili reported no conflicts of interest.
REFERENCES
1. Kapp JM, Sumner W: Kombucha: A systematic review of the empirical evidence of human health benefit. Ann Epidemiol 30:66-70, 2019.
2. Baschali A, Tsakalidou E, Kyriacou A, et al: Traditional low-alcoholic and non-alcoholic fermented beverages consumed in European countries: A neglected food group. Nutr Res Rev 30:1-24, 2017.
3. Dipti P, Yogesh B, Kain AK, et al: Lead induced oxidative stress: Beneficial effects of Kombucha tea. Biomed Environ Sci 16:276-282, 2003.
4. Aloulou A, Hamden K, Elloumi D, et al: Hypoglycemic and antilipidemic properties of kombucha tea in alloxan-induced diabetic rats. BMC Complement Altern Med 12:63, 2012.
5. Lee C, Kim J, Wang S, et al: Hepatoprotective effect of kombucha tea in rodent model of nonalcoholic fatty liver disease/nonalcoholic steatohepatitis. Int J Mol Sci 20:2369, 2019.
6. Hiremath US, Vaidehi MP, Mushtari BJ: Effect of fermented tea on the blood sugar levels of NIDDM Subjects. Indian Pract 55:423e5, 2002.
7. Ernst E: Kombucha: A systematic review of the clinical evidence. Forsch Komplementarmed Klass Naturheilkd 10:85-87, 2003.
8. Sadjadi J: Cutaneous anthrax associated with the Kombucha 'mushroom' in Iran. JAMA 280:1567-1568, 1998.
9. Kombucha—Toxicity alert. Crit Path AIDS Proj Winter:31-32, 1994.
10. Unexplained severe illness possibly associated with consumption of Kombucha tea—Iowa, 1995. From the Centers for Disease Control and Prevention. JAMA 275:96-98, 1996.
11. SungHee Kole A, Jones HD, Christensen R, et al: A case of Kombucha tea toxicity. J Intensive Care Med 24:205-207, 2009.
12. Perron AD, Patterson JA, Yanofsky NN: Kombucha 'mushroom' hepatotoxicity. Ann Emerg Med 26:660-661, 1995.
13. Srinivasan R, Smolinske S, Greenbaum D: Probable gastrointestinal toxicity of Kombucha tea: Is this beverage healthy or harmful? J Gen Intern Med 12:643-644, 1997.
14. Gedela M, Potu KC, Gali VL, et al: A case of hepatotoxicity related to kombucha tea consumption. S D Med 69:26-28, 2016.
15. Derk CT, Sandorfi N, Curtis MT: A case of anti-Jo1 myositis with pleural effusions and pericardial tamponade developing after exposure to a fermented Kombucha beverage. Clin Rheumatol 23:355-357, 2004.
16. Holbourn A, Hurdman J: Kombucha: Is a cup of tea good for you? BMJ Case Rep 2017:bcr2017221702, 2017.
17. Mirzai S, Rifai AO, Webb S, et al: Probable Clostridium septicum pneumocephalus in a user of natural remedies with newly diagnosed diabetes mellitus type 1. IDCases 17:e00581, 2019.
---