Newly Updated! ASCO Answers Guide to Small Cell Lung Cancer for Your Patients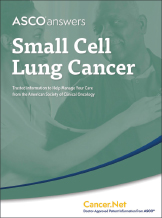 Fully updated and now with 8th Edition AJCC staging information, this updated guide is designed for people newly diagnosed with small cell lung cancer to help them get organized and learn more about their diagnosis, treatment options, side effects, support options, follow-up care, and more. It also provides questions patients can ask their health-care team and space to record details about their diagnosis and treatment plan.
Download a free copy at cancer.net/ascoanswers, or visit cancer.net/estore to order a pack of 25 booklets for just $20 (that's only $0.80 each!). Free domestic shipping, and ASCO Members save 20%. ■
© 2018. American Society of Clinical Oncology. All rights reserved.
---